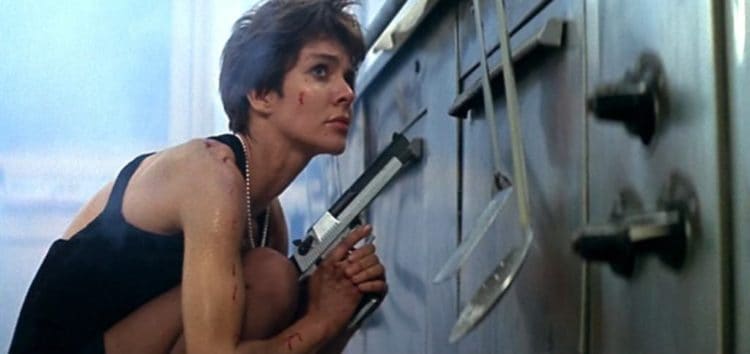 Unless you're really into French films you might not know much about Anne Parillaud as she's become well known for many roles, one of those being the always interesting La Femme Nikita, a story that has had a fairly strong fan base for quite some time. What's really interesting about Anne however is that at one point she was more interested in becoming a lawyer than she was an actress. It took one role to get her hooked though and from that point on she was ready to do what it took to keep herself in the spotlight and make a career out of it. A lot of times it's kind of funny how a person gets into acting but it's even more inspiring to realize that it was the right course for them to take as it kind of argues for the emergence of fate in a person's life at just the right time. While a lot of her work has been in French movies it's worth checking a few out just to see how effective and talented she really is. Her time taking on the role of Nikita was something that she remembers quite well as it transformed her in a way that might not always have been that agreeable but definitely gave her a different perspective that she hadn't been expecting.
Anne's story, and many others, stands as a good lesson concerning how actors are viewed and celebrated in their own countries much as American actors, and several others from various places, are celebrated in America. After all, Hollywood might be one of the biggest and best known producers of entertainment around the world, but it's not the only source and it's definitely not the only site where stars are made. Around the globe stars are recognized, discovered, found, and taught to hone their craft and their skills through one movie or TV show or stage appearance after another, and in some cases some of the brightest stars come from the most unexpected locations. It is fair to say that Anne might not have a humongous following in America compared to many other stars, and on social media it would appear that she's not as prevalent as others, but she does have the kind of staying power that's allowed her to remain in the business for quite some time now, so there's nothing to say that she's not talented or in any way skilled since she's been around for longer than some people have been in the business and it's apparent that she's going to keep herself in until she's good and ready to retire.
Her net worth is actually quite impressive and it's very easy to believe that it keeps her in a lavish lifestyle and a great deal of comfort. About the best thing to say about Anne is that she's a steady and reliable person on set and that there isn't a whole lot of controversy about her that's reached the states, or anyone else apparently since she's a virtual unknown to some people and known for various roles by others. Among the elite of acting she's likely seen as someone that has been there and done that and has even done it well during her time, but as the years have continued to go by it does feel safe to say that her reputation might not have dwindled but her star power could have, as it happens to everyone at one point or another as the next generation comes along and begins to make their rise to fame much as those before them did years before. It's natural really, and something that many actors tend to take with a certain amount of grace as they continue to do what they can and in some cases watch those coming up with great interest.
Despite describing herself as kind of an impulsive person it would appear that a lot of the decisions that Anne has made along the way have been the right ones at least, as she's had a successful career and can state that she's had a good time with it quite often. She has made her way to America to film a few projects but for the most part has done a lot of work in her home country, which sounds pretty normal really since staying in your comfort zone is pretty common for a lot of people. Some folks don't mind traveling for movies, others tend to want to stay closer to home. It's likely that Anne is the type to go where she needs to go to get the job done, just like anyone else, but it does feel as though much like anyone she would rather stay close to those she cares about. All in all, she's one of the many actors that been doing her job and doing it well for years, even if she doesn't always get recognized for it.