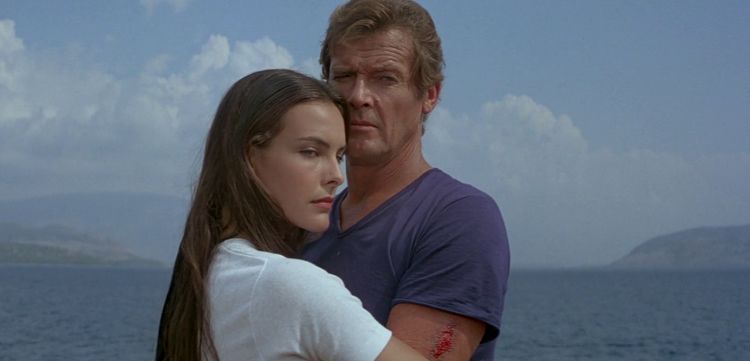 It must be time to pay homage to some of the most memorable Bond girls of all time since Carole Bouquet definitely fits that description, but in terms of her career and what happened to the rest of it a lot of people might draw a blank since to be certain there are a lot of names out there when it comes to the Bond franchise and the time of the Bond girl hasn't been forgotten, but it's definitely passed at this point for a number of reasons. One obvious reason is that attitudes have changed from one era to another about women and their role in movies since at one time Bond girls were held in high esteem, even if the idea was that they had to be stunning and in some way so alluring that they couldn't be resisted. But as the years have continued to roll on the changing attitudes have seen such roles decline in popularity as the beliefs of those watching the movies have changed. In other words, being a Bond girl isn't the same as it used to be, and even calling a woman a Bond girl in a certain manner could be construed as negative simply because these are the times we live in. But back in the day, being a Bond girl did carry at least some esteem since it meant that those that wore the label belonged to a legacy that was to be respected.
Carole has had a pretty decent career apart from her time as a Bond girl, which may or may not be a good memory, it's hard to say since some women value that time in their lives, while others might think that it was a job at the time and not much else. In any case, it would appear that Carole moved on from her time as a Bond girl and had a successful career. At the moment she is listed as still active, but it's easy to think that she might be having a better time running her winery and might not come back any time soon. Quite a few actors have come and gone in the business that have been content to walk away when they believe it's time to simply hang it up and enjoy their lives. At the age of 63, it does feel as though she might be happier just keeping her distance from the camera, but again there's no real way of telling unless she actively says so. Some folks might like to leave their options open just in case something untoward happens, but after hitting a certain age it does feel as though some folks are ready to just call it and head off into the sunset.
Plus, given the fact that she has such enormous net worth, it's not entirely likely that she needs to work again since being worth so much it's easy to think that she could turn a profit doing whatever makes her happy, as the winery appears to do. Many actors have taken on outside interests over the years including wineries, ranches, and various other ventures that cost a great deal but can also yield quite a bit if they're run in an efficient and professional manner. And with the amount of capital that many celebrities tend to put into such business ventures, it's easy to see how they would thrive if given the proper direction. Plus, with the current pandemic protocols that are in place and the difficulties that come with filming, it's easy to think that anyone that's been content to spend more time away from the camera might want to consider staying away for a bit longer simply to be safe and avoid any unwanted risks. At this point, being older in Hollywood might come with a lot of perks, but being able to move about as one will is not among them since belonging to the age group that is most at risk for COVID is a definite hazard at this point. Many people have managed to get around it so far and keep working, but if it's not necessary then it might be best for some folks to stay away if they can.
For those that haven't made as good of a living it might be kind of rough, but for those such as Carole, it's easy to think that they'll be able to do just fine and weather the pandemic with at least some ease. Whether she'll come back to the theater, where she has also excelled, or to the screen is difficult to determine, but if she does then one can only hope that she'll be well taken care of and will be run through every possible safety measure to keep her in good health. Apart from that, it does sound as though her winery keeps her plenty busy.