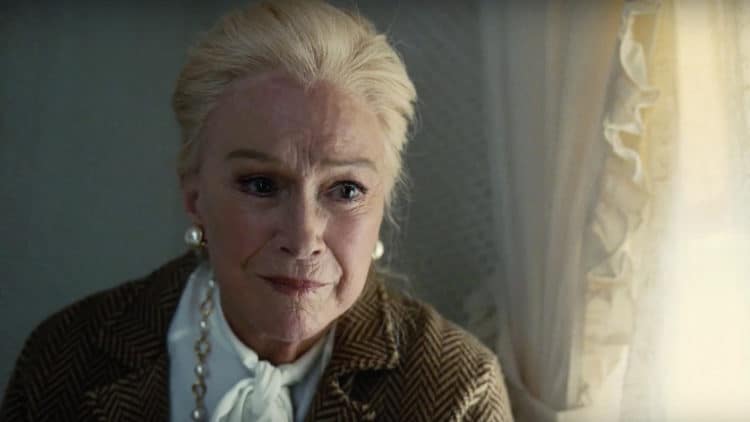 There are actors who try and try to get their name out to the public and make sure that they're seen and don't manage to make anything happen, and then there are actors that do the same thing but actually do make something happen with their career but are still largely forgotten at one point. It feels like a disservice to say that Diane Ladd has been forgotten, especially with everything she's done and the accomplishments she's piled up over the years, but it also feels accurate enough to state that she's been one of those that serve as a solid base for the careers of others to build off of since her own career has been rock solid for years and hasn't needed as much hype. Given all she's done and all she's accomplished in her many years on screen, it's very fair to say that she's been someone that can find work with very little effort since she's been able to show people what they want to see and be confident whether she gets the role or not. Whether that's one hundred percent accurate or not is hard to say since every actor gets a case of the jitters now and then, but looking at her track record it does feel easy to assume that she's been able to find some outlet for her talents with each passing year.
How one remembers Diane all depends on how long they've been following her career, and how many movies they've seen. Admittedly I've only seen her in one movie but it was memorable enough that it remains highly comical all the same. She did show up in National Lampoon's Christmas Vacation, and given the season it's definitely worth mentioning since the chaotic jumble of a movie that has entertained so many of us over the years is something worth mentioning each Christmas season. It brings to mind, for many people, the very real headache that can come about when relatives come to visit and the fact that many of them mean well but tend to forget that their presence adds a little, or a lot, more stress than many people are ready to handle most times, even if this is just one of the many things that a lot of people agree is something that's par for the course when it comes to the holidays. Plus, the movie kind of makes a lot of people feel a little better about their own situation since the truth is that a lot of us don't have rottweilers chasing squirrels through our home or SWAT teams breaking into our houses searching for rich, entitled millionaires that decided to cut out Christmas bonuses.
But Diane's own part in the movie, that of Nora Griswold, Clark's mother, was fairly muted since a good number of her lines come during the introduction of the in-laws when they arrive for Christmas, which is heralded in one of the best ways, the descending scale that is used along with the doorbell to indicate impending doom. The look upon the faces of the Griswold's when they hear the continual chime is priceless since the arguing of the in-laws can be heard behind the door as the camera pulls in. Nora is more or less the doting mother that likely made Clark the way he is, someone that loves her son and might coddle him a bit considering what's seen as the in-laws make their way into the home. Plus, any grandma that's ever asked a grandchild to rub her feet might recognize the look of hopelessness that Russ, played by Johnny Galecki, gives when he's told that he'll be given a whole quarter for this less than enviable task. The squirrel incident was comical as well in this movie since Nora faints dead away at the sight of the little tree-dweller, while the rest of the family goes into hiding. But like many in-laws, and the rest of those in this movie, she meant well and was there to support her family. It's a Christmas movie after all, which means that people are usually bound to pull together.
Diane has had quite the career and to be certain it doesn't appear that it's over since she's continued to be active despite being in her 80s at this time. One has to admire the pluck and determination of some folks that don't want to stop doing what they enjoy, especially if they feel fit enough to keep doing what has brought them such success in life. How long she'll keep going is difficult to say, especially in a pandemic that has been far more dangerous to the elderly. But at this time it would appear that she's doing just fine and is likely to keep showing up so long as she stays healthy.