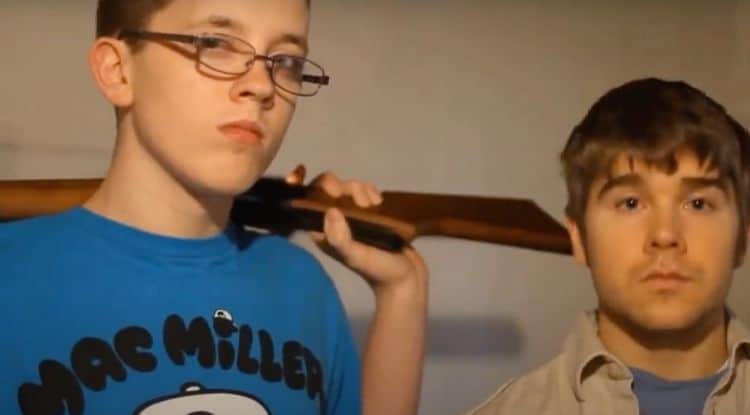 If you've been a regular internet user for a while, you might remember Froggy Fresh AKA Krispy Kreme. Froggy Fresh rose to internet fame in 2012 after releasing a rap song called "The Baddest". The song was so bad it was good and it didn't take long for Froggy and his thick southern twang to rise through the ranks of internet stardom. But you know what they say, easy come; easy go – and within a few years Froggy suddenly vanished just as quickly as he appeared. As with many other internet celebrities, Froggy's disappearance from the spotlight was somewhat quiet. This led a lot of people to wonder what ever became of him. If you're one of those people, you've come to the right place.  Keep reading to get more information on whatever happened to Froggy Fresh.
Who Is Froggy Fresh?
If you missed out on the Froggy Fresh era, let's get into a quick rundown of who he is. Froggy was born Tyler Stephen Cassidy and he is originally from Michigan. He started his online career under the name Krispy Kreme and created a YouTube account where he started posting clips of original songs he created. After uploading a series of somewhat medicare videos, he found himself with a huge viral sensation when he posted "The Baddest". When discussing the success of the song during an interview with the Post and Courier, Froggy Fresh said, "It happened pretty fast. The first night I uploaded it, instantly based on feedback, I was like, 'Yes, this is going to do well.'"
After "The Baddest" started gaining traction, he went on to release a series of other parody type songs. His social media following also began to grow. At one point, he got so big that he made a song with Daniel Tosh which premiered on Tosh.0. Eventually even went on tour performing his music to sold out crowds at small venues.
Where Is Froggy Fresh Now?
One of the first changes that Froggy Fresh went through was changing his name from Krispy Kreme to Froggy Fresh. As you can imagine, the well-known donut brand wasn't happy about a comedic internet rapper using their company's name for a stage name. He officially changed his name to Froggy Fresh in 2013. Any content that contained the name Krispy Kreme was edited. After several years of success, he suddenly disappeared in the spring of 2016.
After a two year hiatus, Froggy Fresh reappeared on YouTube with an update for his subscribers. To many people's surprise, he shared that he was done with the Froggy Fresh persona and reintroduced himself under his legal name, Tyler Stephen Cassidy. He explained that he had simply out grown Froggy Fresh and no longer had interest in continuing keeping up the character. Tyler also shared that he had been working on writing songs. This time however, Tyler was focusing more on pop and decided to leave his days as a rapper in the past.
Although the Froggy Fresh YouTube account is still active, there hasn't been any new uploads in four years. These days, Tyler is uploading content on his Tyler Cassidy Music channel. He also created a separate Instagram account under his real name. His content consists of original music and surprisingly, he is actually a talented musician. Sure, most of his songs still seem to be parodies, but he can play the piano and has a pretty decent singing voice. In 2019, he released an album called Renee which is available on all major streaming platforms.
Even though his Tyler Cassidy YouTube channel is only two years old, it's already gotten more than 22 million views. The Froggy Fresh channel has more than 133 million views. That number is still climbing even after years of inactivity.
What's Going On In Tyler's Personal Life
Tyler has never been the type of person to over indulge on the details of his personal life, but we do know that he's also had some changes in his private life since his days as Froggy Fresh. In the summer of 2019, he married a woman named Jessica. Unfortunately, Jessica's Instagram account is private so we weren't able to find much information on her, but it's very clear that she is Tyler's biggest fan.
Lots of things are different now than when Tyler first won the internet over with his antics, but one thing that hasn't changed is the fact that his creativity still resonates with people all over the world. Froggy Fresh may be gone, but Tyler is here – and he's here to stay.