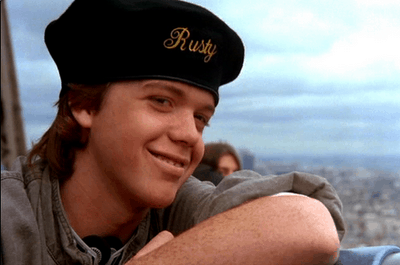 It does kind of feel as though Jason Lively might have stepped onto the screen and then stepped right back off doesn't it? Well to be fair his stint as Rusty Griswold was probably one of his bigger and more noticeable roles, but seeing as how National Lampoon's European Vacation is still one of those that people don't happen to think was that great it's easier to say that his other contributions to show business were a little more well-received, even if they didn't get him as much attention. Catching up with the older actors that at one point were considered to be on their way up is kind of interesting now and again since finding out what they're doing now is sometimes very intriguing and at others kind of eye-opening to be certain. In Jason's case he ended up leaving show business in the early 90s for the first time and then coming back only a few years ago for a brief period before leaving once again. Perhaps he felt that he could come back and make his career work once again, or maybe someone convinced him that there was a part that was just right for him at this time, it's hard to say. But it's not the first time that an actor from decades past has tried to make a comeback of sorts. The only downside of course is that unless they're someone that made good during their career the first time around it's not likely that they're going to do much when they get back in front of the camera. In Jason's case it just didn't happen, though one can at least say that he gave it a go.
Jason did go into business for himself with a mobile roasted corn business called Jimmy Crack Corn, which may or may not have been all that successful depending on where he decided to try out the business model. After all some businesses do tend to see better numbers in various regions while they're not all that popular in others. A mobile roasted corn business definitely would do far better in the spring and summer when there's a chance to attend festivals, fairs, and many other events held outside. At the current moment it would be a doomed attempt since so many people are staying indoors and all outside activities have been cancelled. Thankfully though he's also worked for a computer company in the past so he does have another skill to fall back on and therefore keep him busy. Even better is that if he's still able to work for a computer company is the idea that he could possibly work from home as many companies have sent a good number of their people home to work remotely when possible.
Getting back to his most noticeable role, that of Rusty Griswold, it's easy to see why he would be a topic of discussion when trying to figure out if he was one of the more memorable or least effective of the Rusty's since if anyone's counting at this point we've seen five of them now, and they've all been vastly different than the others since there's been Anthony Michael Hall, the first of them, Jason Lively, Johnny Galecki, Ethan Embry, and Ed Helms who played in the most recent Vacation movie. Yes it was flop but it still counts as part of the continuity. There was one other Rusty apparently but he was part of an online short and as a result we're not going to count it right now. But thanks to Nick Nadel of IFC we do have a pretty definitive ranking of the kids from the Vacation movies and unfortunately Jason kind of ranks down at the bottom as far as being a favorite, while Johnny Galecki ranks as 1 and Anthony Michael Hall ranks as 2. That's kind of a low blow really but it's not too hard to understand since despite keeping the mismatched discontinuity alive, the Rusty from European Vacation was about as vanilla as they get in his humor and his appearance in the movie and even in his dream sequence. In other words, he didn't feel edgy enough or even worth watching since he didn't contribute a whole lot in the eyes of a lot of fans. Hall and Galecki were products of their time in that they contributed to the movie with a very comedic feel and were easy to integrate into the narrative in ways that would allow them to be funny and part of the cast without being too overbearing. In a way it almost feels as though Jason's Rusty was forced on the audience at times.
There's no telling what might have happened if the creators of the movie had decided to stick with the same group of actors all the way through, but the changing of the kids was kind of entertaining and served as a big quirk to the movies overall.