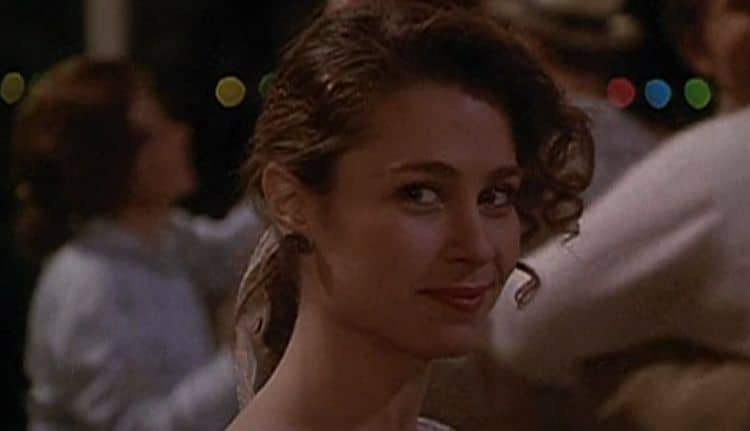 For someone that's managed to snag roles in a couple of very memorable movies, it would appear that Julie Warner has kind of slipped a bit in terms of her career since she's still working, but currently she's not really doing much that people might recognize her in. Her story reads as one might expect of a stereotypical actor, apart from graduating from college before she made her way to Los Angeles to get her career started. Some folks might have expected her to drop out or somehow find that school just wasn't her thing since let's be honest, a lot of actors out there might have never finished high school and some decided that after attending college that their needs weren't being met. But Julie did graduate and she did make her way out west, where she started a job as a waitress while she began to attend auditions for the chance to be someone on the big screen. The happy news is that she did get her wish since she did make it after a while and had her debut in 1990 as a part of the cast, briefly, of Flatliners with Kiefer Sutherland, Julia Roberts, Kevin Bacon, Oliver Platt, and William Baldwin. The only thing about that is that she's credited Joe's (Baldwin) Woman, meaning one of the many women that the character slept with and recorded unbeknownst to the women. Yes, Joe was a sleazeball in the movie if you didn't guess it.
Her role as 'Lou' in Doc Hollywood would give her a lot more exposure, in a couple of ways since she did perform a nude scene as she was walking out of a river in front of the main character, Dr. Ben Stone, played by Michael J. Fox, completely nude. But while this scene did take place she was fully clothed for the rest of the movie and played a stern but enjoyable role that earned her a lot of positive attention. Lou was a very practical character with a four-year-old daughter and was the type of person that knew that great potential didn't need to be wasted since she recognized that Ben, being a promising young doctor, needed to go where his skills were going to be appreciated, rather than become stuck as a small-town doctor as the rest of the town eventually warmed up to him and wanted to see him stay. When the end of the movie finally came it was revealed that Ben actually wanted to remain in the small town since he'd been raised in a similar location and felt the need to return. Lou ended up welcoming him back and of course, the happily ever after feeling was implied.
From there she went on to star in Mr. Saturday Night, then Indian Summer, and even in The Puppet Masters, a kind of cheesy sci-fi/horror flick that featured slug-like aliens that would attach themselves to a person's back and take control of their nervous system and thereby sought to invade the earth. It wasn't exactly the kind of movie you'd remember without a little help but it was interesting enough considering that the creatures had one glaring weakness, the fact that they were almost all brain and very little else. This meant that anything affecting the brain, which might be survivable for humans, would kill the aliens without hesitation. As I said, it wasn't that great of a movie, but it did make a bit of an impression. She did get to take part in the movie Tommy Boy, which a lot of people remember fondly thanks to the late, great Chris Farley, who, along with David Spade, created a memorable movie that is still quoted and enjoyed by quite a few people. Julie's role as Michelle Brock was both the love interest of the titular character, Tommy, and the sales manager for Callahan Auto. Her character kind of came and went during the movie but proved to be pivotal since when Tommy and Richard were essentially defeated and had no other option to save the company, Michelle came through after suspecting Tommy's new stepmother and stepbrother of fraud. In a sense, she's the hero of the story since her ability to think clearly and act in a rational manner reinvigorated Tommy and Richard and helped to save the company.
Since that time Julie has continued working but hasn't done much of note apart from show up in movies that people might have to actively look for if they want to see her. She's also been a part of several TV shows over the years but hasn't been the big breakout star that some might have thought she would eventually become. At the very least she's still around and still has enough clout in the business to continue her career.