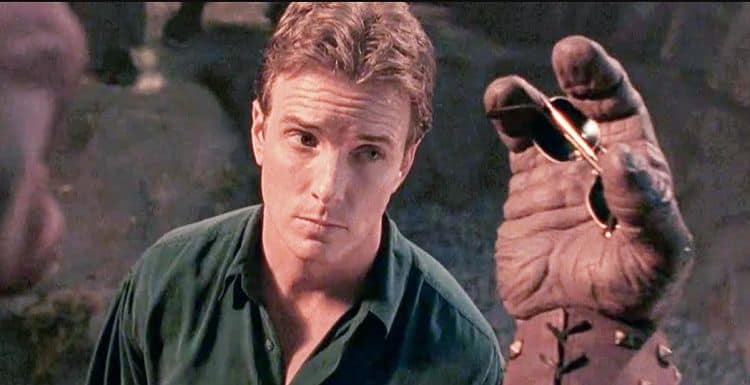 The chances are pretty good that you've seen Linden Ashby in more than the 1995 version of Mortal Kombat and don't even know about it. This wasn't the only role that he managed to land in his career after all and while it's one of the roles that a lot of people might remember, he's actually been in movies that did far better than this one. He's been in the entertainment industry since the early 80s at this point which means that he's been around long enough to see how things are done and get the hang of it, and also learn whether or not he was going to be as big of a star as his character in the movie was supposed to be. The answer to that of course is kind of, well, no, not really. He's still working, he's still doing his thing, and he's definitely the kind of guy that's proven that he's dependable and reliable, but as far as being a big star that stands out, that's kind of subjective since some people might still think that he's a much bigger star than he is, but the fact is that playing Johnny Cage was probably one of his big highlights. But to be certain, playing one of the most well-known game characters in its initial movie appearance isn't too shabby.
He was actually seen in Wyatt Earp, the 1994 version with Kevin Costner, as he played Morgan Earp. He was also in 8 Seconds with the late Luke Perry. These both came before his time as Johnny Cage in Mortal Kombat, but obviously he impressed someone and was invited to participate. What's interesting about Linden is that he's suffered panic attacks for years apparently when it comes to auditions, which isn't unheard of since many actors have experienced this. But the hope of course is that after all this time he wouldn't suffer in the same manner any longer since it's a big hope that he's found a way around it. To hear that actors suffer panic attacks is fairly standard, but when it threatens their ability to audition it's easy to see that something needs to be done. There are many methods that can be used to get an actor over the hump and can help them to get their mind in the game, but to learn that those that have been in the industry have suffered such a thing for longer than a few years is kind of hard to imagine. It happens though.
His time as Johnny Cage was kind of a fun role to watch since he did play the character fairly well, but unlike the game, he did leave his clothes on even while exhibiting the attitude that came with being Cage. He was cocky, he was a bit rude, he acted like a movie star a lot of the time and was fairly unimpressed until he realized what was really going on. Even then that cocky attitude didn't leave him, which was nice actually since it might have turned a few people off to the character had such a thing happened. He didn't take the role back in Annihilation though, and for a decent reason in the minds of many people. If anyone remembers, and I'm sure they do, Johnny Cage was killed off by Shao Khan rather quickly in the second movie, which meant that he was there for a minute or so before he had his neck snapped like a twig. Linden turned down the role, likely because he wanted more screen time, which was understandable, but since Johnny Cage did get killed in the game the movies were trying to keep to that storyline, even if it kind of upset the fans a bit. That wasn't where his career ended though since between TV and direct to video movies he's been a busy man over the years and has managed to get small parts in various movies that people actually recognize as well. He had a part in Resident Evil: Extinction, and in Iron Man 3, but it feels likely that a lot of people might not have noticed him. It's not exactly an insult since he's still a supporting actor and someone that's bound to do his job no matter if he's seen and recognized or if he's just there to help out with the project.
Another interesting thing is that he was brought back to provide the voice and movements for the character of Johnny Cage in Mortal Kombat 11 due to his familiarity with the character. The great thing is that Linden has been involved in martial arts such as Karate, Tae Kwon Do, and Kung Fu since he was in his early 20s, so the guy knows what he's doing. As of now he's still working, and it's likely that he'll be sticking around for a while.