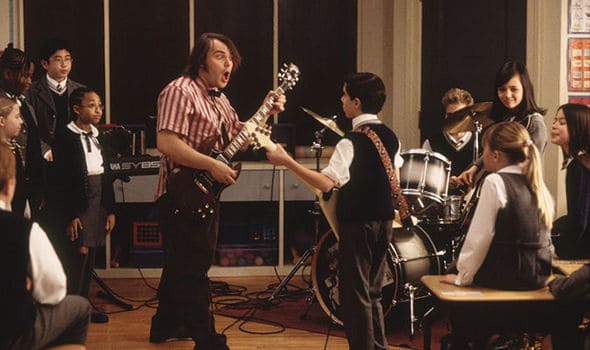 In real life the School of Rock's beginnings would horrify a lot of teachers and adults largely because it was being taught by a man that was passionate about music but didn't know anything about teaching or even being around kids. Dewey's whole ambition in life was to be a part of rock band and once he was kicked of the group he'd been a part of for a while he was left without anywhere else to go. So go and impersonate a substitute teacher, right? That little tidbit would no doubt shock and anger quite a few parents in the real world and he'd likely be tossed in jail at some point. But in the movie it did show that the kids learned a valuable lesson and were allowed to be wild and crazy when it came to the music. One can't be uptight and willing to give up everything else just to be taught in a proper manner all the time. Sometimes you've just got to rock.
So what happened to the cast?
Aleisha Allen – Alicia
You probably remember Aleisha best from the movies Are We There Yet? and Are We Done Yet? with Ice Cube. Since School of Rock she hasn't done a whole lot and honestly she doesn't appear to have done another film since 2012 when she starred in Your Nobody 'til Somebody Kills You. It's kind of an odd title for a movie but it was her last one apparently. Whether she's done for good or will eventually mount a comeback isn't really known.
Joan Cusack – Rosalie Mullins
Joan has had a very successful and very busy career before and after School of Rock since she started out playing in teenage movies such as Sixteen Candles. She's also been featured in a lot of films with her brother John and has usually played a very engaging and interesting character. She is still acting to this date and seems to have left 2018 open though she will be coming back to the big screen in 2019.
Caitlin Hale – Martha
While her bio states that she's still active in Hollywood it would seem that School of Rock was her last motion picture experience and she hasn't done anything of note since. It could be that she had to focus on other matters in her life and has been biding her time or it could be something else entirely. Whatever the case she is still listed as active and seems to be trying once again to get her acting career going.
Kevin Clark – Fred
Apparently Kevin has been playing the drums since he was three years old and teaching them since he was five which is extremely impressive. But apart from a brief appearance on the Jay Leno Show, School of Rock was really his only claim to fame when it comes to acting. Being in the film might have been a lucky break that was only mean to be a one and done kind of deal, which could mean that he never had any real intention of being in movies or TV. But be that as it may he played a great part.
Rebecca Julia Browne – Katie
Apparently she learned to play the cello and the guitar specifically for the movie, but since then she's only been in one other short film and hasn't been around much. A lot of these kids seem to have gone on to other things after the movie while only a few stuck around Hollywood long enough to make a career before finding something else. It really does seem that they were selected for a one-time purpose that had the chance to be something but in many cases just kind of fizzled out.
Miranda Cosgrove – Summer Hathaway
She debuted in Smallville on TV and School of Rock in films and then it was off to the races. She's had one very important voice role that she's been doing for a number of years, that of Margo from the Despicable Me movies. She's also been on TV and in other films as well throughout her career and has been acting fairly regularly up to this point. She's one of the few that seems to have made a successful career from her time on screen.
Jack Black – Dewey Finn
Jack Black is the kind of guy that came in acting crazy and so out of control that you didn't know how to take him at first. He was wild, loud, and just completely obnoxious, but over the years he's learned how to calm his act down and has really made a lot of progress in what he's been doing on screen. In fact he's been in films such as Goosebumps, Jumanji, and even The Holiday where he got to be silly and a little loud at times but still had to be somewhat reserved.
So quite honestly only a few people from the film really went on to do anything, and more than one of them were already well-established.