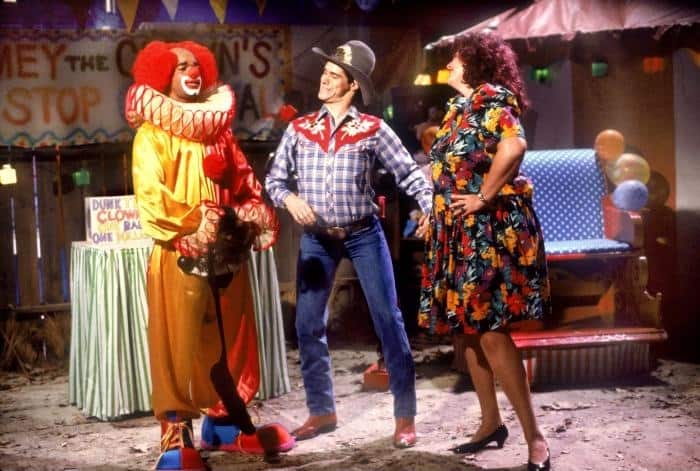 In the five short seasons of the sketch comedy In Living Color, we got some of the best comedians in one place on the TV screen. The series started in 1990 and actually received an Emmy for the show that very same year. Created by Keenen Ivory Wayans, In Living Color portrayed African-American humor in a way that didn't agree with the mainstream tastes back then. Either way, the show was a bold move for the Wayans brothers, and it rose to fame through its unique comedy and its amazing cast. Here are some of the members of that original cast and what they've been up to since the show ended.
Jim Carrey
We all know that Jim Carrey's career took off after this show. He starred in some of his most classic films right after In Living Color. These movies included The Mask, Ace Ventura, Dumb and Dumber, Liar Liar, and The Truman Show. The 2000s came and Carrey just continued his comedic career; but he also slowly added a little variation by doing a little bit more of drama, family, and even a bit of suspense/thriller genres. He's latest work is the TV series Kidding, where he plays Jeff or Mr. Pickles.
Kelly Coffield
Coffield has been in a lot of mainstream shows and a few movies. Right after In Living Color, she had a role in Jerry Maguire; but for the most part, her biggest roles were in TV shows. In the 2000s, Coffield picked up the pace a little bit more and starred in more movies including Scary Movie, College Road Trip, and Bride Wars. After taking a three-year break in 2015, Coffield found herself acting again this year in 2018 with a small role in the new TV series reboot of Lethal Weapon.
Kim Coles
Coles started off her career right at In Living Color, and she has stayed quit busy since then. She's had recurring and guest roles on quite a number of TV shows. While she's not as active as the rest of her fellow comedians, but at least she still have projects lined up. Her latest film project, Love is Not Enough, is in post-production status.
David Alan Grier
This talented comedian was not short on jobs after In Living Color. Grier has quite the extensive career with over 110 acting credits under his belt. So far this year alone, Grier has five acting projects. One was a movie, Arizona. He also began a new TV series, Snap Decision, which he hosts, and he guest starred in the Netflix show, "A Series of Unfortunate Events." He has another movie in post-production, Sprinter, and a TV series,
The Wayans Brothers and Sister
Damon, Keenen, Kim, and Shawn were the brothers that started it all. Of course, each one of these brothers went his own way when it came to their careers. Damon pursued acting and did really well at that. Keenen focused more on his writing. Kim had an extremely humble acting career, while her brother Shawn had the exact opposite: a long and prolific acting career.