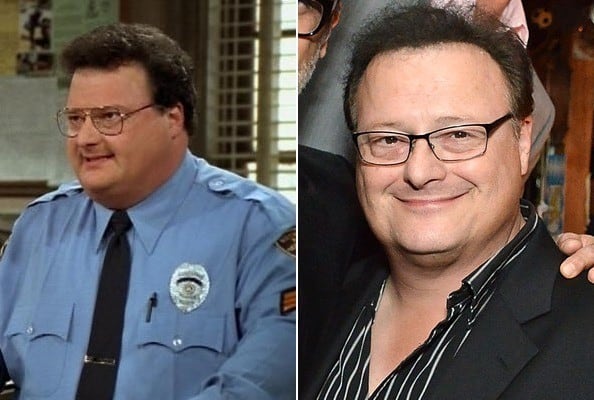 Remember Wayne Knight? Of course you do, he didn't go anywhere really. Since his time on Seinfeld he's been extremely busy. If you didn't notice him it could be because he's stuck to other films and TV shows that aren't as popular or he's been seen in cameo or guest roles that haven't featured him as prominently. But he's been around, don't doubt that. He's taken up a lot of voice roles and gone on to take roles that are a lot more serious than what he did on Seinfeld but he's still been prominent enough to keep working. In fact if you look at this guy's resume he's been working almost nonstop since the show and has managed to rack up some impressive credits here and there. Sure he's done a few things that don't get a lot of notice but the bills have to be paid and one's reputation has to be kept up when you're in Hollywood. Otherwise people tend to forget about you completely.
Thankfully he's not an easy guy to forget. Here are just a few of the things he's been doing since Seinfeld.
Xiaolin Showdown
It's fair to say that he's taken on a lot of voice roles in the last decade and more since his voice is hard to miss and has been easily noted in a lot of features and TV shows. This particular one is a show that people would love to see come back since it was a favored cartoon among kids and was one of the more popular shows on the WB. Whether or not it will come back is uncertain but if they managed to bring Wayne back it would be something special. He played the dragon, Dojo, that was kind of a whiner at times but was still valuable asset to the team since he was wise in some ways and could turn himself into a bigger dragon that was used for transport and, at times, to fight on their behalf.
Space Jam
This movie takes a big seat of honor in a lot of people's childhoods since it took the NBA and Looney Tunes, two things that people have come to love and enjoy throughout the decades, and mashed them together in a movie that pulled no punches and let the looney out of the bag. When Michael Jordan is 'recruited' by the Looney Tunes to help them win a basketball game with high stakes his assistant somehow follows him into the Looney Tune world and proves that he's just about as useless there as he is the real world. Wayne Knight does offer a lot of comic relief in this movie as he plays the hapless loser that's the type of personal assistant that's always trying to do his best but comes off as just way too eager and accommodating for anyone's taste. But he's good at the part and makes it believable, so it's funny as can be.
Tarzan
Tantor is probably the most neurotic elephant you'd ever meet in an animated movie since he's scared of just about everything and worries incessantly about one thing or another on any given day. But he's a good and true friend to Tarzan and doesn't balk when it comes to helping his friend out. In truth he's kind of like that best friend that you simply roll your eyes and shake your head at even when you know he'll have your back. Wayne puts on a show with Tantor that's just a lot of fun to watch since it puts a lot of comedy into this film that might otherwise be missed if it wasn't there.
Punisher: War Zone
Yes, this is possibly one the worst representations of the Punisher that's ever been made, but it was made all the same. He got to play the Punisher's backup man, the guy that deals with all the gadgets and helps him out when needed. In other words he plays the guy that is ultimately expendable since the Punisher's only real concern outside of ending the lives of bad guys is to handle the logistics of each mission, which has been handled traditionally by him or by someone he trusts throughout the comics and the various stories. In this version Microchip is the guy that Frank depends on since he's always got Frank's back and is able to help him out whenever possible. But in the end he's not worth the life of a child, which even Micro seems to agree with.
So honestly Wayne Knight has been around quite a bit since Seinfeld and hasn't really let up on his career. In fact it might be wise to state that he became even busier after his time on the show and his popularity actually zoomed upward for a while.