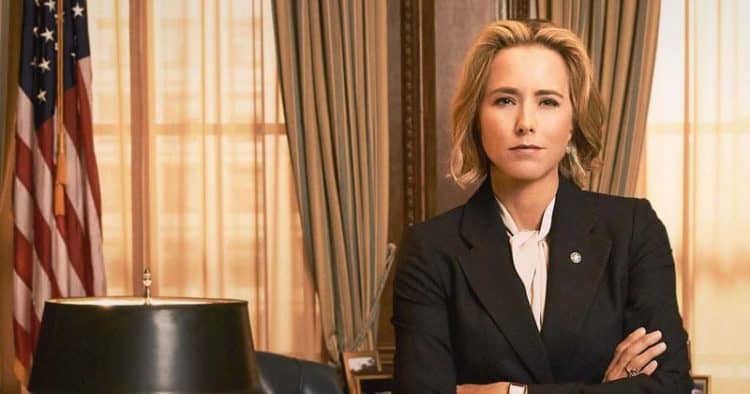 This is the 6th and final season of Madam Secretary, which airs on Sundays at 10 PM EST/PST on CBS. Season six premiered on October 6, and will only have ten episodes. If you've never watched the hit show, then perhaps you don't care what's going to happen in season six, but frankly millions of avid viewers do.
What's in a Name?
The biggest change this season is that the name of the show itself should probably be changed to Madame President. Although audiences everywhere were cheering her on, I'm not quite sure that all of us really believed that Elizabeth McCord would actually win the presidency.
Season 6 Premiere "Hail to the Chief"
According to TV Fanatic, the official Season 6 synopsis tells us that Elizabeth will be finding herself fending off an investigation, which albeit baseless, will be delving into her past and threatening to derail her first major legislation as President. In addition, hubby Henry ends up squirming following his late-night talk show appearance, which resulted in heightened scrutiny of their marriage.
When Season 6 starts, time has actually skipped forward from the time depicted in the Season 5 finale and Elizabeth McCord now finds herself no longer the Secretary of State, but the bonafide first female POTUS. The fact is that this storyline idea was, at one time, just an inside joke with the production team but then they ultimately made the momentous decision to actually make it a storyline for closing out the series at the same time as the 2020 real-life US Election is underway.
In fact, both executive producers, Barbara Hall and Lori McCreary commented on it in TV Line. Hall stated that they had discovered a way to get the best of both worlds by jumping ahead and making Elizabeth McCord president. And, McCreary added that they got to have the fun of choosing which moments that they would go back to rather than taking up five episodes doing an entire campaign.
Cast Changes
The majority of the cast will be back for Season 6, however, some of their roles have been downgraded. Here's a breakdown of the who, the how much, and the where of it all: According to TV Line, Sebastian Arcelus, Geoffrey Arend, Kathrine Herzer, Evan Roe, Sara Ramirez, and even the former POTUS himself, Keith Carradine, will not be series regulars during season 6. However, the exec wanted audiences to know that all of these actors received an invitation to appear in at least one of the episodes in the final season.
As Madam Secretary enters its final season, the show takes a huge leap forward but, of course, not everybody is making that jump. TVLine confirmed the non-return of Sara Ramirez during the abbreviated final season as the brainy political strategist, Kat Sandoval. Her departure from the show comes after the word was out that the show will creatively shake things up throughout Season 6.
So, the show picks up two years after the Season 5 finale's events, finding Tea Leoni's character having to answer to her new title as POTUS at a point that's approximately 100-days into Elizabeth's presidency. As you may recall, at the end of the Season 5 finale, Elizabeth announced her bid for the Oval Office. Throughout her tenure as Secretary of State, Elizabeth McCord remained a fearless broker of peace, de-escalating wars, and advancing human rights causes worldwide.
Play Ball!
One event that President McCord gets to enjoy has previously been spoiled a bit for viewers because the filming of the scene had a somewhat public nature about it. Tea Leoni actually threw the first pitch at the start of an MLB game in New York. And, she did it in-character as President McCord with the cameras rolling.
On an exceptionally humid August night, something had Elizabeth seriously on edge. Her case of nerves was due to the fact that she was scheduled to throw out the first pitch at New York's Citi Field's Indians vs. Mets game like many presidents before her. It was a truly terrifying day, according to Tea Leoni. Needless to say, getting that particular shot took the crew four tries but eventually Leoni was proud of her pitch. She stated that it was extremely important that she, as the first female POTUS, get that ball over the plate. And, her foray into major league baseball is going to be shown during Episode 2.
New Season 6 Sets
BTW, the producers are also saying that Season 6 will have quite a different look to it than previous seasons complete with brand new sets (no more Georgetown brownstone for the McCords) that look a lot different. And, according to Executive Producer, Barbara Hall, it's almost like having to launch a brand new series.
An Inside Joke
Putting Elizabeth McCord in the Oval Office began as an inside joke early on in the show's run: In fact, the production and its cast and crew often were left waiting to discover whether the show would indeed be coming back in the fall. And, according to Leoni, a really grandiose plan for the long-term seemed to be a bit premature. However, with every season's renewal, the notion became less of a joke. So, by the end of Season 5, Elizabeth McCord had officially announced her POTUS candidacy.
A Course Correction
By the time that the Season 5 finale aired, the executive producers, Hall and McCreary, were thinking that Season 6 would show McCord's path to the presidency i.e. the primary, the campaign trail, and of course, the election. However, a couple of things happened that drastically changed the course of the creative process. The first was that CBS made an announcement that Season 6 was the final season. Secondly, Madam Secretary's executive powers decided that, since Season 6 would be running throughout the lead-up to the real-life 2020 presidential election, perhaps American audiences wouldn't be too keen on having to watch a virtual fictional mudslinging contest during the exact same time as they had to watch the real one. Good point.
So, to find out whether you like or dislike the changes that come about in Season 6 of "Madam Secretary", just tune in to CBS Sundays at 10 PM EST/PST and decide for yourself.