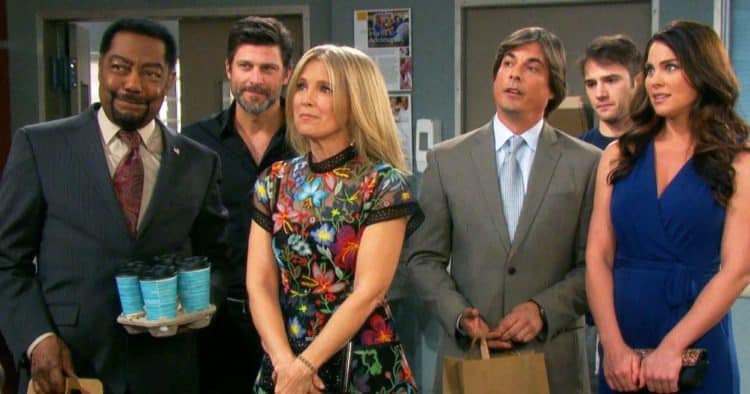 Days of Our Lives recaps tell us that there is so much going on with Lani right now. She is in such a bad place, and we have no idea how she is going to get out of that place. We watched as the Horton family decided they would all surround her in the hospital as she went to have her baby. That baby is being born via C-section, and her outlook isn't all that promising. She's struggling to get it together, and that means she won't have much more to do than just lie back and let them do their thing. Will her baby be all right? We aren't sure if that's a possibility, but they will tell her before much longer. Her family is there for her, and they will not allow her to suffer alone. And, Eli is also there for her. She might not like it, but it is his baby.
We also watched as Abe had a very warm moment with Eli. This might not be something we saw coming, but it's here. They bonded over this, and that might be a nice thing for the baby. Other moments in the show recently included a wonderful celebration between friends now that all are safe, sound, and back. We know Lucas and Chloe are happy to be back together, but we don't know if that will last much longer for them. They might not have a lot more time together as he is leaving the show, but that might not be accurate, either. He might be leaving as Lucas, but there is always the chance that they will simply recast the role and bring in a new Lucas so they don't miss a beat in their new romance. Will that happen? We don't know.
What's Happening on Days of Our Lives
It's complicated. 👀 https://t.co/eUHyKlZE1S

— Days of our Lives (@nbcdays) June 20, 2018
Fans just want to know one thing. Is Ben a good guy now? Or is he still a bad one, but he's just playing things off like he's the kind of guy you want to bring home? What do you want to see? We don't know. He's a killer, and he's not a good guy, so we aren't sure how we feel about all that is going on in this situation. However, it might be something that works out well for him if people begin to like him again. We shall see, though, after you tell us your thoughts.
What's Next on Days of Our Lives
This week on #DAYS: an early labor puts Lani and her baby at risk. https://t.co/8nKLID6Nyk

— Days of our Lives (@nbcdays) June 18, 2018
Kayla has done something terrible, and we know it. She's made a deal with the devil, who we like to call Stefan. She wanted to help her husband get his sight back, even if he only does wear an open eye on one side. This means that they might have a moment in which they will have nothing more than one eye, but she's okay with that. She knows that Stefan is her only hope for the item that might bring back her eyesight, so she's doing what she can for him. She knows she doesn't want to spend her time spying on her friend Kate and reporting what she finds to Stefan, but that's what she's up to. And she's not going unnoticed. She's been caught, and it will be a very interesting moment to see how she manages to talk that one down.
And now we get to see if Kate catches on. If Kayla told her what she was up to and swore her to secrecy, they could probably work together to take down Stefan and both get what they want from him. And that means they can probably get their situation under control faster than they do in the past. Hope will receive a phone call from her daughter, but she won't like that she doesn't want to tell her mother where she is. There's not much else that they can do at the moment. She's got to find her daughter, somehow, and that means she can't figure it out. But, she will, and Ciara will have to deal with that.
Stay tuned for more Days of Our Lives and be sure to check out TVOvermind daily for the latest Days of Our Lives spoilers, news, and updates.