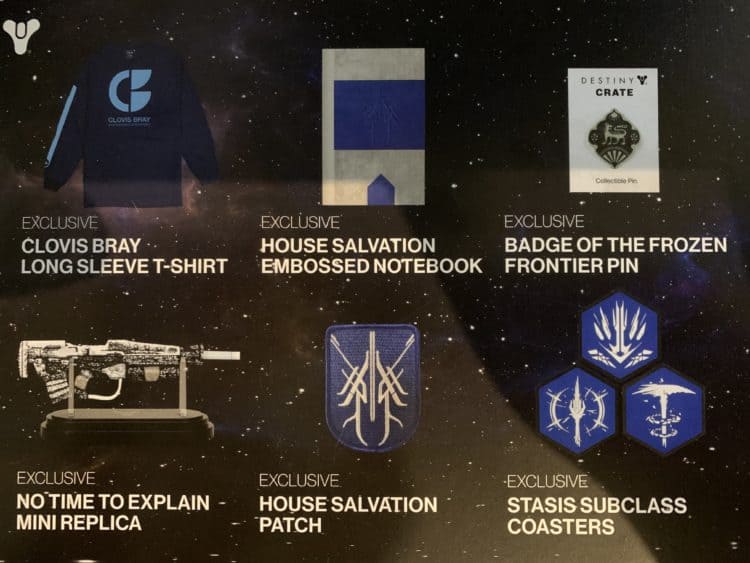 If you weren't previously aware, Loot Crate is a subscription based crate service that offers random and exclusive items with each crate. "Whether you're a gamer, anime fan or pop culture aficionado, we've got a crate for you! We curate a bundle of collectibles, apparel, figures & more that you can't find anywhere else! Crates get delivered to your door. It's like getting an awesome birthday present from a friend every month!" I've been a subscriber to the recently added "Destiny Crate" for the last couple of months now and I figured if you're thinking about subscribing to any Loot Crate, you might want to take a look and see what you're getting yourself into, so here's what you get with the Destiny 2 Europa Loot Crate! Keep in mind, you can't get this crate anymore, but this should provide you with a pretty good sense of what you may get in future crates.
Clovis Bray Long Sleeve T-Shirt
Each Destiny Crate comes with some form of apparel (I got a hooded sweatshirt from the previous Earth crate), and the Destiny Europa Loot Crate is no different. While I thought it would have made more sense to include a heavier sweatshirt rather than a t-shirt in the crate centered around a completely frozen planet with ice storms and blizzards 90% of the time, the long sleeve t-shirt is actually really cool. I like the Clovis Bray design on the front and the sleeve and the blue color is very….cool. However, the apparel does tend to run a bit smaller, so if you're usually a Large, I would suggest getting at least a size up. If you do find that your apparel item does not fit, Loot Crate has been very easy to work with and does allow for size exchanges if you contact them from their support page.
House Salvation Embossed Notebook
While I don't personally have much of a use for a notebook, the House Salvation embossed notebook does look very cool. Unfortunately, it's a bit too small to actually do anything with and the build of the book makes it hard to write anything with any sort of comfort.
Badge of the Frozen Frontier Pin
If you're a pin collector, or just enjoy a cool pin and like Destiny 2, the Badge of the Frozen Frontier pin in the Destiny Europa Loot Crate is definitely a neat find, albeit a bit glossy for myself.
No Time To Explain Mini Replica
I've currently got the No Time To Explain mini replica sitting in front of my keyboard at all times now, while it might not be as high quality as the official Bungie replicas like Hawkmoon and Bad Juju, the No Time To Explain mini replica that comes in the Destiny Europa Loot Crate is still a really cool item, especially for fans of the first game and are looking for a bit of a nostalgia trip.
House Salvation Patch
The House Salvation patch is also a really cool item included in the Destiny Europa crate, and I would have nothing negative to say about it if it weren't for the massive Bungie branding on the front of it. I love Bungie, but once you see it on this patch, you can't unsee it, and it kind of ruins the authenticity of the patch. Aside from this, I think it looks really cool.
Stasis Subclass Coasters
By far my favorite items in this Destiny Loot Crate are the Stasis subclass coasters. All three of them sit right next to my keyboard at all times and most of the time I don't even have anything resting on top of them; I just like looking at them. The coasters are shaped in such a way that you can set them up in any way you choose, I currently have them set up in a honeycomb-looking pattern with the Warlock Stasis subclass, Shadebinder, in the middle (symbolizing my Warlock main, of course).
Overall, I was really happy with this Loot Crate, even more so than the Earth crate. I was honestly kind of disappointed with that one, although it did come with some drinking glasses that had potential if they had more than "Trostland" imprinted on them. I'm definitely looking forward to the next Destiny Loot Crate that is bound to come my way in the coming months, with a theme of the Moon. I am expecting some awesome things from this one, because there is so much potential with the Moon.