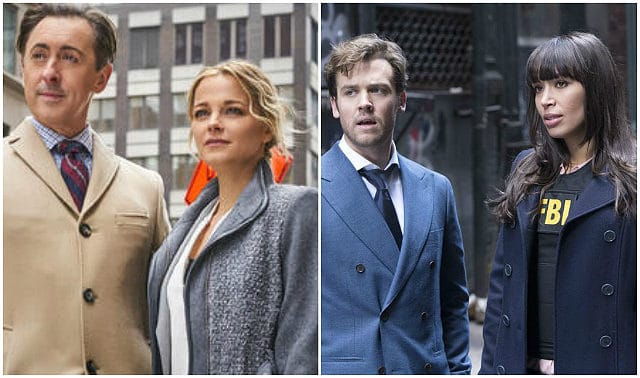 CBS's Instinct and ABC's Deception are two new shows that come from a long line of procedural dramedies that feature a fun male-female pairing.  A recent New York Times article suggested that both shows "owe a debt" to ABC's Castle, a show that ran for 8 seasons.  Meanwhile, fans of the Fox show Bones would say that Castle had copied from Bones and that Bones ran for 12 seasons.  There are also those who watched both shows and would wonder what fans were squabbling over.  With both of these shows airing on Sunday nights, it seems there's soon going to be more fandom wars.
The truth is that there's an entire history of these sort of procedural dramedies that go back to  NBC's Remington Steele.  If anyone is going to claim being copied that would be the show – which owes a ton to some 1940's movies. From there, you'll eventually you're going to end up looking at Shakespeare's comedies. but that's an article for another day. 
Getting back to television, specifically network television, the procedural, including the subgenre of the procedural dramedy, has been around for a long time.  The entire idea of "copying" is silly.  Hollywood is big on intellectual property laws.  If shows were copying another they'd be in court.  Using the same boilerplate doesn't mean people are making the same show. 
Sure, these shows are going to have elements, hallmarks, and tropes that are recognizable from other shows. At the same time, when they are good, they do create their own unique strand of DNA. Â Shows like Castle, Bones, The Mentalist, Remington Steele, are like siblings – not identical twins.
Instinct vs Deception – What's Your Flavor of Fun?
Instinct and Deception both air on Sunday nights – but not at the same time. CBS's Instinct is an 8 pm show while ABC's Deception is on at 10 pm.  This means that in theory, you can watch them both that night! 
Wanting to do so is another matter.  Just like Bones and Castle, you may find one more appealing than the other – or you may love them both.  Doing so will depend on what your favorite elements are in these kinds of shows.   It also very well might depend on what's your favorite network as both shows strongly reflect the network that they're on.
First up: CBS's Instinct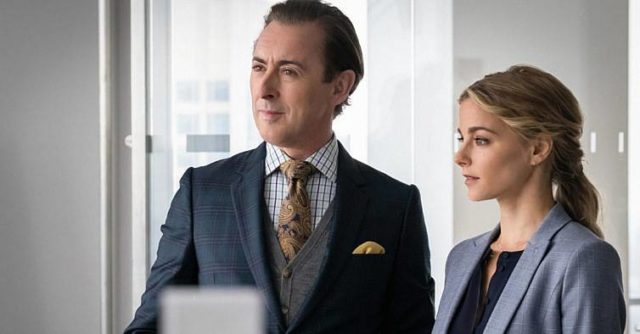 CBS's Instinct is actually based on books by mystery/thriller novelist Robert Patterson which made me think of Bones.  My thoughts while watching the pilot was that it was more like a mirror of Castle than a copy of the show itself. First though, the similarities.
What's
Castle
-like on
Instinct
The pitch for the pilot certainly does sound similar to the one for Castle!Instinct certainly
Alan Cumming and Bojana Novakovic star in the new drama "Instinct," about a college professor and former CIA operative who is lured back to his old life by an NYPD detective who needs his help to stop a serial killer. (CBS press release)
Alan Cummings plays Dylan Rinehart.  Dylan is a quirky rock star professor of abnormal psychology & an author of popular books on the topic.   Richard Castle (Nathan Fillion) was a writer as well.  Both characters have their book used by a serial killer, and start working with the NYPD to get their writing mojo back.  They both have a way of getting things that can't be through regular NYPD channels.  Castle always seemed to know "a guy."  In Dylan's case, his "guy" is his still active CIA buddy Julian Cousins (Naveen Andrews).
Detective Lizzie Needham (Bojana Novakovic), has an on-the-job best friend in Lieutenant Jasmine Gooden (Sharon Leal).  Jasmine plays a similar role to what Lanie Parish (Tamala Jones) did on Castle  The lieutenant knows all about Lizzie's tragic past and present and at times gives her straightforward advice.

What's Lizzie's story?  Her partner/ fiance was killed in the line of duty a year prior – and now she's got to put down their dog! Awww!  This isn't the same as losing your mom at 19 – like Kate Beckett (Stana Katic) on Castle – but it's still scarring. (It also makes her sharp reactions to other officers hitting on her completely appropriate.  Like, seriously, it's just a year! Ewww!)
The Castle Mirror
Here's why Instinct a Castle mirror. Richard Castle was kind of a famous heterosexual playboy. He wrote mystery novels but had no real-world experience fighting crime. Dylan writes popular non-fiction.  Oh, he's also a former CIA agent, and gay.  He will have no problem credibly kicking butt when necessary and frankly, Castle was more metrosexual than Dylan is.
No Romance
Castle was also famously known as "a love story wrapped up in a procedural" – this is obviously not the case with CBS's Instinct.  Even though some of the repartees between Dylan and feels Castlesque, these two won't be falling in love.  Dylan Rinehart is a happily married man whose husband  Andy (Daniel Ings) wanted him to quit the CIA – so he did. Unfortunately, as his publisher Joan Ross (Whoopi Goldberg) points out, it's made his writing less interesting.  

The only possible storyline I can see in the relationship department of CBS's Instinct would be Lizzie turns out to be his daughter. ( If you think that's a leap, take a good look at the casting.)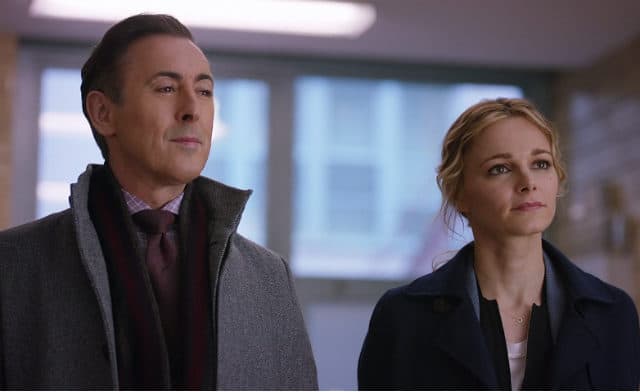 Lizzie & Dylan being related would also explain the kind of instant connection the two seem to have.  If the show does go that way we'd be talking about shades of The Blacklist.   Plus, Richard Castle's daughter was his whole world in the beginning.  Dylan will have lived his life not knowing he had a daughter,  which would be yet another Castle opposite.  
Final Thoughts on Instinct
Having the above as a plot point would make the show more interesting in terms of its overall plot.  Right now, this looks to be a strictly "case of the week" kind of show, which is pretty standard for CBS.  The Mentalist and NCIS LA aside, CBS tends to prefer their procedural shows to not have strong serialized elements.  Why? All the better for syndication, my dear Watson.

Think of shows like Murder She Wrote, or Elementary. First and foremost those shows are about the murder mysteries – ones that are quirky but not dark like say Criminal Minds.  CBS's Instinct seems to be much more related to the former than to shows like Castle or Bones.
Overall there's nothing particularly wrong with CBS's Instinct.  Cummings is fun and charming, and the pilot had good performances all around.  Likewise, the case was well put together.  It's a good fit for CBS, even though it does feel somewhat generic. Dylan being gay is the show's "unique twist," but while it's a first for a procedural, in 2018 it's not enough to make it stand out.   Nevertheless, if you like shows like Bull, Elementary, and NCIS, you'll probably like Instinct.    
Next Up: ABC's Deception

ABC's Deception
When ABC's Deception was first announced back in May, it seemed clearly aimed at winning back Castle fans.  After viewing it, that's certainly a superficial part of the mix, but, minus the magic, Deception is actually a mix of several fun procedurals.  It has touches of Bones, NBC's Chuck, and TNT's Leverage.  Then it literally adds a magic all it's own.
When his career is ruined by scandal, superstar magician Cameron Black has only one place to turn to practice his art of deception, influence and illusion — the FBI. Using every trick in the book and inventing new ones, he will help the government catch the world's most elusive criminals while staging the biggest illusions of his career.  (ABC Publicity)
If you enjoyed films like The Prestige and Now You See Me, you're going to like Deception. I still haven't figured out how the magic trick in the opening of the pilot works!  Weekly magic tricks – both simple and elaborate? Yes, please!
The Procedural Mix in ABC's
Deception
Castle
Now, The Prestige wasn't exactly a light and fluffy movie.  ABC's Deception has already hinted that this show isn't going to be all lollipops and rainbows either.  Having a dark serialized drama mixed in within the weekly procedural format goes back to The X-Files and has been done in several procedural dramedies – including Castle.  
Deception already has some of those darker undertones. There are also some surface connections to Castle – like Agent Kay (that's "Kay", not "Kate") Daniels (Ilfenesh Hadera).  Castle fans will also recognize a certain handcuff maneuver in the pilot.
However,  the pilot for Deception uses a dark mystery to set up its entire premise, so unlike Castle, it's the mystery, not the romance, that is the show's actual engine. While there's clearly going to be a love story or two in Deception, it won't be driving the story. This has more in common with Burn Notice or Chuck.  (Being that Deception is done by the producers of Chuck, this is not surprising)  Also, like Instinct, ABC's Deception handles one of the seeming inconsistencies in Richard Castle's character.  Their approach gives homage to The Prestige – and it adds a whole new layer of interesting!
Leverage
Here's the first thing about ABC's Deception that feels reminiscent of Leverage.  Magician Cameron Black (Jack Cutmore-Scott) has a team of people to help pull off his illusions.  After all, a magic trick is basically just a con. Dina Clark. played by the scene-stealing Lenora Crichlow, is ostensibly his manager and agent.  She's more like Sophie in Leverage – his partner in crime for all of his off-stage shenanigans.  
The other similar construct to Leverage is that once the bad guy is caught, there's an explanation how the big magic con was pulled off.  They do a good job of not spoiling the magic beforehand, too! There's also the possibility that not all of the cases being solved with be murder mysteries.  So far they have been, but the FBI setup gives ABC's Deception more flexibility in its cases.
Bones
Jordan Kwon (Justin Chon) and Gunter Gustafsen (Vinnie Jones) are also a part of Cameron's team.  They are the behind-the-scenes bickering magic scientists who figure out how to build the sets and technical machines that make Cameron's plans work.  If one of them ends up yelling "King of the Lab" Bones viewers wouldn't be surprised.
Also similar to Bones is the sharp split between the magic shop and the FBI. is the major link between the two, but seems to be quickly becoming a part of Cameron's merry band. Luckily, her boss, Agent Deakin (Laila Robins) is there to make sure Kay and Cameron keep their eyes on the case they're working on.
Final Thoughts on Deception
Deception fits the historical mold of some of ABC's best dramedies.  It's fun and sexy with a bent towards being not quite realistic.  Moonlighting, Lois and Clark, Desperate Housewives, and of course Castle, all fit this mold.  
Even ABC's best straight dramas tend to operate in a larger than life manner.  Think about Scandal and How to Get Away With Murder.  Even outside of Shondaland, ABC tends to go for high concept shows like Lost, Designated Survivor and Quantico.  Of course, the problem with shows like this is keeping them from crashing and burning.  Hopefully, Deception will avoid the problems that these shows often fall prey to.
Although there's no way to know how the show will hold up, the premise of ABC's Deception that's been laid out in the pilot is intriguing.  It shows a lot of promise in that there are a ton of moving parts that offer many possibilities for the story's direction. Furthermore, despite all the little pieces that will remind you of other shows, it doesn't feel like a copy of any of them.  If you like procedural plots involving magic, con-artists, and romance, as well as a dark streak running through its lighter fare, ABC's Deception is for you.