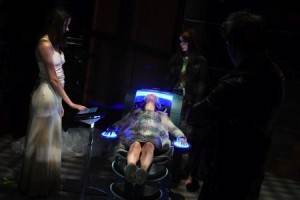 The unseen, thirteenth episode of Dollhouse, titled "Epitaph One", was finally shown at Comic Con yesterday during a screening and panel with Joss Whedon, the show's creator and executive producer. Whedon also teased Cabin in the Woods, his new horror film with writer Drew Goddard (Cloverfield), and he announced a Firefly comic book series that will center on the character of Shepherd Book from the series.
Whedon went on to say that the unexpected season two of Dollhouse would be using a new director of photography to "create a new look that's a lot more immediate, a lot less conventional." This is great news and could take the lackluster series to new heights, visually speaking. Whedon also announced that Alexis Denisof of Angel fame, and Summer Glau of Firefly and The Sarah Connor Chronicles fame, would both be making appearances during the second season of Dollhouse.
Whedon also discussed the unseen thirteenth episode of Dollhouse further saying that, "We will remain true [to this]," and closing with "what we've seen here is not the whole truth." "Epitaph One" opens on an apocalyptic Lost Angeles in the year 2019 giving a look at the dystopian future when technology has gotten out of control.
If you couldn't make it to Comic Con this year, don't frett, the Dollhouse season 1 DVD will be released next Tuesday, on July 28, and will feature the thirteenth episode, "Epitaph One."
Source: Variety