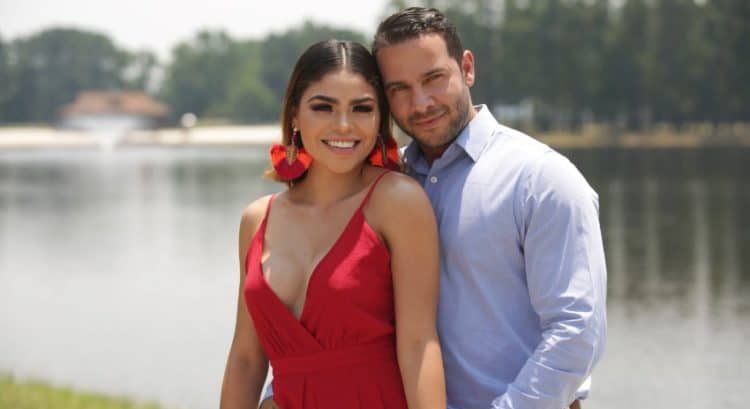 On the surface, the concept of 90 Day Fiance is a little crazy. After all, marrying someone within 90 days, especially someone you haven't spent much time with, truly sounds like a set up for failure. But each season, a new group of couple's appears on the show with the hopes that their love story will have a happy ending. Unfortunately, quite a few couples on the show end up breaking up — some even before the 90 day period ends. However, there are also lots of couples who have managed to defy the odds and keep their relationships going. If you're wondering who is still going strong, today is your lucky day. Here are 10 couples from 90 Day Fiance who are still together.
1. Russ and Paola
Russ and Paola were part of the cast during season one of 90 Day Fiance. They met in Colombia during season one when Russ was there on business. Although they genuinely seemed to like each other, their relationship hit a few rough patches due to cultural differences and other disagreements. However, though it all they always managed to come out on top. On January 1st, 2019, the couple welcomed their first child together: a sweet baby boy named Axel.
2. Justin and Evelyn
These two were one of the more low key couples on season two, but that doesn't mean that they haven't had their fair share of issues. Like Russ and Paola, Justin and Evelyn also met in Colombia which is Evelyn's home country. They're been married for seven years and they seem very happy together. In April 2020, news broke that they were expecting their first child together.
3. Loren and Alexei Brovarnik
Loren and Alexei have one of the sweetest love stories in 90 Day Fiance history. Not only has this pair been genuinely in love since the beginning of their journey, they've also been pretty unproblematic the whole way through. Sure, no relationship is perfect and they've had their issues, but the've always handled things with maturity. In April 2020, they welcomed an adorable baby boy.
4. Melanie and Devar
When Melanie went on vacation, she had to idea that she was going to meet the love of her life, but that's exactly what happened. When she met Devar, it didn't take her long to realize that she wanted to be with him for the rest of the her life. In order to move forward with their relationship, the couple decided to apply for a K1 visit so Devar could come to the United States. Unfortunately for Melanie, her friends and family weren't as excited about the relationship as she was. Even though the couple didn't exactly have everyone's blessing, they decided to get married. The couple now has a child together and are still going strong.
5. Nicole Nafziger and Azan Tefou
On every season of 90 Day Fiance, there's at least one — but usually more — couple who viewers can't help but think don't share a true connection. During their season of 90 Day Fiance, Nicole and Azan were one of those couples. There were several situations that made it appear that Azan was simply using Nicole for money, and perhaps as a way to get to the United States. Despite criticism from her family, Nicole never saw it this way and was determined to be with Azan. When she went over to Morocco to visit him, it appeared that their differences would be enough to tear them apart – but somehow they've managed to weather all the storms that have come their way. Recent rumors have even suggested that Nicole is pregnant, however, she has since denied this claim.
6. Elizabeth Potthast Castravet and Andrei Castravet
Due to the nature of many of the relationships on the show, lots of the cast members families are skeptical. Almost no family is as skeptical as Elizabeth Potthast's. Since the very beginning of her relationship with Moldova native, Andrei Catravet, it's been clear that her family simply isn't feeling him. Lots of viewers also felt like Andrei's disposition was a little off putting. Tension grew even more when Andrei moved to the United States and it became clear that he was unable to support Elizabeth financially. Unfortunately, Andrei still doesn't seem to be bringing any money home, but the couple has managed to stay together and they now have a daughter.
7. Evelyn Cormier and David Vázquez Zermeño
When Evelyn and David appeared on season five of 90 Day Fiance, a red flag was instantly raised. Evelyn was only 18 at the time, and her soon to be husband, David, was 27. Along with the age difference, their choice to stay abstinent until marriage had a lot of people thinking they were both a little naive. That in addition to the fact that they had to get married within 90 days of David moving to the United States from Spain, and the whole situation seemed like a recipe for disaster. But after three years of marriage, Evelyn and David appear to still be going strong.
8. David and Annie Toborowsky
David and Annie have easily had one of the most entertaining journeys in 90 Day history. The couple met in Annie's home country of Thailand while David was there on an extended trip. Despite their big age age gap and cultural differences, they decided to give a relationship a shot. Unfortunately, though, David had recently gone through a financial hardship and it was clear that he didn't have the funds to support himself – let alone a wife. When they moved to the United States, their financial problems worsened and they even ended up living in a storage unit at one point. For a while, it seemed like a no brainer that Annie would decide to leave him, but somehow they've managed to stay together.
9. Ashley and Jay Smith
Ashley and Jay are yet another couple whose relationship didn't initially seem 'real'. When they met in Jamaica, it was clear that there was physical chemistry between the two of them, Jay didn't seem that interested in committing to the relationship for the rest of his life. As a result, Ashley got a lot of flack from viewers who accused her of ignoring red flags out of desperation. When Jay cheated on Ashley, things between them seemed to be done for good. But they eventually reconciled and are currently together and working on things.
10. Jasmin Lahtinen and Blake Abelard
In most viewers' eyes, Jasmin and Blake's relationship seemed doom from the start. It appeared as though she was only with him as a way to get a green card and move to the United States to be closer to her sister. Blake's friends and family were very skeptical about the relationship – especially when Jasmin revealed that she had no desire to work. But Blake was madly in love and was willing to do whatever it took to marry Jasmin. Once she moved to the United States, the couple got off to a rocky star, but surprisingly, they're still together.