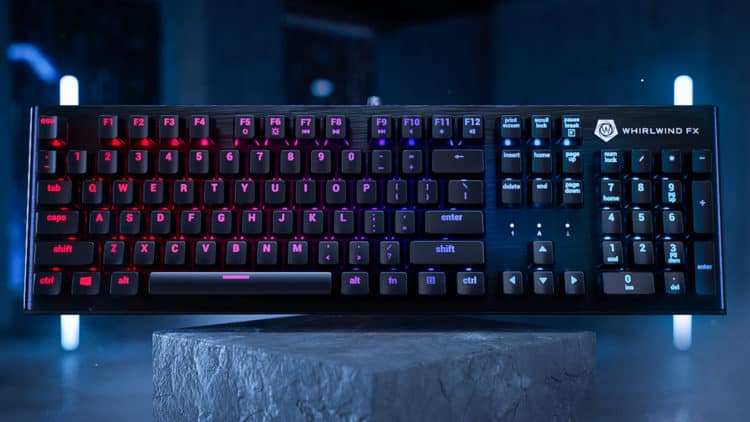 I recently got my hands (specifically my fingers) on the Whirlwind FX Element V2 keyboard as Whirlwind FX was kind enough to send me a unit to review. I've had the unit for a couple of days now and I'm getting very used to it very quickly – a lot quicker than I thought I would have adjusted to it compared to my Logitech Orion G910 keyboard. I've had my Logitech Orion G910 for close to 3 years now and it was time for a change, adjusting to the Gateron Brown tactile switches in the Element V2 was a much easier adjustment from the Romer-G tactile mechanical switches that were included with the G910. So after using the Element V2 keyboard for a few days, how does it compare to other keyboards? What do I like? What do I hate? Keep reading to find out more!
How do the keys Feel?
The keys on the Element V2 gaming keyboard feel really good to me. The keyboard comes with a couple of different options for mechanical switches including Gateron Blue, Red, or Brown switches. Blue switches will give you that classic clicky gaming keyboard feel, Red switches will give you that straight forward fairly noise-less effect, and Brown tactile switches will give you a very satisfying-to-type-on feeling. I chose the Brown switches as I spend more of my time writing and typing about video games rather than actually playing them, so I need to be able to perform well in both areas. For the last 3 years, I've been using the Logitech G910 Orion Spectrum keyboard with Logitech's own proprietary Romer-G switches. It took me a long time to get used to the Romer-G tactile switches, but eventually I grew to accept them. After using the Element V2 with Gateron Browns, I've realized that the Romer-G tactile switches feel absolutely terrible. It was a terrible gaming and a terrible typing experience and even just a couple of hours of getting readjusted to these new Gateron switches was enough to make me realize this. The Romer-G switches feel clunky and the entire keyboard felt bogged down by its absolutely massive chassis. Seriously, the thing is chunky. Overall, the keys feel great in my hands and it is extremely easy to adjust.
Latency
I'm a very big fan of how the Element V2 feels to type on and I hopped into some Destiny 2 and a match of Call of Duty: Black Ops Cold War to test out the input latency on the Element V2 as I've previously seen that this is one of the biggest complaints with the board. While I personally didn't feel any noticeable input latency issues on my end, I'm also not going to pretend that I'm going to be using this keyboard in any major esports tournaments, so it may feel different to some people if you're feeling every movement down to the millisecond in a game like Valorant, CS:GO, or Call of Duty (Pro League). As a general consumer, gamer, and typist (it's a word, I Googled it), I think the input latency feels find and you're not really going to feel a huge difference between this and any other keyboard.
Lighting Effects
You can't talk about a gaming keyboard without talking about the RGB lighting effects – it's basically a sin. The RGB on the Element V2 keyboard from Whirlwind FX are a huge marketing point as Whirlwind FX claims "Element V2 leverages our expansive library of 50+ top AAA games including Among Us, COD Warzone, Minecraft, Valorant, and more! New integrations drop every week. Element V2 is more than just a keyboard, it's infinite content at your fingertips." The lighting effect software known as "signalrgb." that you can choose to download for your keyboard comes with a wide variety of various lighting effects that can be linked to specific games like Call of Duty, Destiny 2, Valheim, and a whole lot more, but is it good? Well, I've mostly been using the "Natural" effect that just takes the colors from your monitor and mimics the colors on your keyboard; I've come across a few glitches with this where it'll just bug out and flash on and off occasionally, and it's especially annoying if you play a game (like Destiny 2) that cuts to black every time you open a menu, because the keyboard will also cut to black each and every time.
While it's doing its job when it does this, I don't recommend using the "Natural" effect if you don't want your keyboard to cut to black if you know you're going to be doing something that features lots of black screens. Since I play a lot of Destiny 2, I decided to test out the lighting integration for the game, and it just….doesn't seem to work. I don't know why, I've restarted the software, I've restarted my PC, it just does not seem to want to work. I mean – it works, I just don't understand how. It's has a couple different options when it comes to lighting integration for Destiny 2, you've got your first, second, and third abilities that can be mapped to a different color. I thought that this would have lit up the keyboard with the mapped colors for each ability as they become fully charged, but it doesn't seem to work that way. It seems like the lighting is triggered at random and it doesn't really seem very helpful at all. It's really unfortunate, because I was looking forward to seeing how well the effects were integrated into the game, but it just doesn't seem to be implemented very well. I hope that Whirlwind FX can fix this, or explain how it works if this is intentional. I will say the keys are very bright and I love how they look with the basic lighting effects that come stock with the keyboard; the audio integration is also really nice and is my favorite effect to use with the keyboard.
[Update] I've been told that the engine was having issues with Destiny 2 and it may have been tested in between software patches. I will continue to test this and update you again if anything changes.
[Update 2] I've still been experiencing issues with the RGB game effects. They seem to be doing something, just not correctly. Kind of a bummer, but I don't really see myself relying on them too much, so I'm not too bummed out.
Lightcaps
[Update] I've now gotten my hands on Whirlwind FX's "Lightcaps" which are basically white keycaps that allow the RGB lighting to shine through them to give it a bit more…"oomph." They feel a little bit more glossy than the stock keycaps, which would be typically be a turn off for me, since they definitely would pick up more fingerprints, however, because they're white, you can't really see anything on top of them, so I'm not too concerned about it. I do like the lettering being on the front, so that it faces me (since the Lightcaps are white, you can't see any white lettering on top). I just replaced my WASD keys, the number pad, the arrow keys, and the entire first row of keys, so that I can look down at a glance and see which keys are which. For me, it's just aesthetics honestly, but I just like being able to see the lettering on the front of the keys. The RGB is definitely a lot more apparent in the Lightcaps, but some keys don't really shine through quite as much. From the keycaps that I've switched out, the left CTRL key and the long keys (space bar, enter and '+' and '-' on the number pad). The reason being is there is only a single LED under each of these longer keys, so it isn't able to light up the whole key. It's not really that big of a deal, but it's worth noting if you purchase these Lightcaps.
Overall
Overall, I'm happy with this keyboard. Would I pay $120 for it? Probably not, if you're just looking for a gaming keyboard to get you through the day with some cool RGB effects, you can find some for much cheaper, but I will say that the keyboard does feel very nice to type and game with and I love how bright the LEDs are. I would probably give this keyboard a solid 7/10, because it feels good to me, I am very surprised with how easy it was to adjust to it, but unfortunately the lighting effects that were promised just don't deliver as much as I wanted them to. However, when I look for a keyboard, I care more about how it feels rather than the RGB effects, though it's still a feature that is marketed pretty hard on the Element V2. If you've got the money to spend, sure, go for it, but you can probably put your money towards something else.
Image Credits: T3