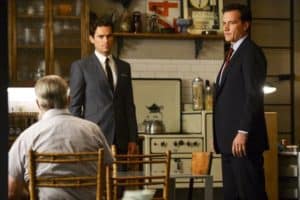 White Collar returns tonight for the second half of season four and after the big reveal in the mid-season finale it is time for some answers. Danger lies ahead for Neal (Matt Bomer) and Peter (Tim DeKay) as a case from long ago becomes the central story. We also have details as to how you can dress like Neal Caffrey.
In the last episode it was revealed that Sam (Trent Williams) is actually James, Neal's father. This information was a huge surprise for Neal (not so much for the audience) and it is the aftermath of this moment that will be the focus. Neal feels betrayed, duped and sceptical of James' motives; will James be able to convince his son that he sacrificed everything to save his family? As you can see from the promo photos there will be flashbacks to Neal's childhood that will explain why James has been keeping everything from Neal. As we have seen over the past four seasons of White Collar Neal has often cited his father as the reason he has a push/pull relationship with criminal acts and this could be a huge moment with Neal coming to terms with whom he is and where he really came from.
The case tonight is related to Neal's father and it involves a high level member of the Irish Mob. This will put Neal in danger as he is pretending to be a counterfeit whisky maker and despite his previous experience in the criminal world, this might be one step too far. This being White Collar there will be some fun to be had as Neal and Mozzie (Willie Garson) try to make the perfect product and this requires a lot of taste testing.
You too can dress like Neal Caffrey as from noon ET today (January 22) and for 36 hours you will be able to purchase items from Alton Lane's "The Caffrey Collection". Items include a collection of tailored accessories, suits, shirts and shoes and are all designed and hand selected by Matt Bomer. With each sale 10 percent of the proceeds will go to Project ALS, an organization that Matt Bomer works with that funds research for Amyotrophic Lateral Sclerosis (also referred to as Lou Gehrig's disease).
Watch a promo and four sneak peeks below for tonight's episode "Family Business."