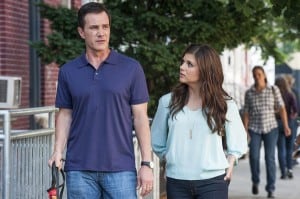 The main objective of this second half of White Collar's fourth season has been about finding where Ellen's evidence box is and both Peter (Tim DeKay) and Neal (Matt Bomer) have figured out the location. They are still working independently and without the other knowing, but they have realized that the key leads to the Empire State Building.
This week Peter will be facing a different kind of danger as he and Elizabeth (Tiffani Thiessen) are in the wrong place at the wrong time.
A modern day Bonnie and Clyde are hitting expensive stores and like the due they emulate, they don't want their romance to die in jail but in a hail of bullets. Peter has planned a romantic getaway for Elizabeth and himself and sadly they won't quite get the relaxing break that they are hoping for. Elizabeth has been concerned that Peter will get hurt if he continues his investigation with Neal, but this shows that danger can be lurking around any corner. Will Elizabeth reveal to Peter that she told Neal to investigate the key alone? The Clyde of this duo is played by Twilight's Jackson Rathbone.
Of course Neal is doing all he can to save Peter and Elizabeth and we will also see Sara (Hilarie Burton) return tonight. Is there a chance that their romance will be rekindled by the end of the season? As you can see in the sneak peek, Peter lightly teases Neal about Sara.
Watch a promo and sneak peek from tonight's episode "Shoot the Moon" below.