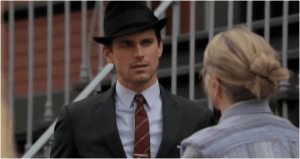 The White Collar team showed last week that even when they are not officially working together they can still catch the bad guys. Peter (Tim DeKay) continues with his punishment detail in evidence but thanks to a timely visit and a case that he was once in charge of, Peter will be getting a breaking from cataloging. Neal (Matt Bomer) is continuing his investigation into his father and will face a romantic distraction at work.
The case of the week revolves around Sophie, a beautiful young widow played by Smallville's Laura Vandervoort. Sophie is set to receive a substantial amount from the life insurance policy of her recently deceased husband Grant Covington and there is a suspicion of fraud. Peter had been investigating Sophie's husband prior to his death for insider trading and their marriage had been fodder for the tabloids. This means that Peter has a unique take on the investigation and offers his services as a consultant outside of his evidence locker hours (when will Elizabeth get to see her husband?). Another familiar face is part of this investigation and I know some fans (myself included) will be happy to see Sara (Hilarie Burton) back on the scene (she is still a regular after all).
Neal is being tasked with going undercover and seduce Sophie, but thanks to her widow status this isn't something that he is comfortable with. There is also the possibility that Neal will develop real feelings for Sophie, though having Sara involved with this case is likely to make it even more awkward!
We learnt more about Neal's past last week as he revealed to Peter that he grew up in witness protection after his father admitted to killing a fellow police officer. It is still unclear as to whether his father is really did it, even with his confession. This week will see Neal looking for more answers and Ellen (Judith Ivey) remains in New York, though she will be moving on soon. The more they mention Ellen's safety, the more I worry that something bad will happen to her.
Watch four sneak peeks of tonight's episode "Parting Shots" below.