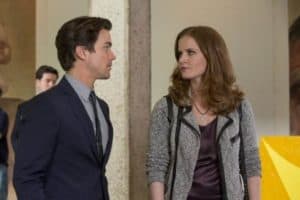 Peter (Tim DeKay) returns to his old position tonight on White Collar, though this isn't the end of complicated matters for the team. Neal has personal tragedy to contend with and Lost's Rebecca Mader guest stars as an art thief who has important information about Neal's past. Spoilers ahead.
The last episode ended with Ellen (Judith Ivey) being put into an ambulance after she had been shot, the last thing we heard was that she was going into cardiac arrest and as the previews show below, sadly Ellen did not make it. The main questions are who shot Ellen and why? Neal is only starting to unravel the mystery of his father's possible betrayal and Ellen was the key to finding out more. Before Ellen was put in the ambulance she repeated her earlier advice to trust Sam; an undercover cop who knew Neal's father. Neal is obviously going to be heartbroken over this tragedy and as the sneak peeks below suggest he is willing to let the FBI handle the investigation, but what happens when he gets a better offer?
Rebecca Mader is playing Abigail and is an art thief who claims to have something that Neal is after; details about his past. Abigail won't just be giving up this knowledge and in return she wants Neal to steal an important piece of art behind Peter's back. We have seen that Neal can act on impulse, this was particularly apparent when he was chasing Kate and as Ellen is a woman he cared deeply for it wouldn't be surprising if he goes ahead with this plan.
Neal and Peter's relationship has developed since everything Kate related, but will Neal let his guard down and trust Peter enough to let him know about this plan when so much could be at stake? This is also Peter's first case back so he wants it to be an uncomplicated one, doesn't look like Peter will get this wish. We know that Neal is charming but those charms might not work on Abigail and the sneak peeks suggest that it is another Lost alum that Abigail takes a shine to.
Watch a promo and four sneak peeks of tonight's episode "Honor Among Thieves" below.