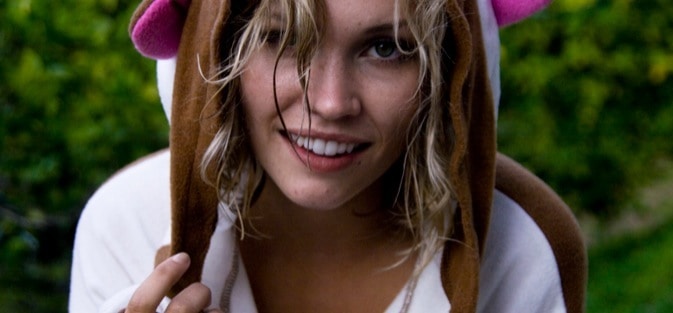 Saying something about Whitney Moore seems like it should be easy since she seems to be so outgoing and isn't at all shy to stand in front of a camera but at the same time getting to know who she is seems kind of difficult since there isn't a lot on her that's not posted on social media. This is one of those cases where a person might have to sift through an Instagram or Facebook page in order to really find anything to say about a person that could shed some light on who she is, but thankfully there is just enough out there to extrapolate a few things that make a lot of sense when talking about this upbeat young woman and what she does. So far it seems as though she's not only a very positive person but she has actually been in a number of films and short films that her name has become somewhat known and she's able to be recognized by some.
Here are a few things you probably didn't know about her.
10. She has a very modest following on social media.
It could be the amount of exposure she gets or the kind of exposure that keeps her numbers small but she seems to be a person that might keep tabs on the numbers so it might be that she's actively trying to reach more followers.
9. She's an actress.
She does show up on screen several times if you just look and her IMDb page is in fact a good place to go if you're wondering what she's been in. The only reason that you might not recognize her is that the films she's in haven't exactly been blockbusters.
8. She's a YouTube hostess.
YouTube is sometimes a great way to get noticed and to be honest it reaches just as many people as anything else if one sets up their account right and is broadcasting the kind of programming that people tend to like. It's all a matter of knowing your audience.
7. She's been on a strange YouTube series.
Adulting in the Apocalypse, which is kind of a cool title really, is all about what to do and how to handle yourself when the apocalypse comes about. She's covered a few different subjects and has even managed to inject each episode with a bit of humor as well.
6. It's amazing more people don't know about her given all the credits she has.
It looks like she started her career back in 2009 so quite honestly she's not a seasoned veteran quite yet, at least not in the sense that she's been around for so long. But still with this many credits it seems that she might be on the verge of really making a breakout role sooner rather than later.
5. She has a very outgoing personality.
It might be just what she uses on screen to make herself appear more outgoing and personable but it does seem like she's a very open and chatty person. Her on screen performance is one that makes it seem as though she might be a truly friendly person in real life.
4. She's in Breakdown Lane.
This seems like a pretty basic movie since it does involve the undead and a single woman that is trapped out in the wilderness. In order to survive she has to battle against the undead as well as coyotes and the very real issue of dehydration. Somehow the last part seems the scariest.
3. She stars in Birdemic: Shock and Terror.
So here's the story: Birds are attacking humans due to global warming and they tend to attack gas stations and other areas that put off high amounts of carbon dioxide first. In terms of being a horror movie this one is so low budget that it makes Alfred Hitchcock's Bird look like CGI in comparison. But it was lauded for creativity.
2. She's 29 years old.
She's still young enough to have a lot of time to get her career moving to another level and considering all that she's done so far it doesn't seem like she's too far off from that mark. Now all that remains to be seen is if she really wants to take that next big step.
1. She's in A Horrible Way to Die.
This movie is about a serial killer that's slowly making his way towards his ex-girlfriend that has been picking up the pieces of her life after her ex went to prison. There's plenty more to say about the film but that seems to sum it up pretty well.
Whitney does seem like she has some talent and a lot of talent so it's fair to say that we should be seeing her in a lot more and in films and possibly shows that offer a much wider range of coverage.