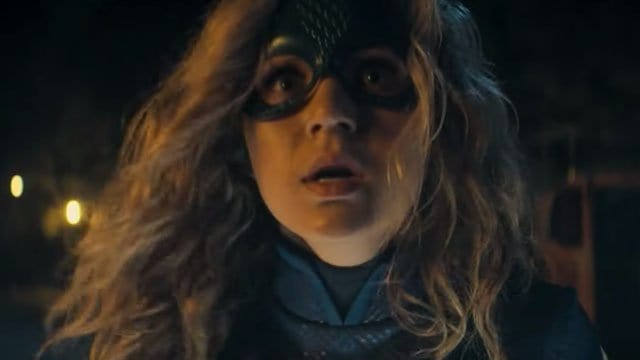 If there's going to be any breakout star that emerges from the new series known as Stargirl it's bound to be Brec Bassinger, the female lead of the show. Given that this character has been around on TV a time or two before apparently, it's fair to say that Brec has her work cut out for her, but she also has something going for her that the others didn't. There are numerous factors that could make Stargirl a likable and watchable show, but the fact that she's young, naive, and definitely idealistic work for her when it comes to her origin since turning her into a superhero overnight would be a serious mistake as it shows no room for development, no explanation of how she became the second leader of the Justice Society of America, and basically no real growth that took place in finding out what she could do and why she was so important. As it stands, making her a superhero as a younger person and having her go through the motions and the mistakes that are bound to come as a teenager that's figuring out how to use her newly acquired power and role would be kind of a hit and miss prospect even with a sidekick that had been there and done that already. So in a sense, she'll be the breakout since she's a superhero in the making with all the tools at her disposal save for the one that she'll get while on the job: experience.
Brec has a bit of experience under her belt when it comes to acting so she's not a full-on newbie, but as far as superhero roles go, this is new territory for her still, and on the CW that means that a person has a lot to live up to and a place that they'll have to earn. One might think that with the prospect of working with a star like Luke Wilson it might be kind of difficult to really get your bearings, but at this point it does feel as though Brec is going to be just fine since it kind of feels like it's time for her to come into her own and really step up to the plate so to speak. As Stargirl it could be that she'll establish herself in a way that hasn't happened yet and really take control of her career in a manner that will be highly noticeable to many individuals that might begin to look at her in a new light. It's a little obvious that 47 Meters Down: Uncaged didn't do the trick, but given that TV shows featuring hero's that people know about and enjoy tend to get a little more notice and have for some time now, it's possible that she'll be able to see her career make a big leap from where it's currently at to a level that she hasn't reached at this point.
The costume that was designed for Stargirl has raised a few eyebrows to be certain since it does look a lot like Captain America, but other fans would argue that it looks more like the Star-Spangled Kid, who debuted in the same year as Cap. Plus, one fan makes a good point when she says that there are only so many ways to wear the old stars and stripes before one costume starts looking like a ripoff of a dozen. In other words, it's not the same costume since it's not the same hero, and in this case not even the same company or universe. Plus, one big, obvious difference is Cap's shield vs. Stargirl's staff, which are both very impressive pieces but have very different functions obviously. I won't even go into the notion of who would be triumphant if Stargirl and Cap ever met up, since a good number of fans have already settled that issue as far as they're concerned. It'd be kind of like letting Cap go up against a slightly weaker version of the Sentry, or possibly Hyperion, or anyone that's just undeniably tough and can keep their distance while messing Cap up. Yeah, so that's settled.
But claiming that Brec will be the breakout star isn't too hard since she's the lead, she's the hero, and she's going to be showcased the most in this program so it's fair to say that she's already on her way to being called a breakout star. As for the others, we're going to have to wait and see who really gets noticed that much since this particular story is bound to introduce plenty of characters, but whether or not they'll gain as much prominence as Stargirl has yet to be seen. The one obvious thing that can be said is that it likely won't be Luke Wilson, as he's already firmly established as a star.