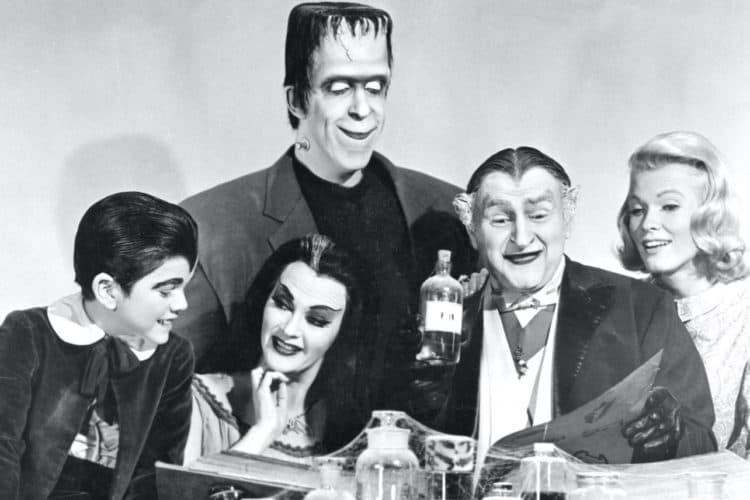 A big man is one of the most important prerequisites when thinking about who could play Herman Munster, and Kevin Nash is a big man, but then again, so are a few others who could be named to this part. One edge that Nash and others might have is that they appear as though they could take on this role without being TOO big. If a guy such as Paul Wight, aka The Big Show from the WWE, is another big man, as is Mark Calaway, aka The Undertaker. The thing about it is that any big man would need to be able to act and also be capable of not towering over their costars in such a way that might be awkward for the movie that Rob Zombie is cooking up. What's tough is that most of those that Zombie might cast are decent actors since they kind of has to be thanks to their time in the ring. But it's possible that Rob might not want to focus so heavily on wrestlers, even if he's used them in the past. That would leave a lot of people wondering who he might have his eye on.
Brad Garrett from Everybody Loves Raymond is a big fan favorite that might be able to take on the role, but it's tough to know just which way Rob wants to lean on this one. In fact, it's apparent that he hasn't really made any announcements on who's going to star in which role yet, at least none that he's shared with others. Saying that it would take a specific actor for each role is bound to hit a bit of resistance since the way things are going these days it might be that the movie would get slammed if someone said that the ladies need to be of a certain size and build, but if Herman Munster was cast as a shorter man it does feel like a lot of people might be okay with it simply because they might look like a hypocrite otherwise.
But the truth is that if people want an accurate movie then it's going to have to happen that the patriarch of the Munster family is going to be better off being a big guy that doesn't need platforms, and the female cast members should probably be as close in appearance and size to the originals as possible. It's not about discrimination, it's about paying respect to the original show, which is what some folks can't appear to understand for one reason or another. But with Rob Zombie making The Munsters movie it's easy to wonder just how he's going to play things anyway since this is the guy that made The Devils Rejects and other various movies, so it's fair to think that this movie could take on a bit of an edgier tone that wasn't there to begin with. It's not necessarily going to happen since this was a family show and it stands to reason that Zombie doesn't really want to alienate the fans, but it's hard to say since he does have his own style and it's very possible that he might do what he wants.
To be honest, it was a bit of a shock to hear that Rob Zombie wanted to take on The Munsters, but not disheartening. The guy has proven to be pretty adept at making movies, so it's not a question of whether he has the skill or the ability, it's more of a question of what he's going to do with the overall idea and if it's going to change in any big way. The Munsters did manage to entertain a lot of families back in the day so it's easy to think that a lot of people don't want to see them go entirely hard-edged, but to think that Rob would do this is still kind of tough to believe. In all honesty, it does feel as though he might go easy with this one and just have fun since it would no doubt draw a pretty big audience to see what he's done. Kind of like the Addams Family, but more dedicated to the classic horror tropes, The Munsters are the type of sitcom family that a lot of people have had fun with over the years.
With nostalgia running rampant throughout Hollywood at this time it's hard to know what's going to be brought back to life for another run, but it's fun to imagine since there are a lot of stories out there that could possibly do well in this day and age. Which ones will be selected is anyone's guess, but there are likely some that should either be left alone or at the very least be left as close to their original form as possible.