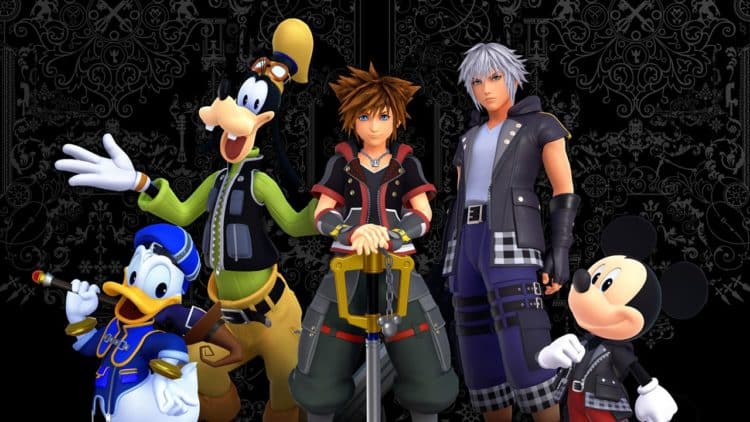 Kingdom Hearts is one of the most beloved video game series' of all time and the latest installment to the franchise, Kingdom Hearts 3, released in January 2019. There's so many characters to keep track of within the Kingdom Hearts franchise and Kingdom Hearts 3 is no different. The cast of the third installment in the Kingdom Hearts franchise not only includes its own original characters, but also crossover characters from Final Fantasy and Disney properties. While these characters may change from game to game, some have managed to stay throughout the whole franchise like Olympus from Disney's Hercules movie. So who are the voices behind the massive cast of Kingdom Hearts, Final Fantasy, and Disney characters in Kingdom Hearts 3? Let's take a look!
Original Characters
Haley Joel Osment
Haley Joel Osment has voiced the main protagonist of Kingdom Hearts, Sora, since the very beginning of the franchise in the original Kingdom Hearts. He is also the voice of Sora in Kingdom Hearts 3 as well as the voice of Vanitas
Alyson Stoner
Alyson Stoner, who you may know from titles such as Cheaper by the Dozen, Camp Rock, and Step Up, voices both Kairi and Xion in Kingdom Hearts 3
David Gallagher
David Gallagher, who you may know from Super 8, Criminal Minds, and a couple episodes of CSI, voices Riku in Kingdom Hearts 3. He also voiced Riku as well as Young Xehanort in Kingdom Hearts HD 2.5 Remix.
Jesse McCartney
Jesse McCartney voices both Roxas and Ventus
Willa Holland
Willa Holland voices Aqua in Kingdom Hearts 3 . You may recognize Willa Holland as Thea "Speedy" Queen from the CW's "Arrow"
Jason Dohring
Jason Dohring voices Terra
Quinton Flynn
Quinton Flynn voices Axel
Meaghan Jette Martin
Meaghan Jette Martin voices Namine
Vincent Corazza
Vincent Corazza voices Ienzo
Zachary Gordon
Zachary Gordon voices Hayner
Tristian Chase
Tristian Chase voices Pence
Ashley Boettcher
Ashley Boettcher voices Olette
Rutger Hauer
Rutger Hauer voiced Master Xehanort for the main game of Kindom Hearts 3
Christopher Lloyd
Christopher Lloyed took over the role of Maser Xenahort for the ReMind DLC after Rutger Hauer's unfortunate passing
Mark Hamill
The legend of all voice acting himself, Mark Hamill, voices Master Eraqus in Kingdom Hearts 3
Ben Diskin
Ben Diskin voices Young Xehanort
Drake Bell
Drake Bell (yes, that Drake Bell) voices Young Eraqus in Kingdom Hearts 3
Ray Chase
Ray Chase voices The Master of Masters
Paul St. Peter
Paul St. Peter voices Xemnas
Derek Stephen Prince
Derek Stephen Prince voices Vexen
Kirk Thornton
Kirk Thornton voices Saix
Ryan O'Donohue
Ryan O'Donohue voices Demyx
Robin Atkin Downes
Robin Atkin Downes voices Demyx
Keith Ferguson
Keith Ferguson voices Marluxia
Shanelle Workman Gray
Shanelle Workman Gray voices Larxene
Richard Epcar
Richard Epcar voices both Ansem, Seeker of Darkness and Terra-Xehanort in Kingdom Hearts 3
Corey Burton
Corey Burton voices Ansem the wise
Michael Johnston
Michael Johnston voices Ephemer
Lara Jay Miller

Lara Jay Miller voices Chirithy
Matthew Mercer
Matthew Mercer voices Ira
Travis Willingham
Travis Wilingham voices Aced
Kevin Quinn
Karissa Lee Staples
Karissa Lee Staples voices Invi
Dylan Sprouse
Dylan Sprouse voices Yozora
Doug Erholtz
Andrea Bowen
Andrea Bowen voices Aerith
Mae Whitman
Mae Whitman, from Perks of Being a Wallflower, voices Yuffie in Kingdom Hearts 3
Chris Edgerly
Disney Characters
Bill Farmer
Tony Anselmo
Tony Anselmo voices Donald Duck
Bret Iwan
Bret Iwan voices Mickey Mouse
Joe Ochman
Joe Ochman voices Jiminy Cricket
Tress MacNeille
Tress MacNeille voices Chip
Enn Reitel
Enn Reitel voices Scrooge McDuck
Russi Taylor
Russi Taylor voices Huey, Dewey, and Louie
Jeff Bennett
Jeff Bennett voices Merlin
Corey Burton
Corey Burton voices Dale, Yen Sid, and Zeus
Susanne Blakeslee
Susanne Blakeslee voices Maleficent
Jim Cummings
Jim Cummings voices Pete, Winnie the Pooh, and Tigger
Tate Donovan
Tate Donovan voices Hercules
Susan Egan
James Woods
Jim Hanks
Mike MacRae
Mike MacRae voices Buzz Lightyear
John Ratzenberger
John Ratzenberger voices Hamm
Wallace Shawn
Christopher Swindle
Christopher Swindle voices Sulley
Carlos Alazraqui
Carlos Alazraqui voices Mike Wazowski
Mary Gibbs
JP Manoux
Jared Butler
Jared Butler voices Jack Sparrow
Crispin Freeman
Crispin Freeman voices Will Turner
Eliza Jane Schneider
Eliza Jane Schneider voices Elizabeth Swann
Brian George
Brian George voices Captain Barbossa
Kevin McNally
Kevin McNally voices Gibbs
Leslie L. Miller
Leslie L. Miller voices Tia Dalma
Robin Atkin Downes
Robin Atkin Downes voices Davy Jones
Kelsey Landsdowne
Kelsey Landsdowne voices Rapunzel
Zachary Levi
Zachary Levi voices Flynn Rider
Donna Murphy
Donna Murphy voices Mother Gothel
Kristen Bell
Idina Menzel
Jonathan Groff
Jonathon Groff voices Kristoff
Josh Gad
Ryan Potter
Ryan Potter voices Hiro Hamada
Scott Adsit
Scott Adsit voices Baymax
Jamie Chung
Jamie Chung voices Gogo Tamago
Genesis Rodriguez
Genesis Rodriguez voices Honey Lemon
Khary Payton
Khary Payton voices Wasabi
TJ Miller
Travis Oates
Travis Oates voices Piglet
Tom Kenny
Michael J. Gough
Michael J. Gough voices Gopher
Aidan McGraw
Amelia Stanger
Amelia Stanger voices Lumpy
Barbara Dirickson
Barbara Dirickson voices The Fairy Godmother in Kingdom Hearts 3