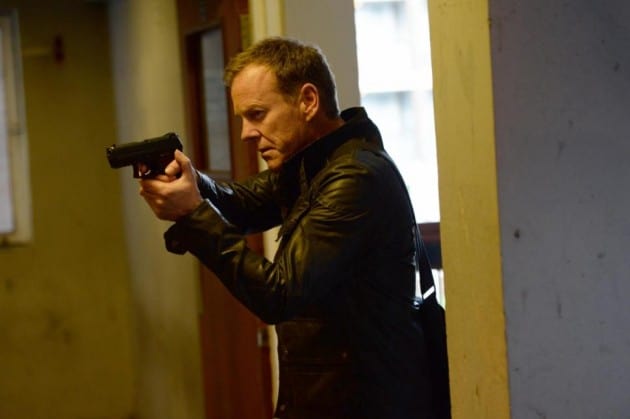 Last Thursday, news broke that Emmy Award-winning actor Kiefer Sutherland said that he is most likely done playing the character of Jack Bauer in any future 24 projects.
"Me, I don't see going back to it," Sutherland said regarding the idea of doing more 24 in an interview with The Telegraph. "We had set out to do 12 episodes [of Live Another Day] to end the show and deal with some of the past history of the show. It was also an irresistible opportunity to go shoot in England. So for all of those reasons it made sense to do that last season."
As a longtime 24 fan who absolutely loved Live Another Day (in fact, I loved it so much that I put it on my list of the best shows of 2014), I was disappointed upon hearing Sutherland's statement, but I understood it. Playing a role for nine seasons over more than a decade (24 began in 2001) has to be tiring, and it makes sense why Sutherland would want to pursue other projects and play different characters. However, his statement saying that he doesn't want to return to the role, along with FOX's continued interest in 24 as a show, especially after the success of Live Another Day, makes me wonder: would they finally try to do 24 without Jack Bauer?
There's been a great deal of speculation that this could happen after how popular Yvonne Strahvoski's Kate Morgan was during Live Another Day. Unlike other partners that Jack had been forced to work with over the years, Kate was the right combination of smart and tough, with a willingness to do whatever it took to get results. In many ways, she was a younger, female version of Jack, and some fans were advocating that she get her own spin-off series, or even become the main character on 24 if Sutherland chose to leave the show.
While I've always love Strahovski as an actress ever since I watching her as Sarah Walker on Chuck and thought she was excellent throughout Live Another Day (she seamlessly fit into 24's world in just a couple episodes), I'm not sure if I'd be okay with her taking up the mantle if Sutherland decides to not return. (Plus, she's busy with a new series anyway, as she landed a starring role as Rene Carpenter in Josh Schwartz' Astronauts' Wives Club.) And my reluctance towards Strahvoski's Kate Morgan becoming the lead on 24 has nothing to do with her performance or with the show's writing. No, I just honestly don't believe any actor and any character could possibly fill the the holes left by Sutherland and Jack. For me, Jack Bauer is 24–without him, the show doesn't work.
Now, that's not to say that Jack is my sole source of enjoyment from the show. As I said earlier, Kate was a great addition to Live Another Day, and I've always loved Chloe. Plus, characters like Tony, Michelle, and Audrey were also great supporting players throughout the years. However, when it comes down to it, 24–its style, structure, its entire identity–is synonymous with Jack Bauer, and the show would have never been as successful as it has been without Sutherland, who pulls of the impossible feat of essentially becoming the world's toughest and most accomplished spy without ever making Jack feel like a parody of himself.
Even in the weakest seasons of 24 (I'm looking at you, seasons six and eight), I kept coming back to the show for Jack, because I was so invested in him. I didn't care about what terrorist threat the world was facing, or if the villain's plot was the most convoluted thing in the show had ever come up with. I just wanted to watch Jack in action and see Sutherland at the top of his game in the role he was born to play.
Without Sutherland and Jack leading the charge, I don't think 24 can continue. Because, simply put, it wouldn't be 24 anymore.
Would you watch a new season of 24 without Jack Bauer? Let me know in the comments below.
Photos via FOX