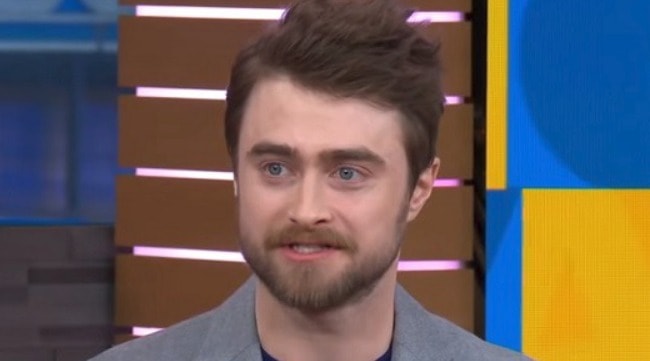 The Bachelor is known for having many famous fans such as John Mayer, Jennifer Lawrence and Anna Kendrick. However, the latest person to confess to being a fan of the show has taken a lot of people by surprise. Daniel Radcliffe, best known for playing Harry Potter in the movie franchise, has spoken about his love for the show on Good Morning America.
He was on the talk show as promo for his latest project, a new TBS comedy Miracle Workers. However, when the subject of The Bachelor came up he could not hide his excitement as he talked about how big a fan of the show he actually is. It is the show that he is watching the most at the moment and every time he watches it he likes it even more. He is watching the current season avidly and he made reference to past seasons but he didn't elaborate whether he has sat down to binge all of the seasons that have been made before.
He also said in the interview that he feels as if there is a bit of a stigma around the show which makes people not want to admit that they even watch the show, let alone enjoy it. This is the way that he has felt in the past but in the end he just decided that there is no shame in admitting that he is a fan of the show. When he has spoken to people about watching the show they have all been a little surprised that he is a fan. This may be because people expect that he would prefer shows that are considered to be a little more intellectual. Sometimes, it is good for people to be able just to watch shows where they can just relax and enjoy it without having to think too much.
He admitted that he was a bit of a snob about the show before he actually began watching it. He said that he had a preconception that it would not be a very entertaining show but as soon as he started to watch it then he could see that this was not the case. He feels as those people that do get snobby about the show and make negative comments are probably people that have not watched the show. He was one of these people once but now he is definitely a fan and proud to be so. It is something that he considers to be one of his guilty pleasures and he has even referred to it as an obsession.
He also confessed that he can't even blame his girlfriend, Erin Darke, for making him watch it as he even tunes in when he is home alone. In the past he may have tried to pass the blame onto his girlfriend but that was before he decided to be proud about the fact that he loves the show so much. If people ask him now about the show he freely admits that he watches it and if he finds a fellow fan he is happy to talk about it in as much detail as possible.
He is a particular fan of the bachelor on this season, Colton Underwood, saying that he is a lot nicer than some of the previous contestants. It is not known whether there are any past contestants that he particularly dislikes and these comments were a dig towards them. It may be that Colton really just is his favorite and Daniel has been impressed by the positive attitude that he has shown throughout the series. He also seems to be a genuine person whereas some contestants in the past have just been on the show for their five minutes of fame.
The Bachelor has now been running for 23 seasons and is one of the most popular shows on TV at the moment. There have also been several spin off shows that have also done well in the ratings. The format still remains popular after all these years and it is unlikely that it will be cancelled anytime soon. All of this means that there is a good chance that Daniel Radcliffe will still be able to continue enjoying his favorite show in the near future.