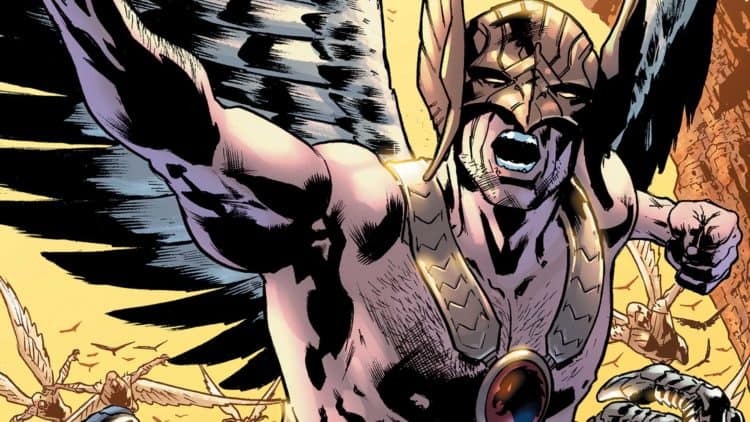 For those who can name an actor that's in a hit movie every year, the most popular answer should be Dwayne Johnson. Why is that? Well, the man has been in involved in the film industry for so long that he can basically do whatever he wants and whatever he's in will make truck loads of money. For example, when he was set to play the DC hero known as Shazam, he believed he would serve better as Shazam's greatest enemy known as Black Adam. This was a wise decision on his part, considering he truly does look the part, but after years of the film being in limbo, our patience was finally awarded with an official release date. An actor of Dwayne Johnson's caliber playing Black Adam is exciting enough, but what people seem to be overlooking is the hero who will be brave enough to go toe-to-toe with him. Many rumors suggest that DC's Hawkman will be Black Adam's main adversary in the film, and while he is not one hundred percent confirmed, his introduction into the DC Cinematic Universe will be more important than people realize.
In a recent interview with Brandon Davis of Comicbook.com for Jumanji: The Next Level, Johnson himself confirmed that the Black Adam movie will introduce the JSA, or the Justice Society of America. For those who aren't too familiar with this comic book team, think of them as the predecessors to the Justice League. They debuted in the early days of comics, making them the first official superhero team. If Johnson says they're in the film, then it's more than likely that Hawkman will appear. What makes this so important to the DCEU is that is opens up a wider door to the heroes of that universe. We already know that the Justice League exist, but what powerful heroes came before them? We're not sure how many of the Society's members will appear in the film, but if they serve as Black Adam's foes in the film, then we can expect a proper introduction to another superhero team of the DCEU, considering those are in rather short supply in that universe.
Hawkman's origins have always been confusing, to say the least. He's been connected to the ancient gods of Egypt or he's an alien from a distant planet or both. It's weird, but that's comics. Hawkman is most popular when he's being portrayed as the hot-headed warrior from the planet of Thanagar, the homeland of the hawk people. Man of Steel showed us that the DCEU is not afraid to stretch their borders to galactic territories, so if Hawkman will appear in Black Adam, then we can probably expect a good set up for his fellow Thanagarians. For those who remember the Justice League cartoon, the Thanagarians served as a major threat to the League, using Hawkgirl as their spy to infiltrate the League and exploit their weaknesses. They proceeded to take over the planet for a more sinister plan, but the League eventually stopped them. This arc worked for the DC Animated Universe very well, so why not try to add some of that spice to the DCEU?
One of the most interesting dynamics of Hawkman is his battle prowess. He is brave, strong, and has a temper hotter than Superman's heat vision. It's unclear when the Justice League will return to the big screen, but if they ever need a helping hand, then Hawkman should be considered. Despite his bad temper, Hawkman has been around long than Superman and Batman, maybe even just as long as Wonder Woman. The Justice League consists of some young and inexperienced heroes, so who would be the best new recruit to act as a drill instructor to them? Hawkman has the experience, the combat skills, and the resolve to train the younger members of the League and make more fierce fighters out of them. This could lead to some interesting dynamic with Wonder Woman, who is known to be more compassionate and calm. Their balance of love and violence would lead to some character development and chemistry for all characters on the League.
Hawkman is complex and complicated hero, but when we hopefully see him make his debut in the DCEU soon, it will lead to some world-building options. Just don't expect a typical boy scout hero. You'll be very disappointed.