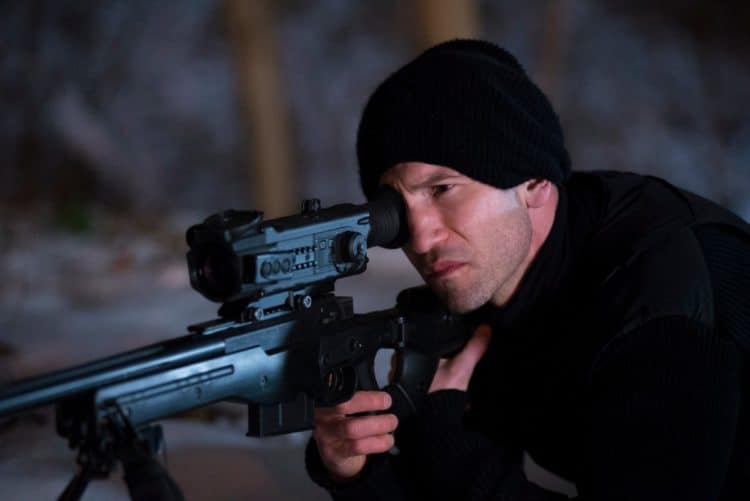 Before Jon Bernthal took on the role of the biggest anti-hero in the Marvel Cinematic Universe, he was once a part of what used to be the biggest show on television. If you're a fan AMC's The Walking Dead, then you'll remember him when he was a part of its glory days. And then things got very complicated for the series, but sadly, his character Shane didn't stay on it very long. But at least he lasted longer than he did in the comics. I was actually a fan of Shane and it's mostly because of Jon Bernthal's fantastic performance. I'll just say it, but season two is seriously underrated and I'll give much credit to Shane. I wasn't too happy when he died, because I think his character had more to offer in future seasons.
However, after his short time on the Walking Dead ended, Jon Bernthal found a more prominent role in a television series that eventually earned him a leading role. No, not Frank Darabont's Mob City, which I didn't watch. It looked cool, but that sadly didn't last too long. The role I'm referring to is much bigger and takes place in the biggest cinematic universe ever.
But before Jon Bernthal got his own show, he played the role of a supporting character in another show. For all you Marvel fans out there, remember when the Netflix shows were considered canon to the Marvel Cinematic Universe? I do, and for the most part, they were some seriously awesome pieces of superhero storytelling. Are they still considered canon to the MCU? It's hard to say, but if you ask me, they should keep at least half of what was on those shows.
And as for Jon Bernthal, he should stay on as Frank Castle, the most violent vigilante hero in all of comics. I'm still very upset that the Punisher show was canceled after season two, right when he decided to fully embrace his role as the Punisher. But despite the show's cancellation, I have hope that we'll see that version of Frank Castle again. In my opinion, Jon Bernthal is the best Punisher we have ever had. Heck, as soon as he was announced to play the vigilante in season two of Daredevil, I just knew he was going to kill it. Yes, I mean that both figuratively and literally.
If you're not a Walking Dead fan, that's okay. However, after watching season two, I became very convinced that Jon Bernthal was the perfect choice to play the MCU's Frank Castle. He was just so brilliant at capturing the rage, the pessimism, and the relentless pursuit of his goals that really resembles the Punisher. This was all portrayed by him when he played Shane, a character that crossed the anti-hero line a bit more than Frank Castle. It's a shame that character never really got a proper redemption arc, but that's also The Walking Dead for you.
I bring this up because while many Marvel fans love watching Jon Bernthal as The Punisher, it seems they also want him to play another popular Marvel hero. Ask anyone who should play the MCU's Wolverine, and they might say his name. Okay, so it's not a bad choice, way far from it. Heck, if he didn't already play Frank Castle, he'd probably be one of my top choices.
The only issue is that Jon Bernthal has already taken on the role of a big Marvel hero. Now you can question the status of the Netflix heroes and it would be a fair point. Are they still officially a part of the MCU? It's kind of hard to say, considering that whole Netflix Marvel phase was kind of a universe of its own. It began with Daredevil, then took its time to develop a few other heroes, which eventually led to The Defenders in 2017. It's very similar to how The Avengers were set up, but the big difference is that most people actually liked The Avengers. The Defenders, on the other hand, didn't quite receive the same kind of positive reception. It lacked many elements that made The Avengers awesome, and to be honest, the whole event felt anti-climactic.
Well, it's a good thing Jon Bernthal wasn't really needed for The Defenders because Frank Castle didn't fit in the show. That's okay, because Frank Castle was always known to be a solo type of hero. It's not hard to understand why, considering he relishes in the killing of criminals a little too much. Still, I think it would be crazy to recast Frank Castle and have Jon Bernthal move on. I really have no doubt he would be a good Wolverine, but The Punisher just seems like the role he was born to play.
As for his future as The Punisher in the MCU, it's up in the air at this point. From what I've gathered, Kevin Feige has said that Jon Bernthal is one of the few Netflix Marvel actors he wishes to keep. If those rumors are true, which I hope they are, then we might be seeing Jon Bernthal wear the skull on his body again. I sincerely hope so, because again, he killed it as Frank Castle. And with these rumors that his Punisher may be returning in the upcoming Moon Knight series, I think we can look forward to another Jon Bernthal Punisher appearance.
And what of the MCU's Wolverine? If not Jon Bernthal, then who? Well, that's a whole other topic, but our former Shane is good right where he is. Kevin Feige, please, please, please do not recast Frank Castle. The same goes for Daredevil, Jessica Jones, and Wilson Fisk. If he likes these actors as much as I think he does, then I'm sure he'll find a way to bring them back into the MCU.
What are your thoughts, Marvel fans? Do you think Jon Bernthal should switch over to Wolverine or would you rather have him continue playing The Punisher? I mean, he's a bit too tall, so why not get a short actor like Wolverine himself? And no, not Daniel Radcliffe.