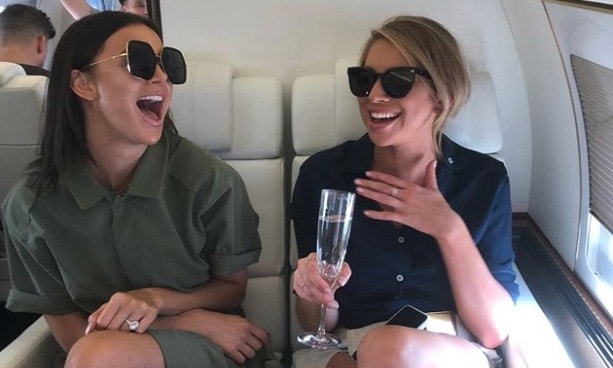 After having watched Vanderpump Rules it would seem that Lala Kent is leaving for good this time. It does appear that she left in 2016 but did come back eventually. This time though it seems as though the departure will be permanent as she's found other things in her life that warrant her attention and it seems time to give up the show and the job and move on with something else. There are reasons why she's leaving that have been discussed and thrown around, a couple of which might actually be a good bet to be the driving reasons behind why she's finally saying goodbye to the show.
One of those reasons could be that she's marrying a man that makes a good deal of money and therefore she won't have to worry about her finances for a while. That seems like a rather easy thing to say and, one might claim, low-hanging fruit from the gossip tree that many people would love to pick, but in truth it doesn't seem all that far-fetched since having money after all is a big part of many peoples' lives and does tend to keep folks comfortable, especially when they're already used to the life. Lala is obviously one of those that has grown comfortable to living the good life and having the things she wants, so marrying into money does sound like a good idea. Yes, I took another low-hanging fruit, but it's kind of hard not to when they sit low enough to bump your head into. That being said there's nothing wrong with marrying into money so long as that's not the only reason, and it wouldn't appear to be in this case since Lala has a great deal of respect for her fiance, as she's exhibited by taking umbrage when her friend on the show, James Kennedy, decided to continually bash Emmett. This would point towards her being a good match with her fiance since if it was just for the money you can imagine that she wouldn't say much. Being that she ended her friendship with James however, it would seem that she's got Emmett's back.
Another reason could be that she stopped drinking alcohol and as anyone that's watched the show has come to realize the cast does get a bit tipsy when they visit different wineries from time to time. Lala has done her best to avoid drinking and has done very well in fact since she hasn't had a drop as far as anyone knows. Her fiance did tip one back despite being on board to support her by not drinking, but she's remained sober and hasn't had a single glass. The willpower this takes is amazing since those that have become accustomed to drinking so much throughout their lives have a hard time it would seem putting the glass or the bottle down. In some cases it's a compulsion to have a drink, then another, and then another, until finally one can't help but wonder why the bottle is empty and they can't see straight. This isn't such a bad thing really but Lala finally had enough and decided that she was going to take alcohol out of the equation. Since doing that she's still been around it, but she hasn't decided to go back to it, even when everyone else is drinking. That could be a reason why she's leaving, but it would be one of the lesser reasons since she's been around the alcohol for a while now without going back to her old habits.
Another reason would be that her own business, the lip gloss thing, has expanded as she's taken on the idea of selling even more products. So far it seems as though her products are selling quite well and have even sold out on occasion. This alone would be good enough to leave if it could be sustained, which she'll be trying no doubt since it's likely that her fiance will want her to do something with her time, or so one would think. At this point it's a wonder just what is going to happen once she leaves Vanderpump Rules, as without insult it kind of begs just how hard any of them really work and how much really gets done on the show. It almost feels as though Lala might be leaving to get away from the drama as well since there's plenty of that and it never seems to stop or lessen in any way.
Whatever her reasons for departing it's likely that there will be some people will be sorry to see her go while others might actually rejoice since if you've ever watched the show and seen Lala bring the drama like only she can, you would get just why she's considered to be one of the more dramatic characters in reality TV.