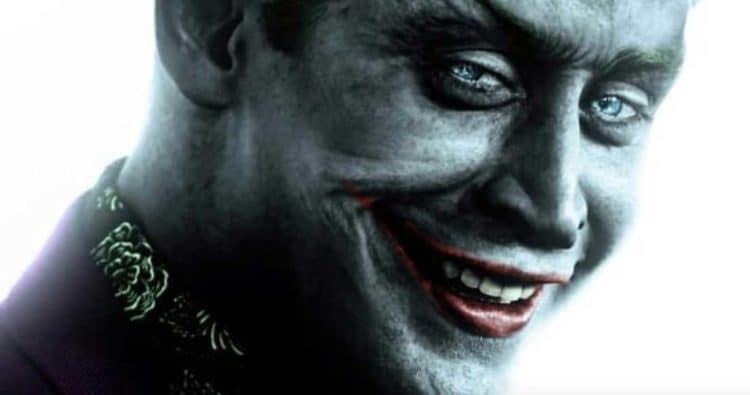 From the concept art it looks as though Macaulay Culkin could possibly make one insanely creepy Joker, as Jeremy Dick from MovieWeb and many others are thinking, though if you guessed that he's not even up for the role or being thought of you'd be correct. That doesn't mean much at this point however since the only star confirmed so far is Robert Pattinson, who will be playing Bruce Wayne/Batman. The idea of using Culkin as the Joker might seem like an odd casting choice but it's no stranger than folks believing that Maggie Smith would be best as a female version of Alfred. In fact it would seem as though the story of Batman might be seeing a few big ideas that will come along to shake things up since this coming movie apparently won't be linking up to the DCEU as people would like to think. Instead this will show Bruce Wayne as he begins his foray into crime-fighting, meaning that he'll likely be just as inept as he was in Christopher Nolan's trilogy when Christian Bale was seen to be just starting out.
If you're worried about anything such as continuity in the movies it should be noted that such an idea went out the window pretty quickly when the story of Batman kept moving forward after getting ripped up and redone multiple times. This is a common theme when it comes to comic book movies since honestly there are simply too many things to put in and too many new developments that come along to keep it all straight and part of the same universe. While the comics can easily get away with this because of alternate universes and such, movies don't always have this luxury. The part of the Joker has been done a few times now with Jack Nicholson, Heath Ledger, and Jared Leto, not to mention the voice actors that have taken  on his iconic cackle like Mark Hamill and a couple of others. But allowing Macaulay Culkin to step in and take a whack at it is an interesting proposition since it might actually revive the character in a way that Leto kind of failed to do and only Ledger really captured in a brilliant display of madness. Nicholson had his own take on the character and to be honest it was a newer and deadlier version of the Joker for its time, but Ledge was by far the most psychotic Joker we've seen outside of the comics in a long time. Culkin would have a lot expectation heaped on his shoulders, but if he pulled it off this would be the comeback that could in effect give his career a serious boost. Trey Griffith of Heroic Hollywood is another individual that's covered this matter and seems to agree with this idea.
He was great as a kid actor, as the Home Alone movies made him a star and movies such as The Good Son, My Girl, and even Uncle Buck all conspired to make him into one of the most popular kids in show business. But as he grew up he did step away from the fame for a while, trying to live his life as he wanted away from the pressure. That seems easy to understand and respect as he wanted to simply exist without being in front of the camera all the time, but when he came back his name was still famous, though his on screen presence had definitely suffered a bit. But bringing him back in this kind of role seems like it would be the role that could catapult him back into the spotlight and revive his career in a way that would be unprecedented. As of now it's more of a rumor since there are likely to be a great number of actors in line for this role. The Joker is after all one of the most iconic villains of the Batman story line, and to be honest it would offer some stiff competition. But you can't help but hopeful after seeing this picture, and after learning that Joaquin Phoenix's movie Joker isn't going to be a part of the DCEU in any traditional way either. Even better is that, according to Luke Parker of We Got This Covered, fans are already wanting to see this happen.
But maybe that's what the Batman legend needs. With so many different stories, so many different actors, all we've really seen is a continual parade of actors that continue to either excel as the Batman or flop horribly and give the franchise another shove towards the mediocre road where the DC universe seems to be headed most days. Perhaps this would be a way that the Batman legend could be revived and given a much-needed shot in the arm. A lot of people are still questioning the idea of bringing Robert Pattinson into the mix, but if that's the case, which it is, then perhaps bringing Macaulay in would be a great way to balance that out and create a level of crazy that a newly-minted Batman would find hard, if not impossible, to figure out.
Awesome image is via Bryan Fiallos.