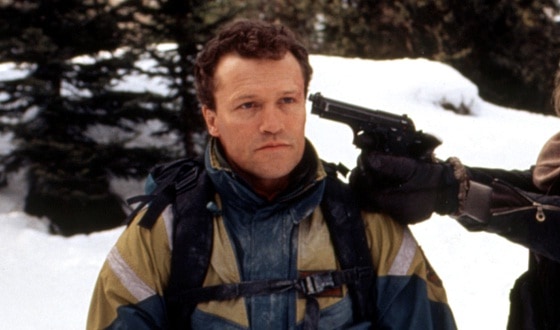 A lot of any character that Michael Rooker has anything to do with is attitude. Rooker has plenty of it as a character and yet seems to be one of the nicest guys in the world when he's off camera. As King Shark though, a DC character that some folks might not know a whole lot about, it's likely going to take someone that has a lot of personality, and once again that would be Rooker. So far over his career, his long and very busy career, he's proven that he can be the good guy, the bad guy, and the guy that's somewhere in-between, which is where some of the Suicide Squad members seem to be at times. But with some of the actors coming back for the next film and others staying away there's a definite need for his services and when it comes to a group that's comprised of attitude and ego he seems like he would fit the bill in a big way.
AJ Caulfield  of Looper has gone on to try and impress readers with his past roles as well and has brought the fact that he and Jame Gunn, who Rooker has a working relationship with thanks to having been in a few of his productions, should get along just fine in this upcoming movie. But there's one little snag in this whole thing, and that's the fact that Michael Rooker has taken to social media to actually state that he's NOT going to be taking the role. Nick Evans of Cinema Blend and a few others have reported that the actor, who was firmly pegged by some as one of the best bets to take on this role, has actually made it known that he's not really on board with it and has no inclination to do it at all. While might come as a blow to some considering how great he could possibly be in it the idea that he might change his mind is still up in the air for some and already firm as dried concrete for others. There are reasons of course and they're easy enough to figure out since it's not entirely difficult to figure out just why anyone would say no to such a part.
For one, a lot of actors want to be seen on screen if it's live action and don't want to be just the voice that's being connected to the character. This makes sense considering that not everyone knows a voice quite as well as they know a face and at this point Michael Rooker is well known to a lot of people that have seen him in movies and on TV throughout the years. Being relegated to just being the voice for a purely CGI character would be kind of a downgrade it seems and it likely wouldn't be something easy to fully appreciate since Rooker has been doing live action far too long to really be relegated to just using his voice. Another reason however could be that he wants to get away from the comic book adaptations and do something a bit more serious with his career. While he's racked up a great number of movies in his time that are definitely serious and worthy enough of award status he's also been firmly connected to projects like The Walking Dead and Guardians of the Galaxy, which are both comic book adaptations and carry a certain stigma around them that's hard to break free of sometimes.
Nicole Sobon of CBR is another writer that's a bit disappointed to hear that Rooker is firmly against playing the role at this point, but like others is still adamant that he'd likely be great if the part wasn't confined to just using his voice. His attitude on screen and his ability to get the fans on his side even if he's a bad guy paints him as one of the best and most underrated people in show business since his portrayals are nothing short of legendary at times. Just think of a fictional character in the humanoid body of a shark with the attitude of Merle from The Walking Dead and the power to rip people to pieces, that kind of character is hard to miss on when you think about it, but unfortunately it sounds like it might be a miss no matter what. Rooker likely has his own motivations for saying no and his own reasons for staying away and doing other things, but it's hard not to admit that he would be perfect for the role and could possibly lift Suicide Squad back into prominence where it was intended to be in the first place. Maybe Idris Elba and the others can accomplish this goal on their own, we'll just have to wait and see.