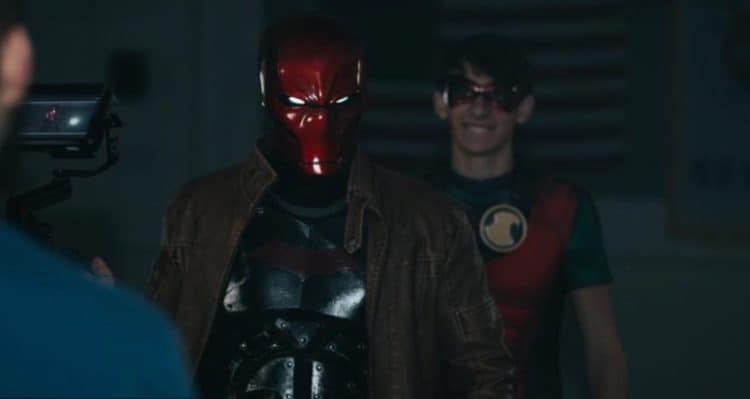 Fans tend to demand a lot from the movies and TV shows that are produced for their pleasure, and sometimes they're let down, but sometimes, if they're lucky, their prayers are answered in a way they never expected. With CD828 Studios and Ian Lang stepping up to fill a void that has been felt by many fans throughout the years it's become obvious that the Red Hood fan series is what a lot of people have been waiting for and are pumped to experience. For those that still don't know who the Red Hood is it might be time to brush up on a bit of Batman lore since he does happen to be rather important since his story is one of the most tragic in the Batman legacy. If there are people that still don't know it's largely because Jason Todd, the Robin that came after Dick Grayson, is the character that would eventually be beaten to death by the Joker, brought back thanks to the Lazarus Pits, only to go right back to fighting crime, but this time in a fashion much different than his mentor, Batman, ever taught him.
In the fan series however the life of Red Hood aka Jason Todd is being depicted in a way that not only allows him to be the star of his own show, but also depicts him as something more than just a vengeful vigilante that has the same goals as Batman but not the same methods. CD828 Studios has created a show that far has captivated the fans and given them a great deal to accept in terms of who the Red Hood is and how he connects with the Bat family. With Batman out of the picture as of the first season the Red Hood has a lot more license to practice his own brand of law enforcement without a lot of interference from his former mentor, though he does have to contend with Tim Drake and Damian Wayne, two individuals also know what it's like to be a part of the Bat family. While the first season sees them work together in an uneasy alliance as detailed by John Atkinson of ScreenRant, the second season is primed to Red Hood fighting all by his lonesome after an evil doppleganger somehow transported him to a different multiverse.
Despite being low budget and definitely a bit different than what fans have expected, the response has been phenomenal as thousands upon thousands of people have turned out to support this series and have made it possible to have a second season. Thus far the show has been nothing but impressive since the fight choreography, the humor, and the story line has been written in a manner that fans have reacted to with little more than positive vibes and a definite desire to see more. The second season will see Red Hood doing his best to fight his way home while trying to support Tim and Damian as well as they find more and more enemies just waiting to knock them down. One can imagine that the budget for this non-profit project isn't all that great but upon watching just a few minutes of an episode I can attest that what they've done is nothing short of amazing. In an era when special effects are all the rage and tend to overpower any production this is a nice break from the known and a great job by those in charge as it's an entertaining and engaging show that anyone, be they a fan or not, can easily get into.
It's worth it to take a look at the type of promotion that's been done for this show and the amount of work that's gone into since not only have the fans responded but they are in a way responsible to keep it going since the level of interest has continued to climb and the desire to see more has gone better than the studio could have hoped for initially. Now it's on them to make certain that they can maintain that interest and really give the fans what they're after. In terms of what will happen in season 2 and whether we'll get to see Batman at all it's up in the air at this point, but so far the stage belongs to Red Hood and the two Robin's so it's fair to say that we'll get to enjoy them for as long as possible. By fleshing out this character the studio has taken a character that has a very interesting story and finally given him the attention he really deserves. The Red Hood is a different breed of hero, and at this point in time it seems that a lot of people have come to appreciate his more hardened style. Go and check it out, you won't regret it.