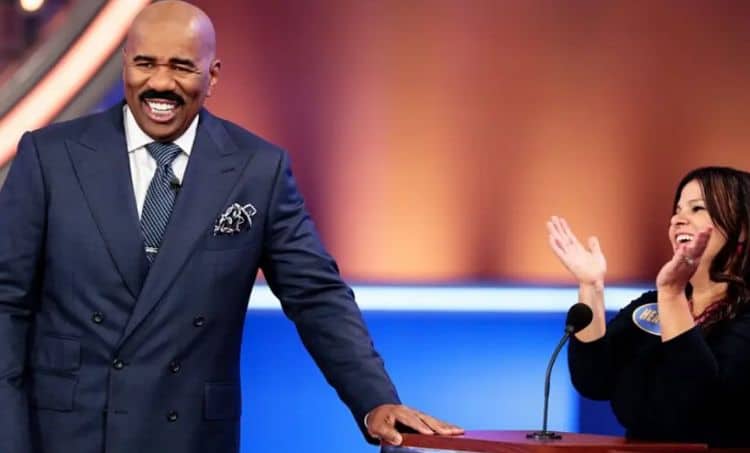 TV game shows started gaining popularity in the United States during the 1960s. Although a lot of things have certainly changed since then, game shows remain a popular staple in many American households. From trivia to obstacle courses, game shows have proven that they have a little something to offer everyone in the house. However, there's no game show that attracts the whole family like Family Feud. The popular show airs Monday through Friday for 30 minutes, and it's been entertaining people for generations. However, while millions of people tune into the show each day, many aren't aware of the rich history Family Feud has which extends beyond just fun and games. Keep reading to see why Family Feud needs a documentary.
1. The Show Has Been On The Air For More Than 40 Years
Over the course of more than four decades, Family Feud has become much more than a game show. It is a legitimate brand that is recognizable to viewers from a wide variety of backgrounds. The brand has spawned video games and other forms of merchandise. Family Feud made its debut on ABC in 1976. Countless people have seen the show since then, and it has impacted multiple generations. Unlike other game shows that have had very long runs, Family Feud is something that people of all ages can enjoy and play along with at home.
2. Two Of The Hosts Have Passed Away
Over the years, Family Feud has had several different hosts. Although most viewers today are most familiar with the Steve Harvey version, there are actually five hosts who came before him. Many of the show's former hosts have been well known comedians who had successful careers outside of Family Feud. For example, apart from Harvey, some of the show's most well-known hosts were Louie Anderson and Richard Kern. Sadly, two of the shows former hosts, Richard Dawson and Ray Combs have both passed away. Combs died by suicide and was only 40 years old at the time of his death. The stories of the hosts themselves could make a great angle for a documentary. After all, the person who hosts the show is the one who sets the tone. Hosting a game show may look like an easy job, but there's a lot more that goes into it than most people realize.
3. The Show Overcame Multiple Cancellations
One of the things that makes Family Feud unique is that it's had three separate lifetimes. Depending on your age, you'll likely remember several different eras of the show. The show originally aired from 1976 to 1985 before being canceled. It was rebooted in 1988 and ran again until 1994. It's third and current run began in 1999. In addition to its multiple cancellations, the show also switched networks. When it debuted it was shown on ABC. However, since 1988, it had been aired on CBS. There aren't too many shows, competition or otherwise, that can say they've been able to bounce back after being canceled – especially after several cancelations. Family Feud has been so popular since Steve Harvey took over that it's hard to imagine it ever being canceled again.
4. Unique Gameplay
Part of what makes Family Feud so popular is that it has a unique style of gameplay that makes the show exciting for the entire family. Many other trivia style game shows are too difficult for younger viewers to understand. The format is easy for people of all ages to follow. Although minor rules have changed throughout the years, the format of the game remains largely the same. To put it simply, each family must compete by answering a series of questions, and the family with the most points wins. However, it would be interesting to know who created the format for the game and why it was chosen as opposed to more traditional styles of gameplay.
5. The Show Is A Well Oiled Machine
Family Feud certainly isn't the only game show that has had a long run, but it's the only one that has had to overcome lots of obstacles. Over the years, the show has proven that it's able to withstand the test of time. It would be interesting to see a documentary that focuses on the behind the scenes aspects that have kept the show running and relevant for so long. For example, we know that families audition to be chosen for the show. But what really goes into picking the perfect contestants? It would also be cool to get some insight from contestants who have been on the show to get a glimpse into what it's like to compete.