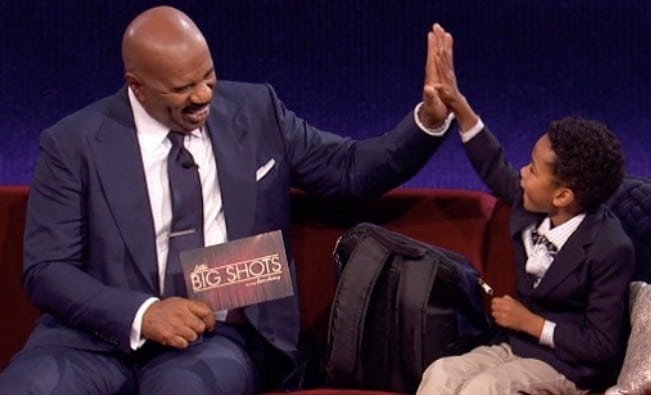 Lisa Respers France and a few others have made it known that Melissa McCarthy is going to be replacing comedy legend Steve Harvey on the show Little Big Shots. The show, if you don't know that much about it, is all about bringing talented youngsters on TV to showcase their talents and let them shine for a little bit. Why he's being replaced doesn't seem to be a huge priority when it comes to keeping people informed about what's happening and why though. Some folks might wonder just how and why Melissa got tagged in for this show but at this time all that can be said is that she's a talented comedian and has a few ideas on which way to go with the show. While that sounds frustratingly vague it's also kind of hard to say just why Steve Harvey seems to be getting targeted lately since his talk show was cancelled in order to give way for a new show with Kelly Clarkson.
Maria Pasquini of People has written that, unfortunately, Harvey had to find out about the switch from the media since no one bothered to come to him and say anything. It kind of makes a person think that network executives are experiencing a short supply of guts as well as vision when it comes to getting rid of a guy like Harvey, especially when they fail to tell him about it and decide to let him just find out. It could have happened in a much different way than we're seeing, but if there's any veracity to the claim that they didn't tell him a single thing about the switch then it speaks to their character a lot more than his when it comes down to who might be in the wrong for how this transition is going down. Speaking as someone that was raised in an old school manner you generally tell someone when you're about to make a switch like this that could mess with their career in one way or another, it's not something that a person needs to find out secondhand. So far though Harvey seems to be rolling with and will no doubt come out on top somehow since he's the kind of guy that knows how to land on his feet and make whatever situation he's in work.
Let's clear the air on any conspiracy theories when it comes to Steve being replaced by a woman on either end of this particular issue. There's no takeover to be honest, and there's no vast conspiracy that's seeing women take over spots from men, no matter how this looks. It does look kind of suspicious since he's being replaced by a woman on both sides, but the network seems to think that Kelly and Melissa are going to bring in a level of something that Steve might be lacking or just give a change to the network that people might like. Don't go looking for conspiracies where business is concerned, not on this one. At this point it seems as though it might just be enough to stir up some trouble and possibly make a big issue out of absolutely nothing.
There is a silver lining though as Kayla Keegan of Good Housekeeping would indicate since Steve has already been heard to say that he can't wait to see what might come next, no matter how much of a surprise it was to be replaced after seven years on his own show. So far he's keeping his head up and getting ready to move on, though his show will be airing until June before it gets taken off. He's got a good attitude about it at least, and is willing to see what might come next, no matter what that will be. He's likely going to keep hosting Family Feud, so there's one place you can still see him. It does feel like he's getting the back door treatment on this deal but all the same one has to remember that it's not being done to the fans, no matter how they want to react in light of the news. Whatever happens to the celebrities happens to them, not to us, and it's important to be supportive and wish them well on their next endeavors while remaining fans for as long as we can. The celebrities do depend on the people after all no matter how high and mighty some of them might seem at times. Supporting them by remaining fans is just as important as seeing them continue to push forward and find new ways to entertain us is for them.
Steve Harvey isn't going away since he'll always find a place to pop up and entertain the lot of us. This was kind of a shock, but he's going to keep doing his thing.