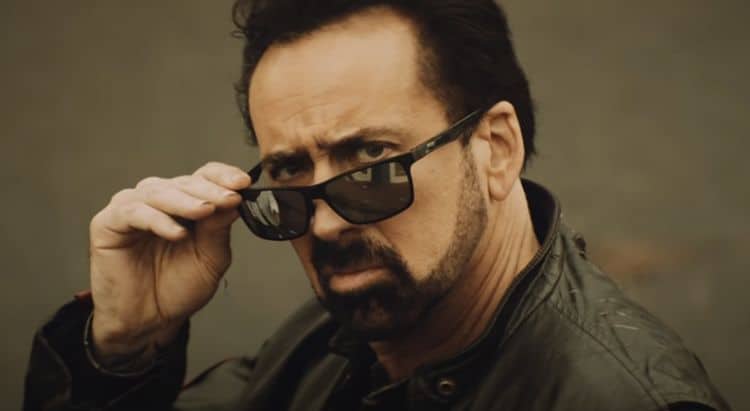 It's not too often that one has to wonder just who's in the most trouble, the person that is being given to the monsters, or the monsters. In Willy's Wonderland it would appear that Nicolas Cage is even more dangerous than the creatures that are stalking him, and that he might be the real concern. There are a lot of different scenarios in which a quiet loner is seen to be someone that people can rely on, or that might be tough enough to take on a threat by themselves, but it feels as though there's more to Cage's character in this movie, especially since he doesn't hesitate to tee off on the possessed characters within Wonderland. It does feel as though several of the elements that people are used to are going to be seen, such as someone that knows what's going on and is either willingly giving up a sacrifice or is bound to do so in order to keep the monsters from coming after them. Then there are those that are trying to do something right by not allowing the sacrifice to happen, only to become the sacrifice, or at least succumb to the same danger that they were attempting to stop. Overall this movie looks like a new level of corny horror, but it also looks like something that could possibly be insanely good, despite being bad enough to gain that distinction.
Nicolas Cage has been putting in a lot of work over the last decade or so and at times it does feel that he might not be getting enough credit for it, though it's also been seen that not every move he does is necessarily a blockbuster. His finances have already been looked at several times by many people so mentioning them in depth again isn't really necessary, but it does feel as though after all the movies he's done that he should be paid up and should be ready to take on big blockbusters yet again. But there is a reason why we're seeing Cage more often than not since according to his own explanation, working this often keeps him out of trouble. If anyone remembers reading about Cage's insane spending habits then they're likely recall that he once owned a castle, a dinosaur skull, and a host of other things that cost him the fortune he'd built over the course of a decade and more.
A lot of folks might have invested in something, or put that money away for other purposes, but Cage displayed such a huge disregard for his money that he had nothing left when it came time for the IRS to take a huge chunk of his hide, metaphorically speaking. So to be fair, working this often keeps the tax man at bay, but it also keeps Cage too busy to just sit around and make bad decisions. Plus, one can only think that this might be something that could be used as stress relief as well since this movie in particular could be a metaphor for battling against whatever personal demons Cage has had to deal with in the past. Hey, it's a thought, even if it's not entirely accurate. Being able to beat up on maniacal, possessed machines without fear of any repercussions would be kind of therapeutic for a lot of people since it does feel as though one would be doing the world a favor while taking out any unwanted stress on something that kind of deserves the abuse for all the harm that its done. Of course, it might be nice to take out that abuse on the people that are setting others up for sacrifice as well.
The movie will be coming out in mid-February and already looks like something that people might watch, talk about a bit, and then abandon as they've done with many of Cages other straight to video releases. While the B-move scene is definitely keeping him busy it's not doing much for or against his reputation to be honest since he's still Nicolas Cage, meaning that he's still an icon and a movie star, but at the same time he's been diminished over the years to the point of being someone we remember, but also someone that we wonder about. As it currently stands, Cage is doing his own thing and he appears to be doing just fine since he's making movies and making money, and there are a few of his movies that look like they're worth watching. This could be one of them, but we'll have to wait a few weeks to find out. Anything that has to do with sacrificing someone to appease something is usually at least a little bit interesting since it would be nice to know what the real angle of the movie is, and how it will turn out.