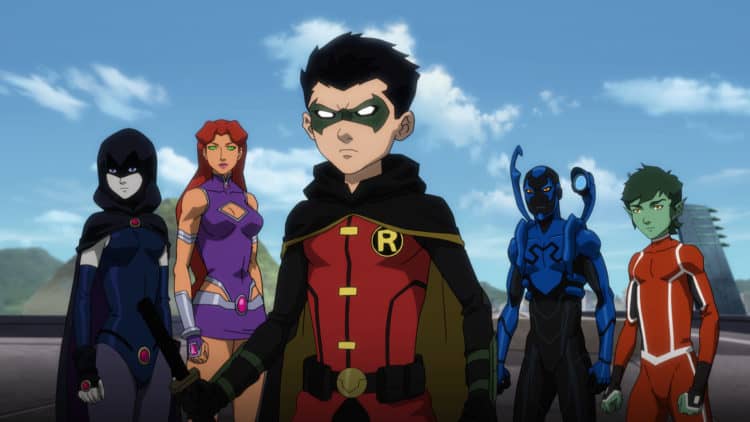 If there's one thing I enjoyed about being stuck at home, it would be the amount of time I spent binge watching particular television shows. In a time where we were all stuck at home, the great invention of television has certainly come in handy. What are these particular shows I watched? It all starts with a little something called Disneyplus, and many of the shows that are on Disneyplus are about superheroes. The kicker is that these shows aren't the kind that a guy my age wouldn't normally watch. If you're wondering why, it's because these are all animated shows. I'm a grown man revisiting animated superhero shows for nostalgic reasons, but it's mostly because I'm a big lover of the genre.
Before there was such a thing as a live-action cinematic universe, there were multiple animated superhero shows. They started it all before live-action did it, and this is one of the many reasons they should be appreciated. What major comic book juggernaut does Disney flex? The one and only Marvel. I began with the X-Men animated series, then worked my way through several others, including the animated Spider-Man series from the nineties. Out of all the Marvel animated shows, the animated Spider-Man show from the nineties is the most significant.
The show didn't just feature Spider-Man, but many other Marvel superheroes as well. From Iron Man, to Daredevil, to The Fantastic Four, even to the vampire hunter Blade. My God, this show had it all. With the amount of Marvel characters joining Spider-Man in the show, I believe an argument can be made that the show was the original Marvel Cinematic Universe. The show began as it should, with Spider-Man swinging around New York and beating up his infamous rogues gallery. That's awesome, but it didn't take him long to join forces with other awesome heroes.
If I recall correctly, one of the first heroes he joined forces with was Doctor Strange, because his nemesis Baron Mordo had Mary Jane under his thrall. It was a good team-up, but the coolest thing about it was that it introduced the villains of other Marvel heroes. Spidey even came to blows with some of Marvel's famous anti-heroes, including the ruthless Punisher and the sword-twirling Blade. But these guys are both violent killers in the comics, aren't they? Fear not, parents, because your children won't be watching any bloody violence or dangerous guns being fired. Well, at least not realistic ones. When it comes to these shows, the bad guys always carried some sort of laser rifles, very suitable weapons for Blade and The Punisher to use without spilling gallons of blood. Like it or hate it, they definitely worked for a kid's show.
For those who are wondering if there ever was a big Avengers-level team-up, check out the last few episodes. These episodes are an adaptation of the Secret Wars series, which involves several heroes coming together to battle groups of villains. The difference between the comics and the show is that this is very much Spider-Man's show, so he leads the charge. By his side, is Captain America, Iron Man, Storm of the X-Men, and The Fantastic Four. Together, they battled Doctor Doom, The Lizard, Doctor Octopus, and the Red Skull, all at the behest of The Beyonder. As a comic fan, I appreciated these episodes, and as a fan of the Avengers team, I really dug the built up.
Just when you thought it couldn't get any bigger, Spider-Man ended his journey by teaming up with multiple Spider-Men from different dimensions. The most touching scene was when the "normal" Spider-Man took the main one back to his dimension so he could meet the man that created it all: Stan "The Man" Lee. If I had watched this before Lee passed, it would've just been a fun moment, but unfortunately, I watched this two years after we lost him. It made for a serious touching moment and I honestly shed a tear. Why did we have to lose him? The fact that it literally ended with Spider-Man talking with Stan Lee made for a fitting finale, but him venturing off to find Mary Jane was one heck of a cliffhanger.
Speaking of Mary Jane, how about that scene where she (her clone) dissolved and said that tearful goodbye to Spider-Man? Out of all the animated shows, this one really made the waterworks go. Even the X-Men show did the same when it touched on issues like civil rights and discrimination against mutants. Watching that reminded me that the X-Men are all about tackling real issues and anyone who feels insecure can relate to the X-Men.
But let's not just give all the credit to Marvel. DC has some awesome animated shows in its arsenal as well. We can go far back to the Batman animated series, but if we're looking at the most recent shows, I'd have to give it all to the Harley Quinn show. That's another animated superhero show I've been catching up on, and it's absolutely amazing. The best thing about it is its ability to operate like an adult cartoon. Just draw a line and tell every other animated superhero show to get on the other side and leave the Harley Quinn show on the other.
This is definitely not an appropriate show for kids, but then again, that's exactly why it's awesome. The Marvel animated shows are owned by Disney, and you know Disney will always be appropriate for children. It's a totally different story for Warner Bros., and you know what? That's actually a big opportunity. It's nice that both Marvel and DC can give us movies and shows appropriate for everyone, but why stay grounded in the same field? If DC has one advantage over Marvel, it's their ability to actually push the appropriate-level boundaries.
The Harley Quinn show has it all, from cursing, to bloody violence, and wacky intercourse. This separates it from not just the other DC animated shows, but all the other animated superheroes shows as well. On top of all of that crazy stuff, it actually works. It touches on Harley's toxic relationship with The Joker and her special friendship with Poison Ivy. Oh, and literally every other character is a goofball parody of their comic book counterparts. On paper, this would've been a very risky idea, but the show itself is hilarious. All I have to do with it is catch up on season two.
Superhero animation has certainly come a long way. It all started with the corny one-liners and child-appropriate themes and now we have a show that's all about blood and very inappropriate humor. Now that the Harley Quinn show is successful, perhaps it'll start a chain of new animated shows that will share its themes. Which animated superhero show is your favorite?