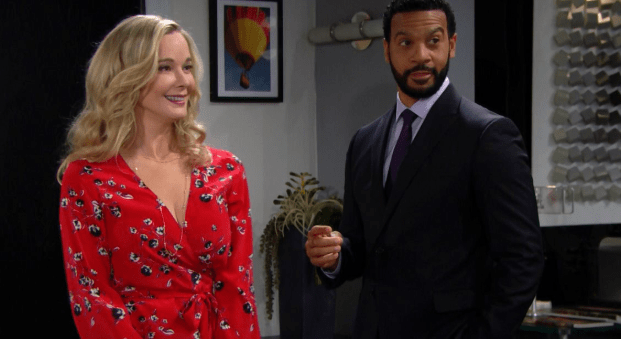 The Bold and the Beautiful fans are not all that happy to see the Emmy list in terms of the best actresses and actors. In fact, there were none. It turns out, the show was not recognized for many of the people who play roles on it throughout the year. Only Jacqueline MacInnes Wood, Heather Tom, and Wayne Brady were nominated for Emmy's, and Brady is only a guest star. None of them won, either, except for MacInnes Wood and her stellar performance Steffy. While we get to celebrate the many actors and actresses who did get a nomination this year, we are left wondering why so many of the men and women around here did not. And we cannot celebrate anymore of them, either. There's none left to celebrate, if you think about it. But, we do think there are a few reasons more people were not nominated from this show, and we will share that, instead.
The Same Story Lines
How can you nominate someone for an award when they've been playing the same role with the same story for so long? We have Brooke and Ridge who are married to one another but are going back and forth with one another and their own exes all the time. You have Brooke who spends too much time with Bill trying to get close to him, and you have Taylor how is always up in Ridge's life. They are both in the middle of a love triangle with anyone and everyone who could possibly be in a love triangle with them, and it's not making them look so good. You might be the best actor or actress in the entire world, but not when you're repeating the very same show all the time. It's time for them to branch out and find new things to do.
Hope and Liam are in the same place, and only Steffy is different. She finally took it upon herself to make the decision to choose herself, leave them behind, and love herself. She made a bold stand and a bold statement in her life for the first time in forever and we like it. We get it, we like it, we love it, and we are not mad at it. But, that doesn't always happen around here.
Boring Characters
The other problem is that the characters have gotten boring. Eric is not embroiled in problems anymore. Quinn is as tame as they come, and everyone else seems to be falling into their own line and into their own situation without much fanfare. It gets a little boring when even the most dynamic and boldest characters aren't doing much more than just sitting back making things look boring and unexciting anymore. They are not being given the kind of stories they need to make us feel interested in them anymore, and there is little that we can do to make that change. It's up to the writers, and they are not doing their job. But, that's all there is to it.
No Big Stories
While there are big stories, they are always the same stories. Someone is married, but they are in love with someone else. Someone is mad and they make a mistake, and there is a miscommunication, and they don't have a way to fix it or make it better. Someone wants something that is not their own, and they make all the poor choices to get that for themselves. There are so many story lines that we wish they could have in their own lives, but they don't have them. The writers keep doing the same thing over and over again with different characters, but it's always the same outcome. For once, we'd like to see something else happen. We'd like to see something unexpected, such as people making different choices and things working out for others. But, that's not what we are getting these days, so we have small expectations for a better future. For now, we will sit back and hope that they make these changes before it's time for the 2020 Emmys in which no one is nominated, again, because there is nothing for them to do.