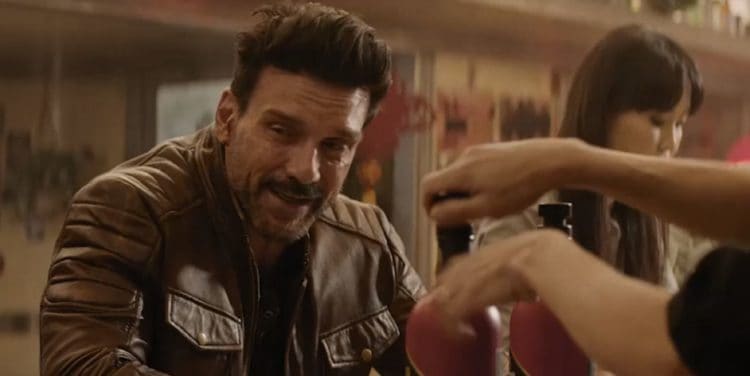 Sometimes we need movies that are simple to figure out since they tend to give us a moment to relax and just enjoy a bit of cinema that some might say is great since they can relax and kick back without having to think too much, while others will still criticize with every breath as they say that it wasn't challenging at all. Hey, to each their own. But Boss Level looks like something that could at least entertain those that are wanting something like a good old fashioned shoot 'em up movie that will deliver the kind of good time that promises little but gives plenty so long as a person can deal with it. Frank Grillo, Mel Gibson, Naomi Watts, and Michelle Yeoh are the main parts of this cast that are there to deliver us a story that already looks like it will be something that a lot of folks might roll their eyes at as they prepare to eviscerate it online, while the rest of us might just crack a bottle or kick our feet up and say "Oh yeah" with a content smile on our faces as we sit back to enjoy the show. There are plenty of movies that have time loops, and plenty of movies that feature an army of bad guys waiting to dice up, shoot up, or otherwise eliminate the main character for one reason or another. But putting these two things together is kind of nice since it does give the impression that there's something that the main character might have done that just begs for a type of redemption arc or a simple and bloody payback that will come at some point.
It's almost like watching a trailer for Groundhog Day, save for the fact that Phil has been replaced with a very mercenary-looking type of individual who is taking advantage of the fact that he lives through the same day and can still pick up new skills and retain them even when the day resets itself over and over again. And there's even the reveal that the main bad guy is responsible for this somehow and that the love interest, played by Watts, might have some way to fix it. At this point though one has to wonder if fixing it will be the end of the hero of the story or if it will allow him to finally achieve a happy ending, which is kind of cliche but is still nice to see now and then. Somehow it feels that any end that his movie has will still be mired in trouble since mercenary characters, or even those that are known to amass enemies on this scale, don't often get to stop and have a happy life that lasts for years on end.
With that being said this movie looks as though it will be a lot of fun when it releases in March, which might sound like a bit too long to wait, but is just perfect since there are plenty of other movies and shows coming before that time. As of right now streaming is definitely where people are turning to since the theaters still aren't opening up as quickly as folks had hoped. There are still plenty of people that are hoping to see the doors open this year so that they can enjoy their favorite blockbusters in the manner they want. But the fact remains that without the pandemic being completely over that protocols will likely still exist that might keep the theaters from opening fully, which in turn means that capacity will still be reflected by ticket sales. Even keeping a theater open all day and night isn't bound to even those numbers out since a theater that can't fill isn't going to produce enough revenue to make it worth the time and effort of releasing a movie onto the big screen. Streaming is becoming a much more popular option since, despite the luxury of going to the theater and getting away from home, and the fact that not everyone has a massive TV and home theater, the lower cost is still very attractive, and the comfort of being in one's own home is still alluring as well.
It feels fair to say that Boss Level probably wouldn't stack up that well next to other movies at the theater, but as a streaming movie, it's bound to get some attention thanks to the cast and the familiar and enticing premise that looks to keep things interesting as the main character finds a way to survive each challenge in turn as he attempts to get down to the solution of how to escape the time loop. As far as action movies that don't require a lot of in-depth thought go this one feels as though it might hit the spot.