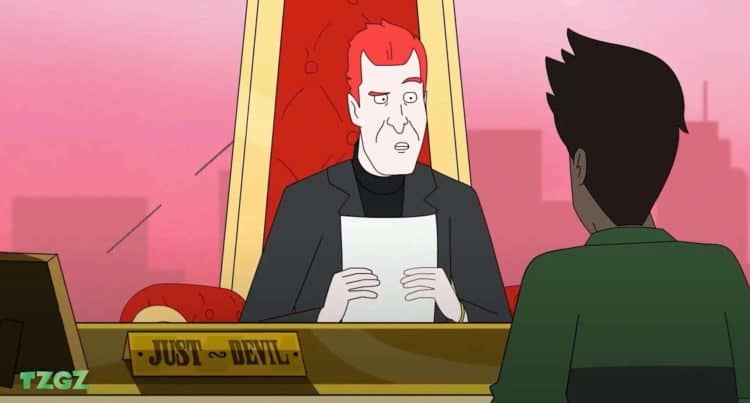 So it sounds like hell is getting an upgrade by installing social media. That's kind of funny considering that some people would already think that social media was one of the many reasons some folks might be taking a southern journey at the end of their ride. But anyway, with Alan Tudyk playing the part of the devil and a cast that's likely to be great support it's easy to think that this show is bound to make a lot of people laugh and might even make some folks uncomfortable. That's kind of how things happen anyway since trying to please everyone is nearly impossible in this day and age, especially when it comes to anything having to do with any theological belief. Those that want to focus on the devil being anything evil incarnate are often looked at askance by those that are patient enough to realize that the parody of it all isn't harming anyone, or are condemned for trying to spread the wrong type of entertainment. For those that have a sense of humor, however, shows such as Devil May Care are bound to be pretty funny since it's a bit obvious that this show is going to be a parody of hell that a lot of people will end up getting a kick out of since it brings the idea of hell into the current era in a big way.
Some might claim that glorifying hell in any way is a bad idea since it promotes a horrible set of morals and the questionable lack of ethics is enough to make a person's head spin. But when thinking about hell being gentrified in order to ensure that people might actually want to come there is taken into account, well, yeah it's still bound to upset a few people, but at the very least it's bound to be rather funny. Putting hell in touch with social media is bound to be a laugh riot since the idea of keeping people entertained in hell appears to be kind of going against the whole point of eternal torment and punishment, but the whole idea of a generation Z individual going to hell and becoming responsible for bringing social media to the blighted place is kind of hilarious since it grants a lot of different ideas as to what could happen and how it would change the landscape dramatically. After all, there have been so many depictions of hell and its denizens over the years that a new look, even if it's something that might have been hinted at a time or two in other projects, would be kind of nice.
Hell has usually been kind of a dreary and dangerous place when discussed in literature and in the media as the very idea of it is that people are sent there to be tortured and otherwise punished for their entire afterlife. But that feels like a very narrow view since even the poets of centuries past were heard to detail hell in all of its inglorious wonder and terrifying grandeur, and even that felt kind of simplified thanks to the human perspective that so many use to speak of the location. Hell is something that many people have described in a number of different ways, with most of them being entirely negative and off-putting since to be fair, no one really says 'go to hell' when complimenting another person. Devil May Care isn't going to be the first program that will attempt to show a softer side of hell, but it's definitely not going to go completely soft as the trailer shows, as this is still hell after all. There is an image uphold.
It sounds as though the show is going to be given a seven-episode run to start with as it came from a 15-minute pilot which must have been impressive enough for those in charge to give it the green light. When it comes to the various shows and ideas that have come across the desks of countless executives it's hard to imagine just how many might get rejected in favor of those that people think that the audience will enjoy. Obviously there are misfires from time to time that become shows that people don't want to watch more than season of, but then there are those that are widely popular and are taken off for one reason or another before people are really ready. The big hope of course, as it is with every show, is that Devil May Care will take off and manage to entertain the target audience and anyone else who happens to think it's worth a few chuckles. Time will tell if that's going to happen since even liking the show has been proven to not be enough at times. But we'll see how it goes.