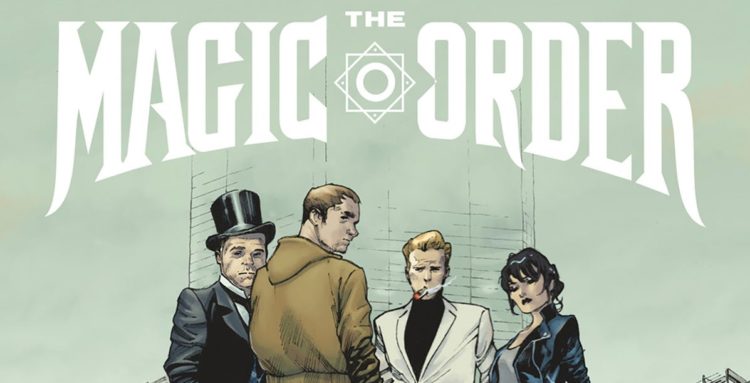 It's kind of easy to see how the whole idea of wizards, sorcerers, and magic in general has been kind of overdone as Mike Jones from ScreenRant seems to suggest, but then again, people still keep coming back for more. Mark Millar and James Wan are going to be working together to create a new series for Netflix based around The Magic Order and are already drawing a bit of attention since the magical plot of this project might seem like it would be along the lines of another Harry Potter-esque story but in truth is something a little darker and a lot more intense. While the Potterverse managed to get good and dark after a while it still retained some of its sense of self that had been established in the first movie, meaning it was still kid and family-oriented despite some rather gruesome visuals throughout the movies.
The Magic Order is, as Millar describes it, almost like a blending of the Sopranos and Harry Potter, meaning that it's going to be filled with fantasy but at the same time is going to somewhat harder in nature and more prone to showing the kind of images that Harry Potter would have never gotten away with. In a story where five magical families take upon their shoulders the responsibility of protecting the world from magical threats you almost have to assume that they're not only very old but that they're rather brutal in nature and have devised a number of ways for maintaining their secrets and thereby passing as ordinary citizens most times. Being derived from a comic book series it does seem to invite the idea that a few things will likely change during the transition and some fans might wonder just why certain aspects of the comic didn't make it into the show or why something was switched around from what it originally was. Sometimes it has to do with the limitations of film, other times it's simply the director wanting to put their own spin on the project and finding that it conflicts with what people want. Hey, it happens.
To offer an even more enticing hook to the series Mariella Moon of Engadget and many others have already mentioned that during the course of the story something or someone begins picking off magic-users from the five families, thereby constituting a very serious threat since if the five families are supposed to be tough and knowledgeable in the ways of the world, it stands to reason that anything that can kill them must be far stronger. That kind of dynamic is pretty natural since the stronger someone gets, the more likely it is that someone will eventually come along that's just as strong if not stronger in some way to knock them off. Such has happened in this manner for a long time when it's been established that there is in fact a status quo and that it doesn't expect to change. The introduced threat disrupts the status quo and thus the issue that drives the plot is born and it's established that there is a huge threat looming in the near distance that has to be dealt with. This kind of story is usually a lot of fun since there are such dire consequences but they're not solely directed at one group or another, but instead branch out in many different ways so it forces the characters and the audience to think about what might be coming next and how the problem is going to be solved.
Considering that Millar's projects in the past have been rather hard-hitting and even dark to the extent that no one might get out alive it's fair to say that this series sounds as though it could be one that hooks people in without any effort since magic is still a very big draw when it comes to movies or TV. The only possible detractors would be the level of acting ability and the special effects that are used, otherwise the plot sounds plausible and the story might go off without a hitch, we hope. The release date isn't for certain yet but as time goes on we'll no doubt learn a bit more about when to expect the show and who might be rounding out the cast. Given that it will be on Netflix there's a good chance that it might include a couple of A-list celebrities or at least some very talented individuals that are either still getting started in their career or have been around and just need a good push in the right direction.
However it happens The Magic Order does sound like an interesting series and one that could end up becoming another favorite on Netflix. The streaming giant has been having a lot of luck lately, so hopefully this will be on more feather in its cap.