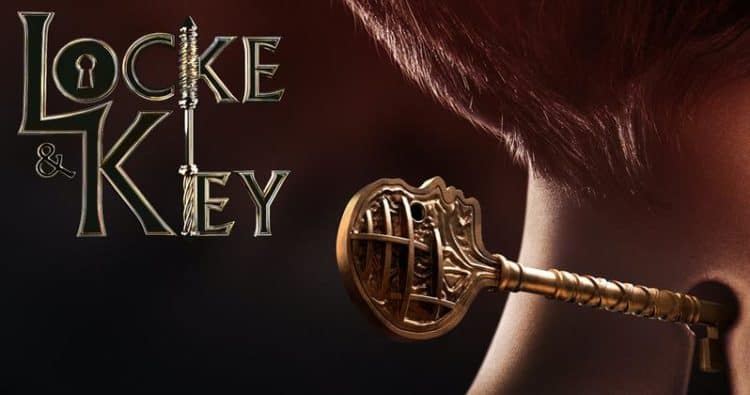 The story of Locke and Key sounds enticing enough to give it a watch as Jeremy Dick from TVWeb has shown, and the macabre image on the back is one that might prove to be even more interesting given the subject matter that spurred on the decision to make this show. Based on the graphic novels by Joe Hill the story concerns the Locke family, who are moving into Keyhouse, and their discovery of several magical keys that are somehow connected to the passing of their family's patriarch. Unfortunately they're not the only ones interested in the keys since there is a less than friendly and very demonic enemy in the house seeking out the keys for its own nefarious designs. So far the topic sounds like it could be interesting and drive the series for a while, so long as it sticks to the source material and doesn't deviate too much. Given what we know about how things work when it comes to source material though don't hold your breath until you've seen what the series has to offer. Thankfully it won't be a long wait since the series will be coming this next February and will no doubt be released as an entire season like always, meaning one can binge-watch the entire thing and then comment about it online.
There's a great number of people talking about how Netflix is going to be in trouble this coming year since more and more streaming networks are coming online and are bound to start cutting into the business. The streaming wars are already underway and Netflix has already taken a pretty good stride forward even though there are plenty of sites out there that are offering their services for less. When it comes to keeping content and allowing things to flow as they must though the streaming giant has been fairly confident in what they can do and haven't gone into panic mode yet. One thing that anyone would be wise to understand is that Netflix was already well-established and highly successful when the rest of the streaming networks came online, and has managed to find ways to stay successful and continue to see their numbers rise as the years have gone by. Thinking that Netflix is going anywhere or is going to experience a sudden downturn in their numbers isn't foolish but it is a bit naive to think that the other sites aren't going to bump up their rates eventually if they do start taking on more of the subscribers. At this rate though each site offers something different and people are actually taking on multiple subscriptions just so they can watch what they want without having to choose between networks. The cost is a bit higher but thank fully it's still less than cable. Ashley Rodriguez of Business Insider has more to say on this subject.
Locke and Key is yet another Netflix series that people are already getting excited about because it's close to releasing and it deals with a story line that people will be interested in since tales that offer up a promise of the supernatural are still doing quite well and are able to grab the attention of many audience members and entice them to keep watching. In a way it doesn't really matter where the show would have landed as just hearing a bit about the subject matter is enough to make a lot of people think that it might be a good idea to tune in this coming February when the show is released. Of course after binge-watching there's bound to be a great deal of conjecture and thought on how things could have been different, better, worse, and if there will be a continuation as time goes on. The only bad part about binge-watching obviously is that once the season is over and done with it's going to be a while until another season is ready to go, even if they're being filmed one after the other.
It does sound as though this idea spent a bit of time in development hell as Andrew Liptak of The Verge and others have noticed, which is kind of normal these days it sounds like since so many ideas coming through need to be given the green light and even then need to be ironed out in a way that will allow audiences to like them and want to see more. When it comes to a series it's eve more important since it's not a one-off and it's not something that can be flashed up on the big screen and passed off as a best attempt. A series survives best when people are interested and are kept interested throughout, as many shows have found out to their chagrin or success on Netflix. At this time Locke and Key already sounds like a winner, but until the first episode comes out we just won't know where it stands.