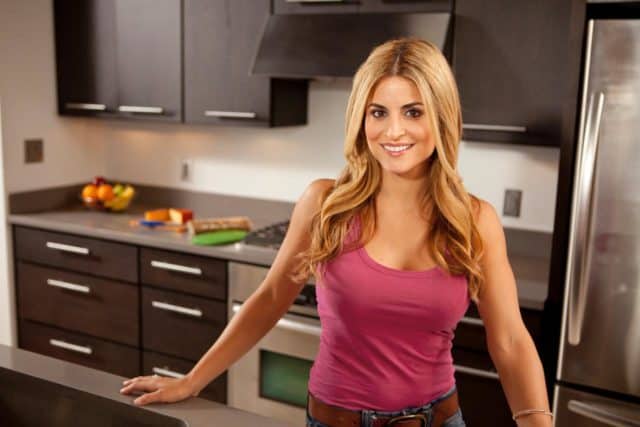 Alison Victoria is a household name, thanks to her popular HGTV show Windy City Rehab. But there's much more to the beauty than meets the eye. Not only does she bust down walls in the houses she's renovated but she's broken several barriers as well. For instance, did you know she was both the first female host of a renovation show and youngest designer at a home decorating firm at different points in her career?
Still, those aren't the only things that make her great. It's a result of her passion, drive, creativity, and uniqueness. But, you don't have to take our word for it. Check out 8 reasons we think she's the bee's knees:
She's a native Chicagoan – In a recent interview with Roku, she revealed that her father would take her on trips around Chicago when she was younger. On these trips, she would imagine herself living in the beautiful houses she saw. Now that she's older, her reward is getting a chance to rehab some of them and on her own show to boot.
She fell in love with her craft after she rehabbed and flipped her decrepit but historic Wicker Park home – Before she rehabbed her old home, nobody paid much attention to it. However, she did such a great job; it became an attraction of sorts. Passersby would actually stop and take pictures of it. It was this project that fueled the flames of her passion for renovating homes.
She began her career as the youngest designer at Christopher Homes – She moved from her hometown to Vegas in 1999 to attend The University of Nevada. Once her schooling was complete, she worked at Christopher Homes where she designed homes for affluent members of Vegas society.
She started her own business, Alison Victoria Interiors, just two years later – She did so well at Christopher Homes, she started her own business shortly after. Not long after that, she expanded to two locations – one in Las Vegas and one in Chicago, where she works on private residences resorts, and boutiques.
Her career path led to her becoming the first female host of the DIY Network's Crashers franchise – This franchise is vast and includes Yard Crashers, Bath Crashers, Room Crashers, and House Crashers. Now, because of Alison, there's Kitchen Crashers as well. When she first started, she was a ghost designer on House Crashers. In other words, she didn't actually appear on television although her design skills were on full display and her logo flashed briefly on the screen. Still, it was a great stepping stone for her. One she used to pitch Kitchen Crashers. The premise was a simple one. She would go to home improvement stores and convince shoppers to let her redo their kitchens free of charge.
She parlayed her Kitchen Crashers idea into what we now know as Windy City Rehab – Alison's kitchen designs were fantastic but she never lost her passion for rehabbing homes. Her success with Crashers meant gave her a platform. She used this to her advantage and HGTV's Windy City Rehab was born. In this show, she and her lead contractor Donovan Eckhardt buy and remodel vintage fixer-uppers in historic Chicago neighborhoods and sell them for a profit.
One of her favorite decorating pieces is a simple but elegant Anthropologie Mirror – If you are a fan of Windy City Rehab, no doubt you've seen her using The Gleaming Primrose Mirror. Can you blame her? It's classic design makes it a perfect statement piece.
She loves binge-watching HGTV's House Hunters International – Like many of us creative types, she binge watches HGTV a lot. When asked which was her favorite show? She answered House Hunters International. Why, do you ask? She wants to live in Paris one day.
Alison Victoria is a design star for a reason. She's fun, savvy, creative, and down to earth. Her uniqueness lends a different perspective to cookie-cutter design shows, which makes her a cut above her colleagues. So, if you haven't yet, it's time to give Windy City Rehab a chance. We believe if you watch one episode, you'll understand why we feel so highly about Alison.