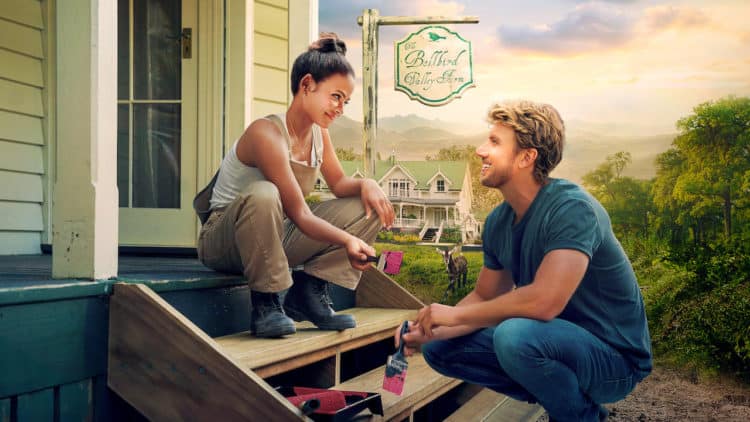 Falling Inn Love is one of the most hyped movies of the fall. Once again Netflix has released original content in order to compete with other more traditional studios. This is a savvy business move from Netflix because it is often cheaper to produce original content than buy the rights to previously existing content. If the company can continue to make films that people want to see, then they will be able to change their business model for the better. Falling Inn Love is a great example of Netflix taking its destiny into its own hands, creating a film that audiences all around the world will enjoy. It is a great mix of comedy, romance, and fun. It is definitely worth checking out if you enjoy original movies.
Part of what makes this movie work is the cast. Christina Milian is back with a vengeance as Gabriela Diaz. It is nice to see her on the big screen again, given that she has had some time away from the limelight. This movie takes her halfway across the world, as she seeks to renovate an inn that she acquired by happenstance. Not many people picture New Zealand as the perfect place to renovate a property, but that's only because they don't know about the handsome contractors on the island. Adam Demos plays Jake Taylor, the crafty handyman who is more than ready to get his hands dirty while renovating the inn. Though what ensues are plenty of laughs and romance as Diaz begins to fall for him.
This is a great movie to start the fall off with. It is a lighthearted comedy that has plenty of exotic shots from New Zealand. It will also start the fall off right because of the feeling of romance in the air. Milian and Demos have great chemistry and make the entire film work. It is a great thing to witness, particularly for a film that is supposed to be fun. It is also a great adventure for people who love design and the renovating of special spaces. The combination of chemistry and stunning visuals makes this an enjoyable film for everyone. It has been the film that people are talking about this fall season. The film has set Twitter and other social media outlets ablaze.
There are a few reasons that this movie has so many people talking. It has faced a little derision for playing to common romcom tropes that are predictable. In fact, many different Twitter users have said that it is the combination of every single cliché in the genre. There have been plenty of memes shared poking fun at this, but the important thing is that it has people talking. Another reason it has garnered so much attention is the reintroduction of Milian, whom many of the target audience know from pop fame. These same fans have come of age now and are looking forward to supporting the actress/singer again. This movie is the perfect opportunity to engage with your guiltiest romcom pleasures.
The movie has also been the butt of jokes for perceived holes in the plot. When Milian's character wins the contest for a hotel, the viewer is led to believe that this is a good thing. Though the viewer is quickly met with the dire state of the hotel, something that comes not as advertised. The main romantic lead is the handyman that has been hired to help make repairs to the hotel. This might seem predictable, but this movie is not trying to break any boundaries. It is simply Netflix's attempt to enter the romcom genre with a film that will be enjoyed, but not extraordinary. It is a light and fun movie that seeks to increase the company's content library and market share, setting the stage for more content in the future.
The reviews for the movie have been mixed. The aggregate rating on IMDB is 5.6/10. Though this is not surprising given the target audience. This film is not supposed to push the boundaries, it seeks to be a light and comical watch that makes the audience feel good. It is like cotton candy for the moviegoer's soul. In order to enjoy it, you have to know what you are getting into. For people who enjoy romance and laughs, this is a great flick. For the average movie critic, it is likely to be a flop. It just depends on what you are looking to get out of the film. For viewers who enjoy romcoms, it is hard to pass this film up.
Another part of the film that seems to be getting a lot of attention is the scenic shots from New Zealand. The film has both animals and nature shots that feature the country in all of its natural beauty. Another strong part of the film is the introduction of actor Adam Demos, who plays the lead love interest. Many have been swooning about the actor's accent and appearance. It is the perfect fit, particularly because the actor is a native of Australia. One of the nice aspects of films like this is that it introduces actors who are not as well known. This is part of what makes the film so fun and unique.
If you enjoy this genre, then it is well worth your time to take a peek at Falling Inn Love. It is a mix of all the clichés that have come to know and love, but the film does a good job of tying them all up in a nice bow. It is always nice to be in the loop, so check it out and see what everyone is talking about. This is a great opportunity to break back into the fall season with a romantic comedy that is both fun and culturally relevant. It's more than worth your time to watch Falling Inn Love.