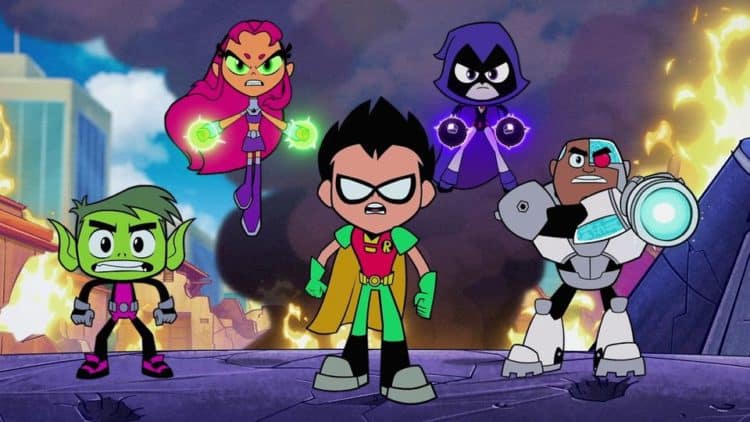 Teen Titans Go! To The Movies is a lot more than just laughs and has been heroes. It's a movie that has heart, tiptoes around dark themes, and shows its audience that kids' animated movies can be enjoyable for all ages. When Teen Titans Go! was first announced, many fans of the series were disappointed. The original Teen Titans! was a series that many believed deserved a new season but were never given. So when a new series that is designed to reach a younger audience was announced many were turned off and upset. But when Teen Titans Go! finally began to air, many fans decided to tune in, and they stayed for more.
Teen Titans Go! is fun, light-hearted, and best of all? It doesn't take itself too seriously. The show is constantly poking fun at itself and they even released an episode where the Go! characters admit that the original Teen Titans! were a lot cooler than them. It currently has over 350 episodes with over 7 seasons. Much like the original, it follows the daily lives of teen heroes Robin, Cyborg, Raven, Beast Boy, and Starfire as they carry out their daily heroics in Jump City. Unlike the original, our heroes aren't too serious about things and constantly find themselves in trouble thanks to their antics. You can currently watch the entire series on HBO Max. It became so popular that a movie was born from the series, Teen Titans Go! To The Movies.
Why Did They Go?
Teen Titans Go! To The Movies is a story that centers around Robin's pursuit of his very own movie. The problem begins when Robin meets a series of unfortunate and humiliating events. To start things off he and the Teen Titans are left out of the list of attendants for the brand new Batman movie, Batman Again. Thanks to Raven they are able to sneak in and get front row seats. Unfortunately, Batman begins to show other movies premiering that star people that are close to him. Alfred gets a movie. The Batmobile gets a movie. Just when Robin thinks his turn is up and launched himself up on stage, it's revealed that Batman's belt buckle will also receive a movie. The audience ridicules Robin for believing that he'd get a movie when the Teen Titans are regarded as jokes among the hero community. This propels the Titans to discover a way to prove themselves and find their own movie. Unfortunately along the way, Robin forgets why he began being a hero and lets his own selfish greed get in the way of his friendship with the Titans. Now he must mend his relationship with the Titans, try to save the world from a brain control scheme, and prove himself to the heroes.
Why You Should Watch it
Teen Titans Go! To The Movies is a gem of a movie. It does a lot right. It features moments that both children and adults can laugh at. There is a scene that pokes fun at Super V Batman, a movie that unfortunately took itself way too seriously. It features a great and heartwarming story. Robin lets the opinions of others get so in his head that he neglects his closest friends. It shows that sometimes getting what you want doesn't feel as great when you have to hurt your friends to do it. It also shows that sometimes what you wanted isn't as cool as you thought it was and what you have already was more than enough. It's a movie that teaches good virtues. Not just to kids but to adults as well.
It's also extremely funny. The way it takes the DC Universe and pokes fun at some of its darker themes is hilarious and sometimes tear-inducing. There is a certain montage scene that had us rolling on the floor from just how intense it was. Teen Titans Go! has a track record for being funny but they really nailed it out of the park with this movie. For fans of the original there's also a neat little Easter egg hidden for you somewhere in the movie. We don't want to say to much because part of the joy is the surprise. But fans of the series will probably get a smile on their face. Teen Titans Go! To The Movie is a great film that shows that kids' animated shows don't have to be just for kids. Adults can enjoy them just as much and maybe even learn a thing or two. We highly recommend you check this one out. It's available to stream right now HBO Max.