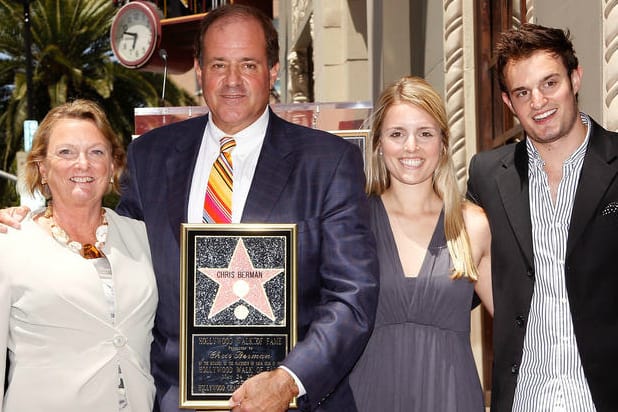 Anyone who's ever watched ESPN in the history of the network's existence knows who Chris Berman is.  He's a legend.  He's one of the first anchors to ever appear on Sportscenter and has been a staple in the sports world for over 30 years.   Berman's countless catch phrases like "he could go all the way!" or rhyming superstar athletes names on the fly with whatever comes to his mind have been part of Berman's likeability and popularity.
Unfortunately Chris Berman had a horrible loss today and we here at TVOvermind want to extend his family our deepest sympathy.   Katherine Berman, his wife, died Tuesday in a double-fatality car accident, according to state police. She was 67. Edward Bertulis, 87, was also killed. State Troopers are investigating the possibility that Bertulis suffered a medical emergency just before Berman's car crashed into the back of his car, according to the Hartford Courant.
"This is a devastating tragedy and difficult to comprehend," ESPN President John Skipper said in a statement. "Chris is beloved by all his ESPN colleagues and for good reason:  he has a huge heart and has given so much to so many over the years. We know how much his family means to him and all we can do at a moment like this is give him the love and support he will surely need at this hour. Our thoughts and prayers are with Chris, Meredith, Doug and the entire family."
We sincerely send our prayers to the Berman family.