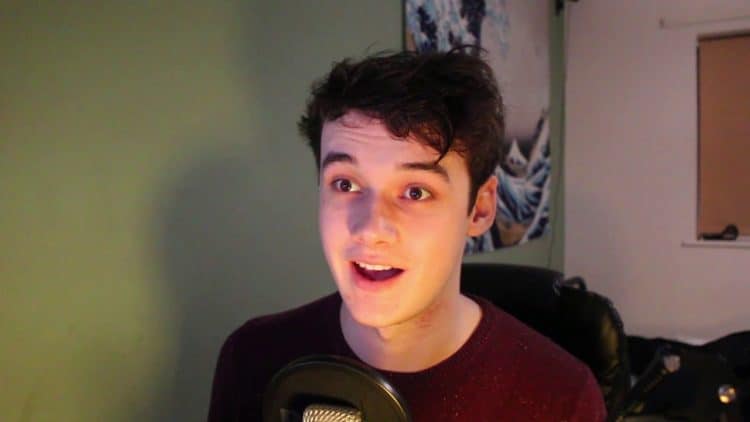 There was once a time when playing video games and sitting on the internet all day were two things that were considered huge wastes of time. However, times have certainly changed and Wilbur Soot's career is proof. Over the last couple of years, Wilbur has built up a large following on social media. He is most well-known for his YouTube presence where he has over 1.3 million subscribers. He mostly posts video game and music related content. However, he is also getting into comedy skits and other types of content. Although some may be surprised by the level of success he's had, Wilbur is proof that once you find your niche, the sky's the limit. Continue reading for 10 things you didn't know about Wilbur Soot.
1. His Real Name Isn't Wilbur Soot
Everyone all over the internet knows him as Wilbur Soot, but many are surprised to know that that isn't actually his name. Sources report that his real name is actually William Gold. There's no information on how he chose the name Wilbur Soot, but using an alias on the internet is fairly common – even for influencers.
2. He Plans On Releasing Serious Music
Wilbur has become popular for releasing comedic songs. He loves to make his fans laugh, and music has become a way for him to do that. However, he really does have some musical talent and is an avid guitar player. He plans on releasing some serious music in the near future.
3. He's Only Had His YouTube Channel For A Little Over A Year
Wilbur has a huge platform and he's worked very hard to build it. But he's only had his personal YouTube channel for a little over a year. Prior to that channel, he was already well-known for appearing in other people's videos and for streaming his gameplay on Twitch.
4. He Doesn't Take Himself Too Seriously
Social media can be a fun way to express yourself and connect with others. However, when you reach a certain level of success, it becomes all about business. Once you start working with brands and other influencers, you have to move a little differently. Even though Wilbur has found a lot of success, he doesn't take himself too seriously. That is probably what allows him to continue to make content that people truly relate to.
5. He Doesn't Share Much Information About His Personal Life
Lots of celebrities and influencers like to come on the internet and tell all their business. Some really seem to use social media as their personal diary. That's not the case for Wilbur though. Even though he spends a lot of time on the internet, he doesn't reveal too many details about his private life. He prefers to keep the majority of his posts focused on his brand.
6. He Loves To Interact With His Supporters
One of the best things about social media is that it makes it easier than ever for people to connect. As a follower, this means you can get a chance to interact with your favorite celebrities/influencers. As a celebrity/influencer, you can see and hear how people really feel about you.  Wilbur loves getting the chance to interact with those who support him and he often responds to comments and and answers questions.
7. He's A Cat Person
Having a pet is a huge responsibility, but it also comes with a lot of benefits. There's nothing more pure than the love a pet has for its owner, and it's nice to have a fluffy little friend to cuddle up with. Wilbur seems to prefer cats and he appears to have at least two of them.
8. He Likes To Travel
Wilbur's career as an influencer has afforded him a lot of opportunities; one of those opportunities has been the ability to travel. Wilbur loves getting the chance to see new places all over the world. In a Q&A, he said that he spent 8 months living in the Netherlands which inspired him to start learning Dutch.
9. He's A Huge Fan Of NerdCubed
Like most people his age, Wilbur grew up spending a lot of time on the internet. He loved watching other content creators, and one of his favorite was NerdCubed. NerdCubed has been around for over a decade and he has also transitioned into being an author. Wilbur would love to get the chance to collaborate with him some day.
10. He Has His Own Merch
Once you reach the level of success that Wilbur is at, finding ways to extend your brand are a natural part of the process. One of the ways Wilbur has done this is by launching his own merchandise line with Fresh Merch. He currently sells sweatshirts, hats, and socks.