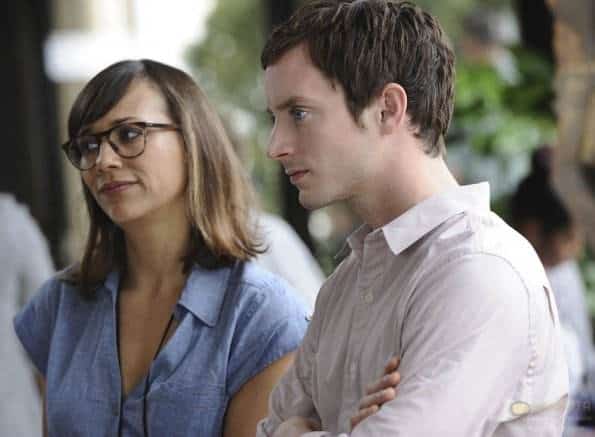 Tonight on Wilfred we get another brilliant guest star as Ryan (Elijah Wood) and Wilfred (Jason Gann) volunteer at a hospice. Ryan's idea to try and give back to the community is definitely noble in effort but will there be serious consequences?
So far Wilfred has done a pretty great job of undermining and sabotaging Ryan; whether it has been placing Ryan's wallet at the scene of their crime or convincing him that Jenna (Fiona Gublemann) has a penis, Wilfred isn't always man's best friend. It is unclear if Wilfred is being manipulative in this manner to try and get Ryan to become a better man or if he is simply messing with his neighbour, but does he take it one step too far this week?
It would apeare that Wilfred might be speeding along the process with the elderly who are residents at the hospice. This leads Ryan to question whether Wilfred has a God complex in a rain filled roof top argument. Wilfred has been quite nefarious in the past but this seems beyond what he is capable of doing. What we do know for sure about tonight's episode is that former The Office and current Parks and Recreation star Rashida Jones will guest star as a hospice employee and with Wilfred around she should watch her back.
Jason Gann recently spoke to Kristin Dos Santos over at E!Online about the show, the writing process and what is to come. In regards to writing the character of Wilfred he said that there are 3 versions of Wilfred to consider; Ryan's Wilfred, Wilfred's Wilfred and The Dog Wilfred. As a viewer it can be ambiguous as to which is being portrayed but that is half the fun, you have to look beyond the comedic elements and try to figure out what is actually real and what is just a projected image of Wilfred form Ryan's perspective. When it comes to these elements Gann knows that the show can look absurd but that process is what makes the show a joy for him to work on, Gann says:
"It's interesting what can be comedic and what kind of emotions we can pull out of that whilst keeping this ridiculous conceit that I'm in this dog suit. It's fun."
Whether Wilfred will continue to sabotage Ryan is something that Gann is more ambiguous about but his answer is interesting nonetheless:
"Every time you think you know where it's heading then we will put a spin on that. There's a really strong arc that happens between these two guys over the season."
Gann also believes that they have taken the depths of the character of Wilfred further than they did in the original short film and Australian series which has allowed his acting to grow. To see for yourself whether this is true you can check out the first season of the original Wilfred on IFC, Sunday July 31 as they will be showing all 8 half hour episodes back to back from noon onwards. The overall premise is the same but this time it is a guy called Adam (Adam Zwar) who sees his girlfriend Sarah's (Cindy Waddingham) dog Wilfred (Jason Gann) as a man in a dog suit but all of Wilfred's personality traits seem to be pretty similar.
For a look at tonight's episode including guest star Rashida Jones check out the promo below.