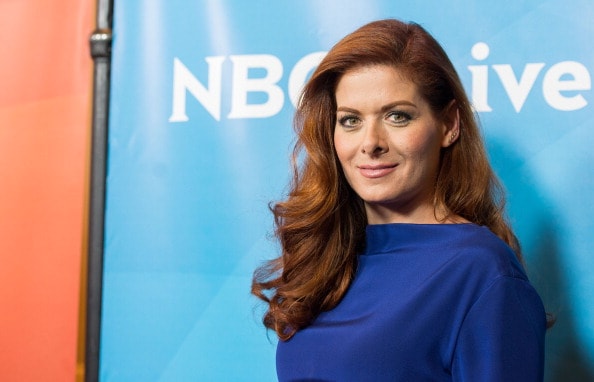 The wait is finally over. After an 11-year hiatus Will & Grace made its return to network television. The series aired its 9th season premiere last night during NBC's new Must See TV lineup. Over 11 years, the series has picked up new fans that have enjoyed the adventures of Will, Grace, Jack, and Karen. Debra Messing is the woman behind Grace Adler. Here are five things you may not know about the stunning actress.
1. She's a College graduate
When Will & Grace star Debra Messing graduated from high school, she decided to pursue a college education before venturing off to Hollywood. Messing graduated summa cum laude from Brandeis University in 1990. She received a Bachelor's degree in Theater Arts. Messing also has a Master' of Fine Arts degree from New York University's Tisch School of the Arts.
2. Her first TV Appearance was a Cop Show
Shortly after Debra Messing earned her Master's degree, she found her first acting role on television. The Will & Grace star appeared on three episodes of the ABC police drama NYPD Blue from 1994 – 1995. She played Dana, who was the sister to Gail O'Grady's character Donna. That same year, Messing would get her big break starring on the sitcom Ned & Stacey.
3. Her favorite Will & Grace Moment is a Classic
After having starred on a popular series going into its 9th season, Debra Messing probably has many fond on-set memories. Her favorite comes from a classic season two episode. During an interview with Parade Messing admitted, "love the exploding water bra! That's really memorable." Messing had another favorite scene. She announced, "There's a scene from Bed, Bath and Beyond where all of us end up in the shower together and I'm crying over Nathan and I breaking up and we get into bed together. That was a really funny, tender thing."
4. She regrets her recent Today Show appearance
The cast of Will & Grace has been making their rounds promoting the new season of the comedy. One of those stops was to the Today Show where the gang was interviewed by Megyn Kelly. During the interview, Kelly made an inappropriate joke to gay male fan who is modeling his life after Will Truman. Messing told her fans on Instagram, "Regret going on. Dismayed by her comments."
5. She found love in the work place
No, Debra Messing is not dating her Will & Grace co-star Eric McCormack. However, the actress did find love while working on the short-lived NBC series Smash. This is where Messing met former Nashville star Will Chase. Both stars were going through separations and ended up dating for three years before calling it quits.
What did you think of the 9th season premiere of Will & Grace? Let us know in the comments section below.
Save