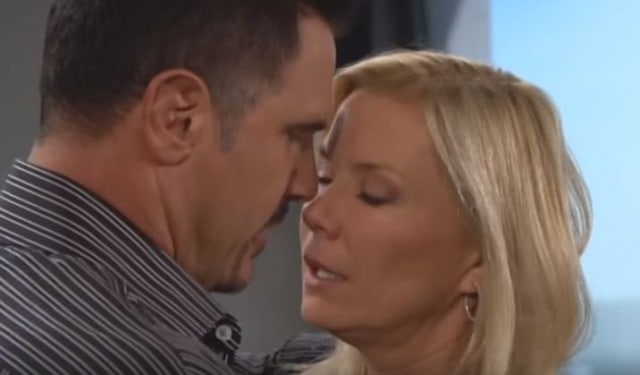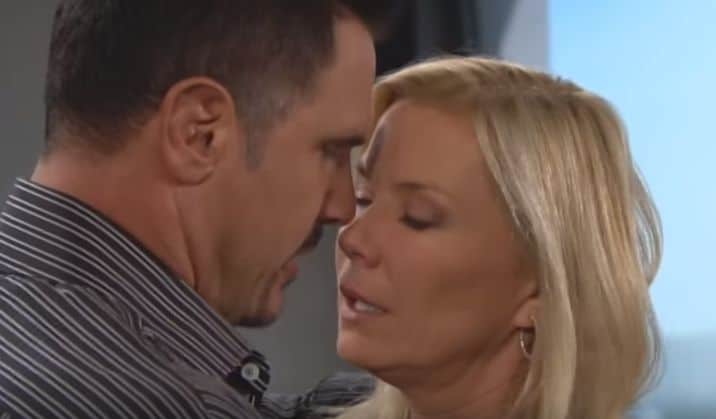 The world is turning a rather unflattering shade of green on The Bold and the Beautiful on Thursday. We've already been given a little glimpse into what's going on and where the jealousy is happening, but as the week wears on it seems that there will only be more green showing up in this busy little community. Between Nicole's apparent jealousy and bitter rage against Sasha and her new modeling job, Brooke's secret love for Bill and Katie's peppy ignorance and the entire debacle between Steffy and Liam and Ivy and Wyatt, there's a whole lot of jealousy occurring right now.
Brooke and Katie seem to be working well together as Brooke goes about her first day with Spencer Publications, and Katie still as no idea her sister is in love with Bill and he with her and that her entire life is about to turn upside down around her. Blissfully unaware that her sister is doing everything possible not to begin an affair with Bill, she certainly has no idea that it's only a matter of time before these two are in bed together and Katie is left in the dark.
The promo video for Thursday's episode shows Bill and Brooke in a passionate embrace, probably right after she enters his office and shuts the door stating she wants privacy. The moment apparently does not pass without incident, but we are left wondering if they merely embrace and manage to restrain themselves or if they actually go through with a kiss — or maybe more. One thing is clear, however; Katie has no idea what kind of door she's opened for her relationships with both her sister and Bill. What we do know is that there is no way she will emerge from this situation, the one she feels is so perfect and right in her life, unscathed.
Wednesday did not bring much drama in the Steffy/Liam/Wyatt front, but Thursday is a different story. Steffy is still in the dark as to what caused Liam to call off their engagement and move in with his father, so she's unable to explain to him that what he thinks he saw her doing in bed with Wyatt is all a big misunderstanding. We aren't even positive that Steffy is aware that this particular misunderstanding is exactly what Wyatt wanted in the first place.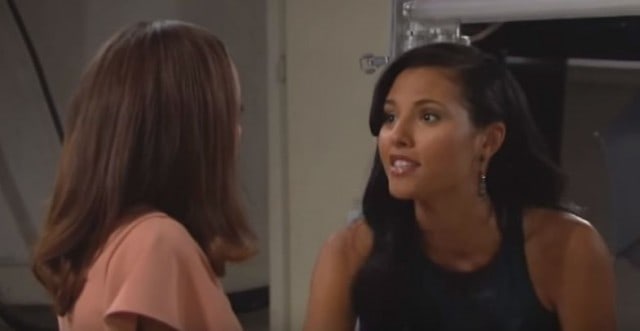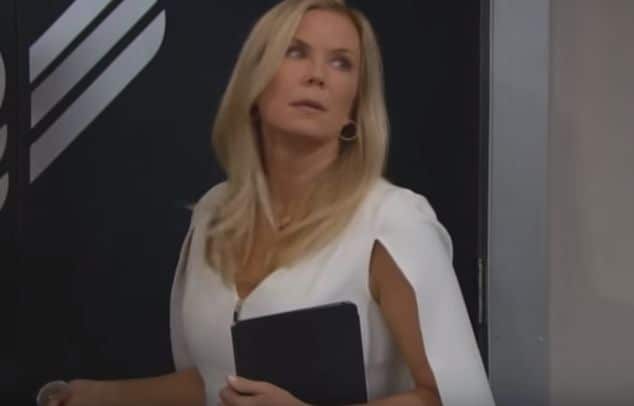 When it comes to Nicole, we know that she's going through a rough pregnancy, and it's not uncommon for her unborn baby to have some effect on her raging hormones. But the world is beginning to wonder if Nicole's jealousy of Sasha's successful replacement of Nicole in a photo shoot is just a hormone-induced mood swing or something else. It leaves us wondering whether or not Nicole is really as hormonal as she's allowing everyone to believe or if she is using her pregnancy as an excuse to be an even bigger witch than usual in hopes that people will give her a free pass thanks to her unborn baby. Or is it that she is, for the first time in their friendship, seeing Sasha as the manipulating, lying, conniving frenemy that she has been all along?
Since Nicole is just working as a surrogate mother for Rick and Maya, will she really go so far as to use that as an angle to get Sasha's new modeling job taken from her? It seems to us that perhaps Nicole is taking a bit of her friend's MO and using it as her own. Perhaps these two are more alike than we thought in the past.
Thursday will not bring to head the conflict between these two, but quite the opposite instead. Spoilers show Sasha thanking Nicole for everything that she's ever done for her, for bringing her into her life and opening doors for her that she never knew existed. Unfortunately for Sasha, it's unlikely that anyone will buy her sappy story. Knowing her history, she's only playing a game and working an angle to get precisely what she wants. We've said it before and we will say it again; what Sasha wants, Sasha gets. We are just waiting for her to drop the ball on Julius, but it won't be Thursday.
Photo by YouTube